Social media, TV hosts mock curvy mermaid statue controversy: 'What's the problem?'
The school that made the statue said it welcomed debate about 'freedom of artistic expression'
Social media users have weighed in on the controversy over a voluptuous mermaid statue in southern Italy, and most critics are taking issue with the mermaid having both a human backside and a fishtail.
"The debate aroused by the Mermaid is welcome, as long as it is about such issues like the freedom of artistic expression or the remains of an ancient and out-of-the-time way of looking at the female (or male) body," Adolfo Marciano, principal of the IISS Luigi Russo art high school that produced the now-famous statue, told Fox News Digital in a statement.
The school created the statue as a way to honor Rita Levi-Montalcini, a late Italian senator and Nobel laureate, according to the Monopoli Times, which first covered the story.
Tiziana Schiavarelli, an actor, said that local residents were right to express "some perplexity" about the statue.
ARTWORK SHOWN IN MUSEUMS CAN MAKE PEOPLE HAPPIER ON ONE CONDITION, SAYS STUDY
"It looks like a mermaid with two silicone breasts and, above all, a huge a-- never seen before on a mermaid. At least not any I know," Schiavarelli said, according to The Guardian.
Whoopi Goldberg weighed in during a segment on "The View," saying "she got a booty" and ridiculing people for making such a big deal about something that is "not real."
"I don't think kids are thinking, 'Ooh, she's sexy,'" Goldberg said before the hosts devolved into an argument about how a mermaid can have both a backside and a fishtail.
Another host expressed surprise the controversy had occurred in Italy, which has "so much naked art all over the place."
HIT BROADWAY MUSICAL 'SOME LIKE IT HOT' NOMINATED FOR 13 TONY AWARDS, THE MOST FOR ANY SHOW THIS YEAR
A picture of the statue made a splash on social media, with most users focusing on the fact that the controversy surrounded a fictional creature.
One social media user, posting a screenshot of The Guardian's report, said the statue was "a disgrace" because "mermaids famously do not have human butts, the tail goes up to their hips."
Another user mocked the controversy, saying, "Right. Of course! Mermaids are real and we know what they should look like."
'HUNGRY' SOUTH KOREAN STUDENT FINDS BANANA ARTWORK VERY APPEALING: REPORT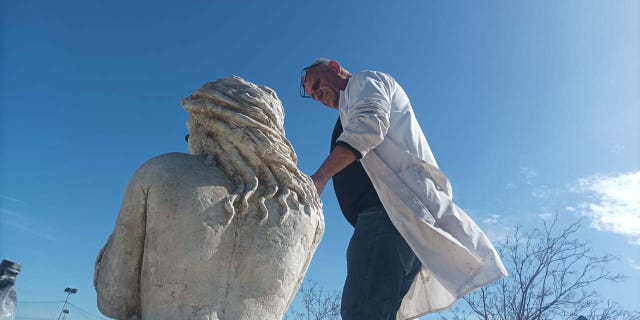 "This statue is setting unrealistic beauty standards for mermaids everywhere!" another user wrote.
The statue appears to be a short distance from a newly constructed children's park, which is equipped with a swing set, a jungle gym, a slide and a circular balance board.
Since late April, residents of the area and the larger Italian population have been debating whether the curvy mermaid statue is an appropriate art display given its proximity to the square's park.
Another busty mermaid statue, this one in Cape Cod, similarly raised eyebrows and complaints in 2016.