Far-left Dems accused of trying to 'provoke a mob' in NYC: 'Throwing matches in a tinderbox'
Douglas Murray says on 'Outnumbered' AOC and others are ramping up rhetoric after death of Jordan Neely
Fox News contributor Douglas Murray criticized the left's reaction to an incident on the New York City subway in which a homeless man was killed. Murray said on "Outnumbered" that some Democrats, like Reps. Alexandria Ocasio-Cortez and Ayanna Pressley, want to "provoke mobs."
PROTESTS ERUPT AFTER DEATH OF MAN ON NYC SUBWAY RULED A HOMICIDE
DOUGLAS MURRAY: Of course, people like Nikole Hannah-Jones, like AOC, like a number of members of the Squad and others. You actually have to ask what they want when they do this thing, when they ramp up the rhetoric like this. To describe what happened as a lynching, as a public execution, to make all of these claims is like seeing people standing beside what they know to be a tinderbox and just like striking matches and throwing them into it to see what catches.
And you see it from the protest, What is this 'Burn it down?' I mean, it's not even about justice. It's justice as I see it and have judged it based on a tiny clip from this terrible incident saying justice is I want it or I'm going to burn everything down. Well, there are still cities across America that were burnt down. And guess what? They haven't been built back again. So that's what people should focus on at moments like this, not ramping up the rhetoric and trying to provoke mobs and groups into terrible outrages.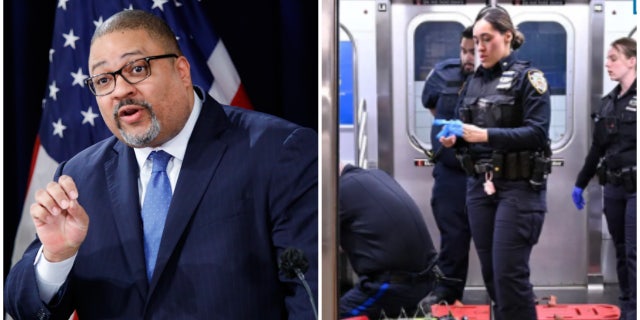 Manhattan District Attorney Alvin Bragg announced Wednesday that "senior, experienced prosecutors" are investigating the subway chokehold death of Jordan Neely as violent clashes with police erupted Wednesday in New York City.
Neely, 30, was reportedly having a mental episode on the F train Monday, yelling and pacing back and forth, when a Marine veteran tackled him to the ground and put him in a chokehold, according to witnesses and police.
Two other straphangers helped restrain him, and video that captured part of the encounter shows Neely, a Michael Jackson impersonator, slowly go limp then die.
The city's medical examiner determined that the manner of death was homicide caused by compression of the neck.
The man who shot the now viral cellphone video, freelance journalist Juan Alberto Vazquez, told The New York Post that Neely "started screaming in an aggressive manner" and complaining that he had no food and nothing to drink. The Marine veteran allegedly held Neely in a chokehold for 15 minutes, according to Vazquez.
The vet, when reached by phone, politely declined to comment.
The 24-year-old veteran was taken into custody and released, sparking public outrage, with groups of protesters calling his actions "murder" and clashing with police in the subway station where Neely died and on the streets nearby in Lower Manhattan.
The NYPD arrested five protesters Wednesday on charges ranging from making graffiti to resisting arrest, obstruction and harassment. Demonstrator Isabel Penzlien, 48, was charged with assault, reckless endangerment and other alleged crimes.