Chicago paper is stunned new mayor honored God but not Obama
The Chicago Tribune suggested Brandon Johnson's tenure as city's mayor will 'be the most progressive administration in its history'
The Chicago Tribune congratulated Mayor-elect Brandon Johnson Wednesday, but balked at his lack of praise for former President Barack Obama, whose political rise began in their city, despite acknowledging God.
The Tribune editorial board hailed "Cook County Commissioner Brandon Johnson" as the incoming 57th mayor of Chicago, noting he is an "inspiring orator" and claiming, "This will be a City Hall first for most Chicagoans." The paper praised his charisma on stage as a "quality that many of Johnson's predecessors in the office have lacked," but said one aspect of his acceptance speech was noticeably missing.
"He found a place for God, but not, strikingly, for Barack Obama, inarguably the most important leader this city ever has produced," the editorial board wrote. "The omission was telling, a reminder that the progressive movement of which Johnson now is a Midwest standard-bearer, feels ambivalent about the former Chicago community organizer and his more pragmatic legacy."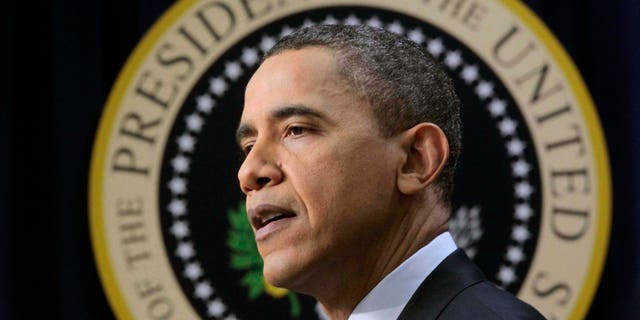 LORI LIGHTFOOT TORPEDOED AFTER LOSING RE-ELECTION BID: 'GOOD RIDDANCE!'
The editorial then noted how long ago Obama's rise to power was, to the point many young Democratic voters vaguely remember it.
"The city, and the nation, have traveled far away from 2004, when Obama delivered the unforgettable keynote address at the Democratic National Convention in front of 9 million viewers and began his meteoric rise," The Tribune recalled. "Many of Johnson's most enthusiastic voters were still in middle school."
The Chicago news outlet also observed Johnson's progressive bona fides, both in how they secured his rise to power and how they will likely be what drives his administration.
"How did Johnson triumph in the runoff? Some factors are obvious," The Tribune wrote. "The Chicago Teachers Union, which had supported his campaign to an extraordinary extent, continued its legendary ground game, getting out the vote, or at least the right votes from the union's point of view."
The paper added, "his sense of his own place in history is a significant part of why he will become mayor of a great American city atop what is likely to be the most progressive administration in its history."