UAW strikes at GM, Ford, Stellantis plants after no new contract reached
Workers on strike at GM, Ford, Stellantis plants in Missouri, Ohio, Michigan
The United Auto Workers
union went on strike at three plants owned by the Big Three automakers – General Motors, Ford and Stellantis – after the two sides did not reach a new labor deal on Thursday night.
The workers are striking at a GM plant in Wentzville, Missouri; a Stellantis plant in Toledo, Ohio; and a Ford plant in Wayne, Michigan. Plants that were not called upon to strike will work without a contract, UAW President Shawn Fain said.
"The UAW Stand Up Strike begins at all three of the Big Three," the union said in a post on X, formerly known as Twitter, shortly after midnight on Friday.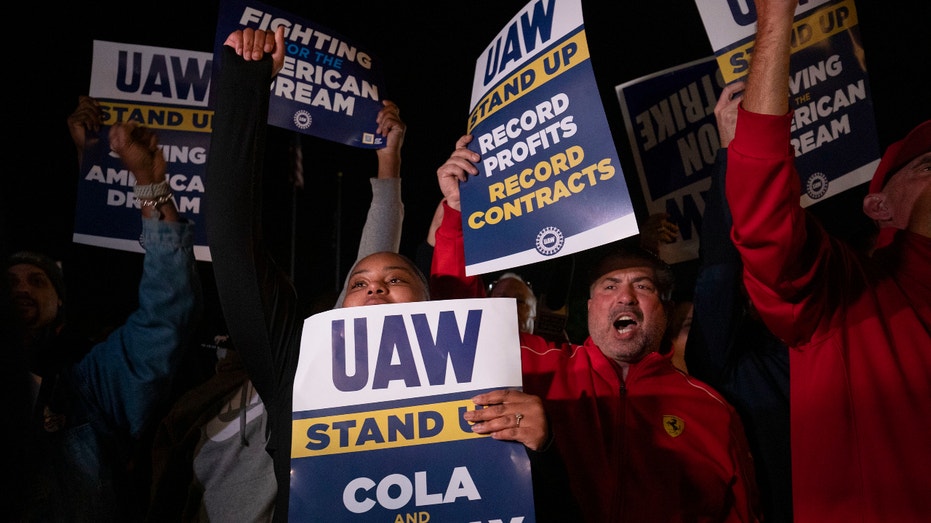 Supporters and workers cheer as United Auto Workers members go on strike at the Ford Michigan Assembly Plant on Sept. 15, 2023 in Wayne, Michigan.
(Bill Pugliano/Getty Images / Getty Images)
LOOMING UAW STRIKE COULD COST US ECONOMY MORE THAN $5B IN JUST 10 DAYS
Fain says this strategy will keep the
automotive corporations
guessing, with leadership determining further strikes.
UAW workers will hold a rally on Friday at 4 p.m. ET.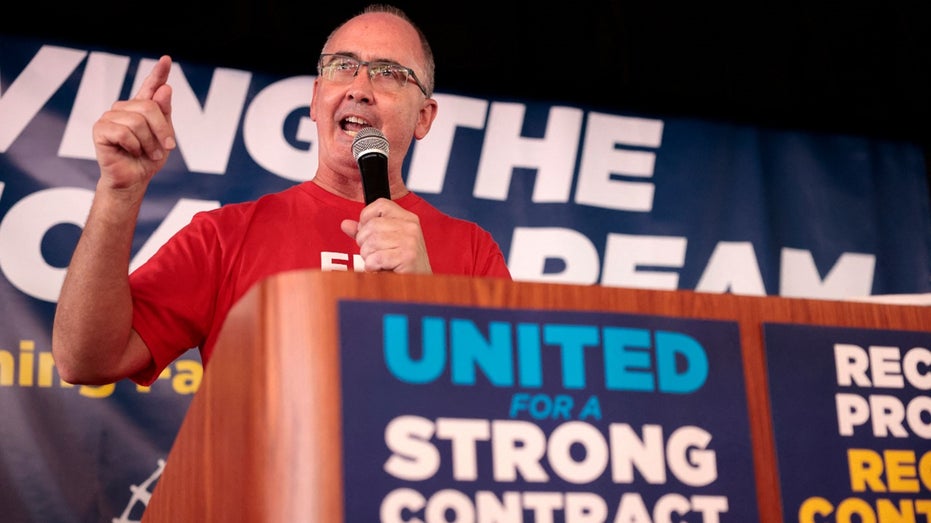 United Automobile Workers (UAW) President Shawn Fain speaks as UAW members and their supporters gather for Solidarity Sunday at the UAW Region 1 office in Warren, Michigan, on August 20, 2023.
(JEFF KOWALSKY/AFP via Getty Images / Getty Images)
The main point of contention between the two sides
is higher pay
, with Fain saying the union is seeking a more than 40% general pay raise for rank-and-file members over four years.
FORD, GM, STELLANTIS DEALERSHIP BRACE FOR POTENTIAL UAW STRIKE
Full-time assembly plant workers at Ford and GM earn $32.32 an hour, while part-timers currently make about $17 an hour. Full-time employees at Stellantis earn $31.77 an hour, and part-time workers earn close to $16 an hour.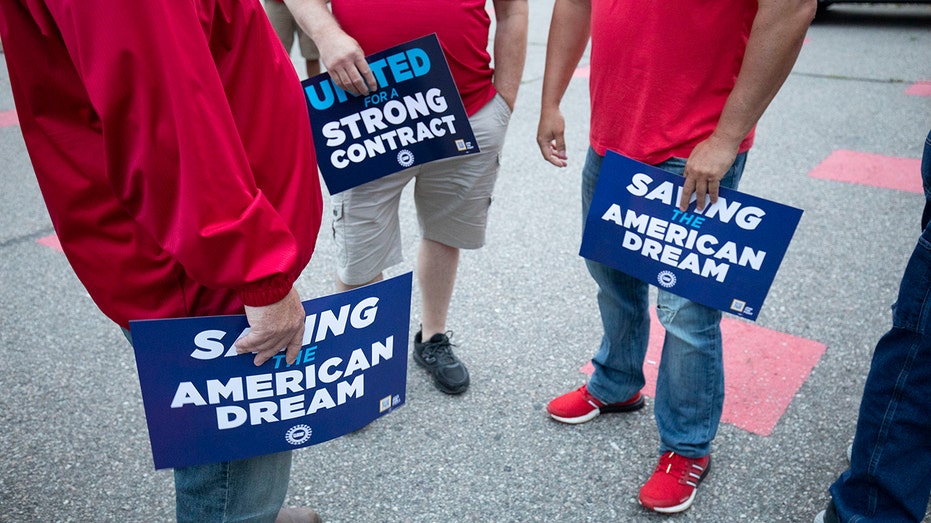 Stellantis workers attend a "members' handshake" event with United Auto Workers president Shawn Fain to mark the beginning of the UAW's contract talks with Stellantis at the Sterling Heights Assembly Plant on July 12, 2023,, in Sterling Heights, Mich
(Bill Pugliano/Getty Images / Getty Images)
The union is also pushing for making
all temporary workers
at the automakers permanent, cost-of-living adjustments, increases in pension benefits for current retirees and restoring pensions for new hires, among other benefits.
Fain has called the demands the "most audacious and ambitious list of proposals they've seen in decades."
Experts say the strike could cost the U.S. economy billions of dollars.
That is according to a new analysis from the Anderson Economic Group, a Michigan-based think tank that specializes in the economic impact of labor strikes. The report estimates that economic losses from a 10-day work stoppage could cost about $5.6 billion.
"Even a short strike would impact economies throughout Michigan and across the nation," said Patrick Anderson, CEO of the Anderson Economic Group.
That figure includes manufacturer losses of $989 million and lost direct wages of $859 million. It does not take into consideration strike pay, unemployment benefits, unemployment taxes, income taxes, government spending or settlement bonuses.