Energy exec on Jennifer Granholm's EV road trip gone bad: Americans don't 'need' it
Family called cops on Biden's energy secretary for blocking charging station spots
Americans want choice when it comes to getting behind the wheel, according to one oil industry executive.
It demonstrates the importance of the role of consumer choice here for many Americans," American Petroleum Institute President and CEO Mike Sommers said on "The Evening Edit
" Monday in response to a Biden energy secretary's electric vehicle road trip gone bad.
"And it might make sense, but for most Americans who have to travel long distances to get to work and to school, an EV at this point just doesn't quite have the technology that Americans want or need," he continued.
Biden Energy Secretary Jennifer Granholm had a rocky electric vehicle tour that included a confrontation with a family who called the police on her staff over a charging station standoff.
Granholm's staff got into a tiff with an unhappy family earlier this summer after her team tried to hold an
electric vehicle charging spot

by parking a gas car there, according to NPR. With a baby in the vehicle on a hot summer's day, the family reportedly decided to call the authorities.
IS IT TIME TO BAN 'GREEN' CARS CAUSING MORE AND MORE RED HOT FIRES?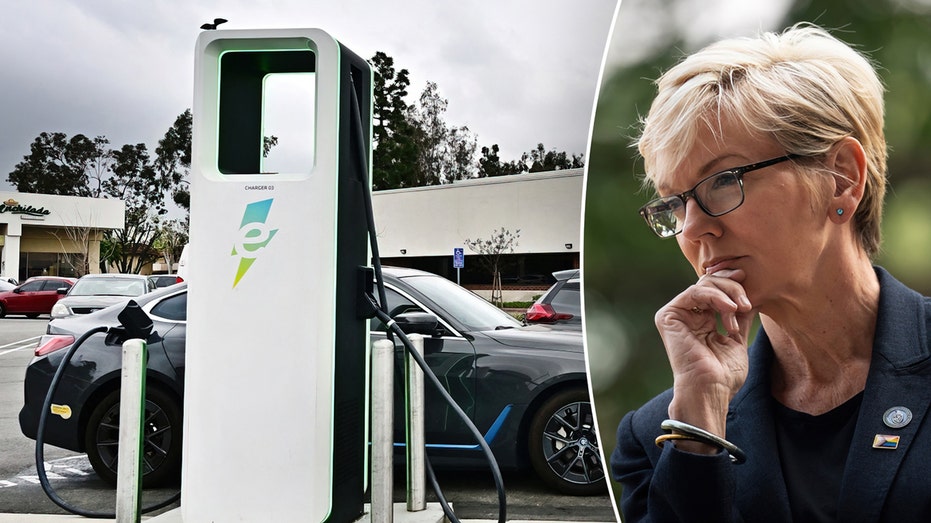 U.S. Energy Secretary Jennifer Granholm's electric vehicle road trip confrontation spotlights the "importance of consumer choice," American Petroleum Institute President and CEO Mike Sommers said on "The Evening Edit."
(Getty Images)
"I think most Americans, as demonstrated by the secretary's troubles on her road trip, understand that that is not a choice, that they need to have the choice of the kind of vehicle that they want to buy for their lives," Sommers reacted. "And unfortunately, that's not the choice that the federal government wants to provide for American families."
The Biden administration has pushed for more drivers to buy into electric vehicles, pumping $2.5 billion into electric charging stations, and has repeatedly publicized its goal for half of all new vehicles sold in the U.S.
to be electric by 2030
, on the way to a net-zero emissions economy by no later than 2050.
Sommers emphasized that House lawmakers have a big decision to make this week as they return to session.
"I would encourage [the audience] today contact their House of Representatives member and ask them how they're going to vote on this choice that they're going to have on Thursday," Sommers added.
He further criticized the
Biden administration's energy policy
, arguing it shouldn't be used in a "political fashion.