Boat breaks free in Maine, spilling 1,800 gallons of fuel after Lee batters New England coast
A marine patrol officer said the boat may be there for a few weeks and is likely the biggest environmental disaster in over 30 years for the small port.
Post-tropical cyclone Lee continued to leave impacts in New England on Sunday even long after it barreled away toward the Maritimes of eastern Canada.
Stateside in Bar Harbor, Maine, FOX Weather meteorologist Michael Estime witnessed first-hand the violent impact of Lee's wind and 5-9 foot waves Saturday morning. An Acadia tour boat called Eden Star, next to a nearby pier, became unmoored by the powerful waves and began bobbing up against the pier before slamming into the sea wall.
A day after Lee's impacts had subsided and the sun was out, the vessel was still stuck.
The Environmental Protection Agency and U.S. Coast Guard are now investigating.
The boat began leaking diesel into the water, and an estimated 1,800 gallons were spilled from the wreck, according to the marina.
A marine patrol officer said the boat may be there for a few weeks and is likely the biggest environmental disaster in over 30 years for the small port.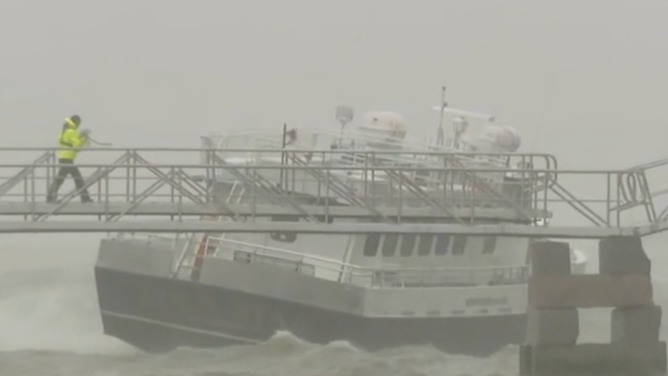 Some of the other boats in Bar Harbor remained in place while positioned facing the direction of the wind. According to Estime, this positioning helps prevent the boats from capsizing, which is more likely to happen if the boats are perpendicular to the wind.
He added that crews were aboard many of the boats in the harbor.
Correspondent Robert Ray reported from Yarmouth in the Canadian province of Nova Scotia, where Lee is expected to make landfall Saturday. While the storm is about 50 miles southeast of Ray's location, it has delivered powerful winds and waves to the Maritimes.
Ray noted wind gusts of up to 50 mph in Yarmouth, 74-mph wind gusts in the east in Halifax and 93-mph gusts on Grand Manan Island, which lies in the Bay of Fundy between Nova Scotia and Maine.
Footage shot at Yarmouth showed the wind whipping through the shoreline vegetation and powerful waves crashing onto the rocky shore. There have been spotty power outages throughout the area, but crews from the electric company will only be able to make a full assessment after the storm passes tonight or perhaps tomorrow.
LEE CHARGES NORTH TO CANADA AS TROPICAL STORM CONDITIONS SOAK NEW ENGLAND AMID RISING POWER OUTAGES
"Folks here in Yarmouth, the town of about 7,000 people, are on edge," Ray said, adding that the peak of the storm at Yarmouth is imminent.
100+ MPH WIND GUSTS EXPECTED ON NEW ENGLAND MOUNTAIN SUMMIT AS HURRICANE LEE ROARS PAST REGION
Also in Bar Harbor was FOX Weather meteorologist Bob Van Dillen, who reported wind gusts of 46 mph that were steadily increasing. Similar to what Estimate reported, those winds produced high, choppy waves, which were causing a whale-watching ship in the distance and its onboard crew to bob on the water.
The wind has also caused power outages throughout Maine, affecting more than 90,000 people or one out of every nine residents in the state.
FOX Weather multimedia journalist Katie Byrne reported from farther south in Massachusetts, where some Cape Cod boaters used extra ties to hold back their vessels from the strong winds and to keep them from breaking free as Lee's waves reached nearly 20 feet in the Cape Cod town of Chatham.
"You got to be up for that," said one scalloper Byrne spoke with. "Or otherwise, you run up into the rock wall there, and your boat turns to powder."
HOW THIS MASSACHUSETTS TOWN HONORS A FISHING LEGACY SPANNING OVER 400 YEARS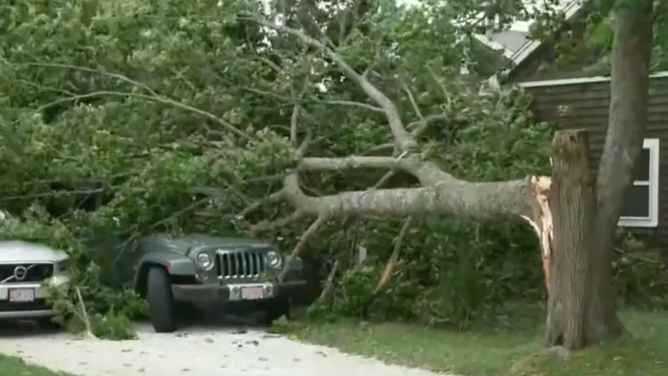 Byrne reported wind gusts across Cape Cod reaching over 60 mph. In Chatham, wind gusts reached 38 mph, which was strong enough to bring a tree down onto a vehicle. No injuries were reported from the incident.
Later in the day, FOX Weather correspondent Nicole Valdes followed up in Chatham, where conditions appeared to have died down. The waters were so calm that two seals could be seen swimming behind Valdes as she reported live.
"It looks like the worst may be over," Valdes said
The Tropical Storm Warning that was originally issued for Massachusetts was discontinued. Valdes noted that because of the quieter weather, residents have begun to reemerge from sheltering in their homes.