Trump's Georgia indictment weaker than Mar-a-Lago case, but an 'enduring threat': ex-prosecutor
The Trump campaign condemned District Attorney Fani Willis, citing her father John's history as a former Black Panther leader in CaliforniaFormer President Donald Trump's
latest indictment is not as strong as the Mar-a-Lago documents case, but remains an "enduring threat," a former federal prosecutor told Fox News on Tuesday.
Trump was indicted on more than a dozen charges by Fulton County, Ga., Democratic District Attorney Fani Willis, including a RICO charge more often reserved for mobsters.
The Republican front-runner's campaign responded to the charges Tuesday, citing references to Willis' father John Floyd III having been a Black Panther; claiming she hails from a "family steeped in hate."
On "The Story," former Assistant U.S. Attorney for the Southern District of New York Andy McCarthy said Willis' indictment is "remarkable" but not as strong as Special Counsel Jack Smith's indictments at the federal level.
'EXTORTION': ATTORNEY FLAMES REPORT JACK SMITH DEPUTY TRIED TO 'FLIP' TRUMP VALET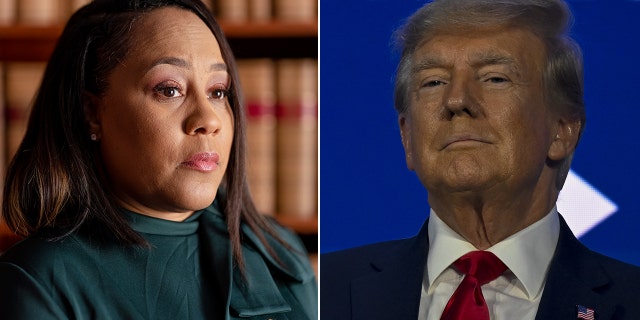 However, he referenced how Trump – if convicted in Atlanta – would face a steeper path to absolution, given the Peach State's strict pardon system.
Unlike many other states and at the federal level, in Georgia, the governor cannot himself issue a pardon upon a convict. Instead, that power is vested in a separate state board, and by law a pardon cannot be granted until five years after the convict has served his time and paid restitution.
To that end, some conservatives like Article III Project's Mike Davis have pressed for Georgia's Republican-majority legislature to amend the state Constitution to allow GOP Gov. Brian Kemp the power to pardon. Trump has however been an occasional critic of Kemp, especially in relation to the 2020 election timeframe being scrutinized by Willis.
"I do think [Willis' case] is the most enduring threat for him [Trump] in that it's a state prosecution," McCarthy said.
'STALIN WOULD BE PROUD' OF TRUMP'S GEORGIA INDICTMENT: EX-REAGAN OFFICIAL
"So there's a lot of delay that's attendant to his strategy for attacking the federal cases because he hopes that either he or a Republican president could win the election and then either dismiss the cases or pardon him. That can't happen with respect to the state cases."
McCarthy added that the topline RICO Statute charge is the "bells and whistles" allegation, but that the smaller charges further down the indictment document are the ones that are actually much stronger.
If Willis were able to convict Trump on one of the smaller charges, he would be unable to escape via pardon.
As for the argument the Special Counsel case is stronger, McCarthy said Smith has had to rely on criminal counts that do not fit the allegations against Trump as well as those on the state level might.
Smith may therefore run into problems in court in that regard, he said, adding that in Willis' case, the RICO charge is "overkill."
Another individual charged by Willis under Georgia's version of RICO was former New York City Republican Mayor Rudolph Giuliani.
Earlier Tuesday, Ted Goodman, a close adviser to Giuliani, told Fox News correspondent Eric Shawn that the Trump ally remains a "happy warrior" and has never backed down from a fight.
Goodman also noted Giuliani's biggest career moments often centered around his role as both federal prosecutor and mayor, taking down criminal elements in New York and prosecuting the mob.
"Oh, come on. Look, we're talking about a man who took down the Mafia, right? We're talking about a commission case back in the m