CNN panelist calls out VP Harris over 'completely made up' Florida slavery curriculum claim
Harris said Florida's new curriculum includes lessons on how enslaved people 'benefited from slavery'NN's Scott Jennings criticized VP Harris on Sunday over her Florida curriculum claim.
(Screenshot / CNN)
DESANTIS LETS LOOSE ON FLORIDA 'OBSESSED' KAMALA HARRIS SPEECH RIPPING STATE'S BLACK HISTORY STANDARD
Harris delivered remarks in Jacksonville, Florida, on Saturday.
"Just yesterday in the state of Florida, they decided middle school students will be taught that enslaved people benefited from slavery. They insult us in an attempt to gaslight us, and we will not stand for it," Harris said, referencing new curriculum approved by the Florida Department of Education on Wednesday that includes the history of slavery in the U.S.
The new curriculum states, "Instruction includes how slaves developed skills which, in some instances, could be applied for their personal benefit."
Karen Finney, a CNN political commentator, praised Harris' remarks, calling it a "stellar moment."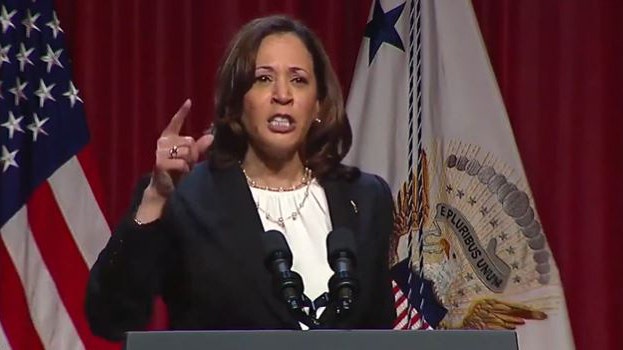 KAMALA HARRIS RIDICULED FOR 'NONSENSE' COMMENTS AT TRANSPORTATION ROUNDTABLE: 'SHE CAN'T BE SERIOUS'
"It was a stellar moment, and I think she did something that she has done often in the last couple of years, which is in a moment when something needed to be said, she got out there and said it, and really channeled what people were feeling. I mean, the idea that we would literally have a conversation – I have to laugh, it is so disgusting that there were personal benefits of any kind to slaves. It is like saying women, we're happy when we couldn't vote and we couldn't have our own banking accounts. It is just ridiculous," Finney said.
Ashley Allison, another panelist and CNN commentator, reacted to Harris' remarks and responded to Jennings.
"I'm glad she spoke on the issue – just because Black people write it doesn't mean it's going to be accurate. We can disagree with Black people as well. I think what the bigger picture is that this is happening in Florida. This is happening in a Florida where you have a governor who has an anti-woke bill, who has a 'don't say gay' bill, who wants to ban DEI programs, who wants to ban Rosa Parks," she said.
"I think at this panel we could all agree that slaves did not benefit from slavery. Even if the citation said, 'Well, they might have gotten …" they didn't have a choice, so that is not a benefit. Slaves did not have the freedom to choose, like Ron DeSantis said, maybe they could have become a blacksmith. Not when they didn't have the choice to become a blacksmith. And so that was what Kamala Harris was saying. And I hope in this moment when we have such a contentious political environment that we could all agree that slavery was not a good thing and slaves did not benefit. And then we could move on. But the problem is, the governor who is the second in the polls for the Republican nomination won't do that," Allison continued.