Writers strike benches late-night shows, but critics say they won't be missed: 'Too polarizing,' 'predictable'
Experts tell Fox News Digital a prolonged writers strike could do even more damage to the already weakened late night audience
The writers strike rocking Hollywood appears to not be ending anytime soon as studios have failed to meet the demands of the union workers responsible for scripts for TV shows and movies.
While several TV shows have halted production, perhaps the most stunted sector of showbiz is late night, which have been airing reruns since last Tuesday. Among the shows impacted include "The Late Show with Stephen Colbert," "The Tonight Show starring Jimmy Fallon," "Jimmy Kimmel Live," "Late Night with Seth Meyers," "The Daily Show," "Real Time with Bill Maher," "Last Week Tonight with John Oliver" and "Saturday Night Live."
NewsBusters managing editor Curtis Houck told Fox News Digital that the late-night shows have become "group therapy sessions for liberals during the Trump era and well into the Biden presidency."
"The media may try to make us feel this way, but does anyone actually miss 'The Late Show' or 'The Daily Show'? Has it actually improved our bodypolitic in the last decade, if at all?" Houck wondered.
LATE-NIGHT COMEDY FLOUNDERS IN RATINGS AS COLBERT, KIMMEL, OTHERS OPENLY ROOT FOR DEMOCRATS, SHRED REPUBLICANS
Late-night comedy quickly pivoted to becoming #Resistance television days after the 2016 presidential election when "SNL" star Kate McKinnon, dressed as Hillary Clinton, sat behind a piano and performed a somber rendition of Leonard Cohen's "Hallelujah" in the cold open. There was no punchline; it was plainly an expression of mourning that Clinton had lost the election.
Former "SNL" cast member Rob Schneider suggested that was a turning point for the long-running NBC program.
"I literally prayed, 'please have a joke at the end. Don't do this. Please don't go down there,'" Schneider recalled in an interview with Glenn Beck. "And there was no joke at the end, and I went, 'It's over. It's over. It's not gonna come back.'"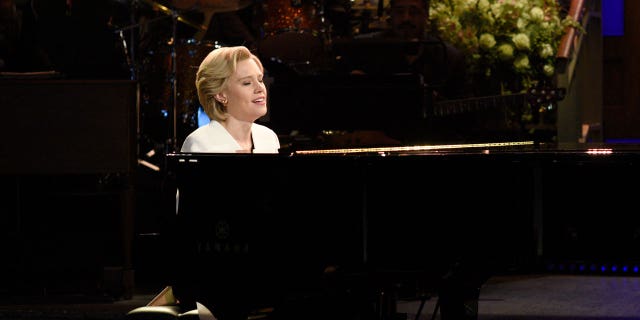 Following Trump's election victory, Stephen Colbert soared to the top of late night for his blistering monologues attacking the Republican president, overtaking his "Tonight Show" rival Jimmy Fallon. Liberals turned on Fallon for his cordial interview with then-candidate Trump during the election which involved Fallon tousling the "Apprentice" host's hair. Fallon later insisted it was a "mistake."
LATE-NIGHT SHOWS SHUT DOWN AMID WRITERS STRIKE AS HOSTS SHOW SUPPORT: 'COULDN'T DO THE SHOW WITHOUT THEM'
Colbert solidified his anti-Trump bona fides in May 2017 when he told the president, "The only thing your mouth is good for is being Vladimir Putin's c--- holster." He walked back the comments days later following public backlash and accusations of homophobia, but stopped short of offering any apology.
But the incident did not deter Colbert from leaning into political advocacy. "The Late Show" became a go-to stop for Democratic lawmakers and presidential candidates during the 2020 election. And after President Biden got elected, Colbert didn't hesitate to promote the commander in chief's agenda, most notably his bizarre song and dance in 2021 promoting the COVID vaccine.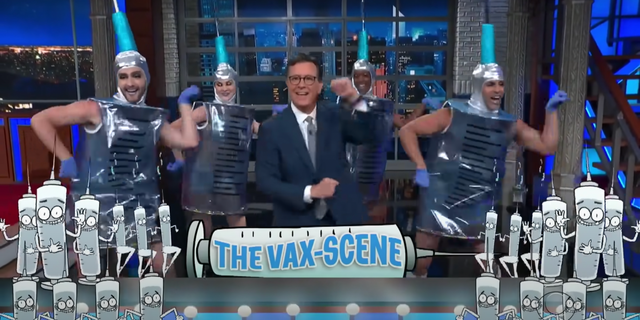 Jimmy Kimmel, meanwhile, went a different route while singing from the same sheet of music as his anti-Trump late-night cohorts. The ABC host made national headlines for his tearful policy-based speeches advocating for health care reform and gun control, where he often lambasted GOP lawmakers he saw as being adversarial to the Democratic agenda.
Notably, Kimmel is the only Democrat-friendly host to land interviews with both President Biden and his scandal-plagued son Hunter, neither known for their accessibility to the press.
CREDIBILITY CRISIS: LATE-NIGHT HOSTS OBEYED MEDIA PLAYBOOK TO REJECT LAB LEAK THEORY, DEFENDED CHINA
During a 2017 interview, the ABC host was asked whether he was concerned if such activism would alienate Republicans enough to change the channel. He shrugged them off.
"As a talk-show host, that's not ideal, but I would do it again in a heartbeat," Kimmel said at the time. "If they're so turned off by my opinion on health care and gun violence, then, I don't know, I probably wouldn't want to have a conversation with them anyway… Not good riddance, but riddance."
For Houck, the feeling appears mutual.
"If [the strike] goes on for months, we could be reaching 'if a tree falls in the forest' territory,'" Houck quipped.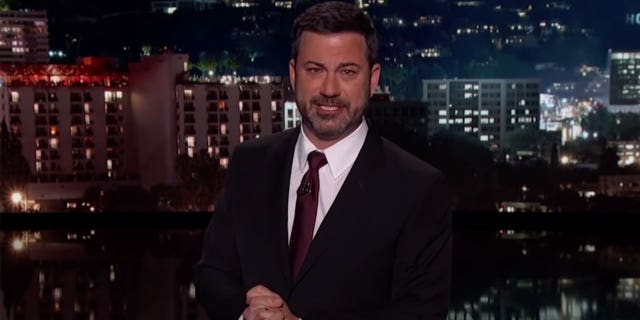 Viewership across the late-night landscape has dropped sharply in recent years. In 2018, the midpoint of Trump's presidency, Colbert averaged 3 million viewers. In 2023, the "Late Show" audience fell to 2.1 million, losing nearly a third of viewers the process. Fallon lost almost half of his audience during the same timeframe, going from an average of 2.3 million viewers in 2018 to 1.3 million in 2023.
Kimmel, who didn't mind if viewers were turned off by his liberal politics, shed roughly half a million viewers since 2018, averaging just 1.5 million this year.
Other late-night offerings are doing even worse. Seth Meyer's "Late Night" audience has cratered to a 778,000 average following his 1.3 million average five years ago. "The Daily Show," which has rotated guest hosts after Trevor Noah stepped down last year, averaged just 366,000 viewers leading into the writer's strike, losing more than half of viewers since 2018.
'SNL' COLD OPENS SATIRIZE TRUMP MORE THAN BIDEN DESPITE BEING OUT OF OFFICE FOR TWO YEARS
Fox News contributor Joe Concha said the liberal hosts lost their "Golden Goose" in the form of Trump since he left office, calling theirs ratings "horrific" in his absence.
"The days of Johnny Carson pulling in 8-9 million a night will never ever return… the broadcast offerings today are too polarizing and patently predictable," Concha told Fox News Digital.
HBO hasn't fared any better with Bill Maher averaging roughly 800,000 viewers on Friday nights this year after reaching 1.7 million in 2018, and John Oliver has averaged less than half a million viewers this year. Meanwhile, "SNL," which uses Trump as a punching bag far more than the current president, suffered a seven-digit loss in its audience since 2018, going from roughly 6.5 million to 4.2 million viewers.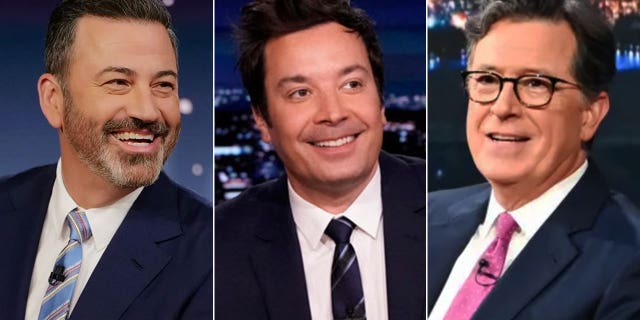 Comedian and political satirist Tim Young similarly predicted America won't miss what late night would have provided if the writers weren't on strike.
"Right now, the monologues they would be missing would be the same rambling about Trump in court that you could get from any news commentary show outside of Fox News - and it just isn't entertaining anymore," Young said. "Ratings have been down to the point now that a lack of a show is no different than some of these networks having something on air."
Fellow comedian and host of "Fox Across America" Jimmy Faila stressed that the writers strike, particularly with no end in sight, could be detrimental for legacy late night because of "appointment viewing."
"I know it's shocking to think Colbert actually had comedy writers, but he did and the hiatus will hurt them because late night is appointment viewing, meaning it's part of the viewer's lifestyle," Faila told Fox News Digital. "If a show goes away, viewers might replace it with something else, i.e. a non-striking late night show like 'Gutfeld!' Or they may just quit the genre and get that full night of sleep they've been promising themselves for ten years."
"Gutfeld!," Fox News' first entry in the world of late-night hosted by Greg Gutfeld, has continued airing as scheduled since it is not affected by the writers strike. Since its debut in April 2021, "Gutfeld!" has surged among its competitors, frequently exceeding Colbert's viewership and regularly trouncing Fallon and Kimmel.
Faila told Fox News Digital that while the writers strike will stall production of several TV shows, those fans will likely return while the same cannot be said for late-night viewers.
"Late night is different in that you watch it live, or you don't watch it at all," Faila said.