White House's Karine Jean-Pierre's 5 most-embarrassing strikeouts
Karine Jean-Pierre provided a lot of strikeouts during her memorable rookie season at the White House
The job of White House press secretary isn't easy. Just ask the current holder of that title, Karine Jean-Pierre. Not that she'd answer. She seldom does. It's the one thing she's good at.
KJP, as she is better known, isn't the worst presidential PR flack in recent memory. That inauspicious title is held by former Trump communications director Anthony Scaramucci. "Mooch" lasted 10 days, so The Donald fixed that error in about the time it takes for a baseball home stand. You get fewer strikeouts that way.
That's not even close to the record that has been KJP's time in the White House starting line-up. She just had her one-year anniversary, which means President Joe Biden has failed 36 times more and KJP hasn't even been benched.
Jean-Pierre provided a lot of strikeouts during her memorable rookie season, for her own team. She lied about the border (almost mandatory if you work for Biden), renamed our northern neighbors as "Canadia," got into an intercontinental battle over press freedom in front of the stars of Apple TV+'s "Ted Lasso" and said House Republicans want to "give asthma to our children" and let oil companies use chemicals that would "melt bones." She even called her boss "President Obama."
KARINE JEAN-PIERRE'S MOST MEMORABLE MOMENTS FROM FIRST YEAR AS WHITE HOUSE PRESS SECRETARY
KJP is so bad, she doesn't even reach the press secretary version of baseball's famed Mendoza Line. (Coined by Hall-of-Famer George Brett, it's a measure of marginal competence named after weak-hitting Mario Mendoza.) She's somewhere just above Mooch and Saddam Hussein's epicly bad spokesperson Baghdad Bob.
Here are KJP's five most embarrassing strikeouts. (I was going to grade her on a scale of one to five Scaramuccis, but that violates the Geneva Convention.)
Lying about the border
This might be my favorite and it just happened about two weeks ago, as President Joe Biden prepared the latest phase of his open-border policy. KJP went AWOL from the sane world and lied about Biden and the border. Illegal migration "has gone down by more than 90%," she claimed. KJP later pretended she had been talking about a specific aspect of the program and not the nearly 2.4 million illegal immigrant encounters, the most ever recorded on the southern border. This from the KJP who also claimed, "What Americans should know is that the president has done the work to deal with what we're seeing at the border since day one." I would have used up all my Scaramuccis just on this one, but the second comment is sort of accurate. She didn't say Biden is working to deal correctly.
Melting bones
This is gruesome, but it's so ridiculous that it deserves mockery. It really gets to the heart of how the left (and the legacy press) view spending. Any spending cut or, heck, anytime you don't grow the budget, it's an error. But her response wasn't just a wild pitch, KJP acted like she was imitating Nuke Laloosh from the movie "Bull Durham." KJP really said that cutting Biden's spending plans would put lives at risk, even though that only took spending back to 2022 – coincidentally when Biden was also president. She said the cuts would weaken the Clean Air Act and send "us back to the times when cities across the country filled with heavy smog that dirties our air and poisons the lungs of our children." She also argued that it would, "make it easier for oil companies to use toxic chemicals that cause severe burns, damage people's eyes, and quite literally melt bones." Too bad it didn't melt her notes. That could have saved lives.
The Stacey Abrams election school
Press secretaries are often accused of talking out of both sides of their mouths. It's rare they do it this obviously. Back in October, before Abrams lost another election, KJP took an unusual position on voting. She was asked about one of the more demented things her boss had said, calling new Georgia election laws "Jim Crow 2.0." When pressed, KJP couldn't give the straight pitch. The best she could muster was a screwball. Despite a 63 percent spike in early voting compared to the same time period during the 2018 midterm election, she had to pretend it was a crisis. "And speaking generally of course, more broadly, of course, high turnout and voter suppression can take place at the same time," she said. "They don't have to be, one doesn't have to happen on its own. They could be happening at the same time." Got that?
CLICK HERE TO GET THE OPINION NEWSLETTER
Another policy curveball – schools
The job of the press secretary is like that of a relief pitcher in baseball. No matter how good or bad things were up to that point, KJP has to befuddle the opposition enough to get the win. Sometimes that's impossible, which makes the things she says even more outlandish. When the subject of schools came up just recently, KJP turned to her weakest pitch – the curveball, claiming Biden "made a priority to open schools." Reality is far different. In fact, Team Biden (the ones with the American Federation of Teachers union logo on their uniform sleeves) reached out to the union, according to its goofball president Randi Weingarten. Given the union's record of trying to keep kids out of school till the end of the millennium, that makes KJP's comment another wild pitch.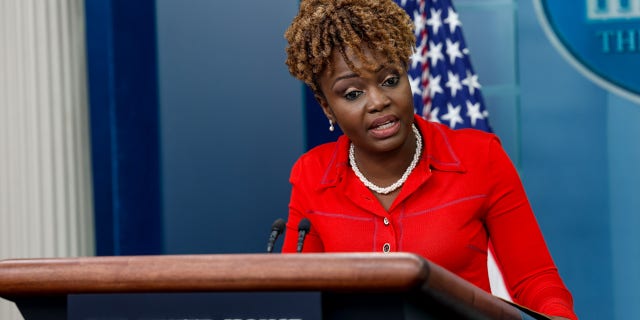 The Great Communicator 2.0
Oldsters (Ahem!) who remember when Biden was first elected to the Senate in 1972, we can more easily remember when President Ronald Reagan was called The Great Communicator. He earned the title not just because he knew how or when to deliver a line, he earned the title for effectively reaching the American public. Even pro-Biden voters can't claim Joe has a similar claim to fame. (And if you are pro-Biden, kudos for making it this far.) Yet, KJP made this amazing claim back in February: "The president is the best communicator that we have in the White House." There are two ways to read that – either praising Biden or admitting that the whole team couldn't make it past the Mendoza Line with the Houston Astros reading the signs from center field.
What's really amazing is this is only KJP's first year in the majors. The best is yet to come.