USFL kicker Luis Aguilar ties pro football record with 8 makes, including game-winner: 'It hasn't hit me yet'
Aguilar was a standout kicker at Northern Arizona before he continued his football dream with the Philadelphia Stars
The Philadelphia Stars called on kicker Luis Aguilar when they needed him the most and he delivered in historic fashion in the team's Week 5 win over the New Jersey Generals in the USFL.
Aguilar nailed the game-winning 55-yard field goal to give the Stars the 24-21 win and in doing so, he tied a professional football record with eight made field goals in a single game. He hit from 22, 42, 56, 36, 27, 51, 49 and 55 yards and tied Rob Bironas for the mark, who did it with the Tennessee Titans.
"That's insane," Aguilar told Fox News Digital on Tuesday when asked what it felt like knowing he was up there with Bironas and some of the other all-time greats. "Like, I knew in the back of my head, I knew about that record, the 8-for-8. But in the game I didn't really think anything about it. I was more worried about that next kick. As we were rolling, it didn't feel like eight field goals. We were just kind of rolling and going out there and doing our same routine we do all the time. "It was after the game when they were like, 'you just tied a pro football record.
CLICK HERE FOR MORE SPORTS COVERAGE ON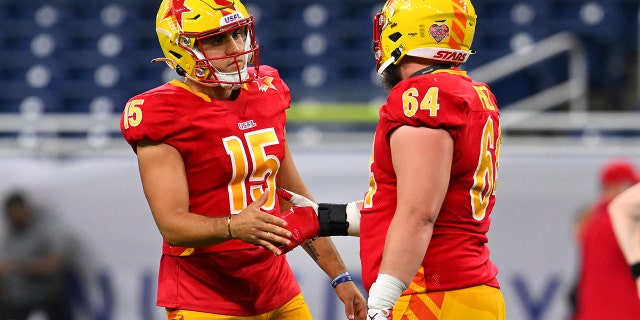 "It hasn't hit me yet. And my coach called me yesterday and he's like, 'I don't think it's hit you but do you know what you did?' And I'm like no. It still feels surreal. It's been all good. I told myself I was going to put it to rest yesterday but this is the only exception."
Aguilar's 56- and 55-yarders were the two longest field-goal makes of the season.
More importantly for Philadelphia, Aguilar hit the game-winner that put them at 2-3 on the season and he was named the Special Teams Player of the Week. Each of the four teams in the North Division have a 2-3 record at the midway point of the year.
Philadelphia is looking to get back to the divisional championship game after finishing as the runner-up during the inaugural season.
Aguilar was mobbed by his Stars teammates once the kick went through the uprights at Ford Field.
"It was such a surreal experience," he said. "It's like a kicker's dream to hit those game-winners because we don't get many opportunities like that. There's only so many games and to have that opportunity and come in clutch for your team is something I'll tell my kids about in 20 years.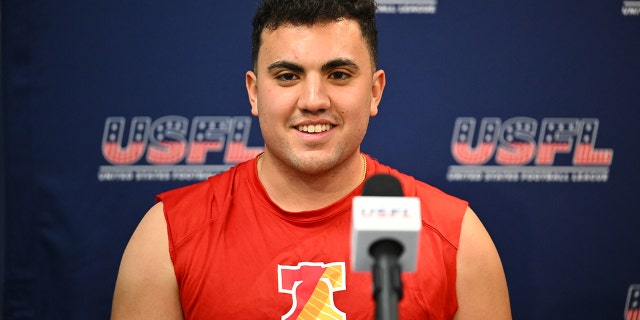 "It's one of those moments you don't forget ever in your life," he added, while also giving credit to the offensive line for blocking the tough Generals rush for him all game long.
JAGUARS' DOUG PEDERSON PRAISES USFL AS WAY TO GET 'MEANINGFUL REPS'
Aguilar was a kicker for Northern Arizona before he got the chance to join the Stars and continue his football dream. Notable college football expert Phil Steele named him to his preseason All-American Second Team and his preseason All-Big Sky Conference First Team in 2021.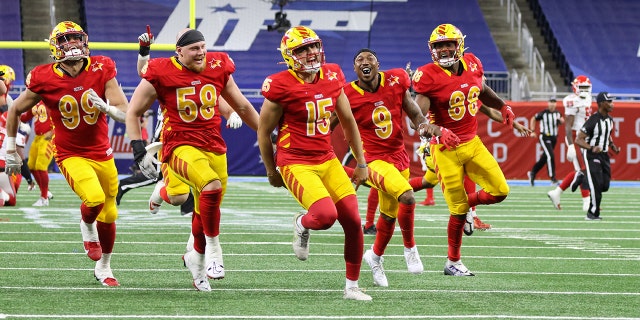 He was also a 2021 Spring Associated Press First-Team All-American. He was 9-for-17 in 2021 and 9-for-10 in 2020 on field goals before his collegiate career was over.
He told Fox News Digital he was working part-time at TPC Scottsdale in Arizona before he got the call.
"That was my part-time job that allowed me to kind of keep training and staying on top of things kicking wise and lifting wise," he said, "But it's cool because they have this newsletter that comes out every week and they always throw it in the newsletter like, 'Luis is playing this Saturday or this Sunday' so all the employees can tune in and watch the game. I'm expecting to still go back there after this season and keep working there while I train and stuff."
If Aguilar keeps up his kicking prowess, he could be among the USFL players who get a shot at making an NFL roster in training camp. The USFL saw 60 players from the 2022 season sign NFL contracts. Running back KaVontae Turpin and kicker Taylor Bertolet were among them.
Turpin was named to the Pro Bowl for his play on the special teams. Bertolet made three field goals for the
Los Angeles Chargers
in his NFL debut.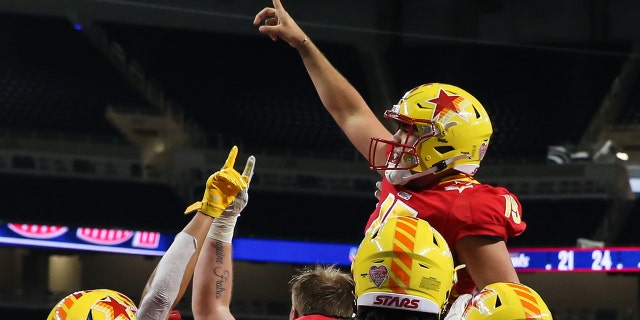 Philadelphia will take on the 4-1 New Orleans Breakers on Sunday at noon ET. The game can be seen on FS1.