South Carolina groom planning bride's funeral after tragic wedding day crash
Accused drunk driver Jamie Komoroski, 25, crashed into the couple's golf cart
The South Carolina groom, who lost his bride on their wedding day after an alleged drunk driver slammed into their golf cart, is recovering at home and planning his new wife's funeral, his family said.
Aric Hutchinson, 36, was left with bleeding in his brain, two broken legs, facial fractures and broken vertebrae in his back, his mother, Annette Hutchinson, posted in an update on his GoFundMe account.
"He is physically recovering at home while trying to come to terms with the loss of his beautiful wife," the mother wrote. "Now he is doing the unimaginable of planning Sam's funeral along with her family."
Hutchinson and Samantha Miller, 34, had just left their wedding reception in Folly Beach under a canopy of sparklers when accused drunk driver Jamie Komoroski, 25, slammed her red Toyota Camry into the couple's golf cart.
LAWYERS FOR SOUTH CAROLINA DRIVER ACCUSED OF KILLING BRIDE SAY DON'T 'RUSH TO JUDGMENT'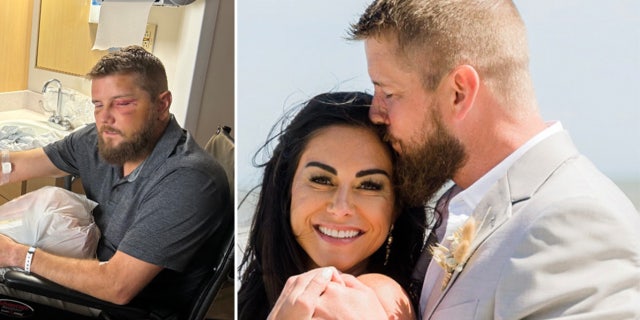 Miller, who was still wearing her wedding dress, died instantly. Hutchinson's brother-in-law, Benjamin Garrett, and his 17-year-old nephew, Brogan Garrett, were also on the golf cart and injured from the collision.
WOMAN IN SOUTH CAROLINA WHO ALLEGEDLY KILLED BRIDE, INJURED GROOM ON WEDDING NIGHT REEKED OF ALCOHOL: POLICE
"We are missing Sam more than anything. She instantly fit into our family from the first day Aric and Sam met. She was everything to my son and changed him for the better," the post says. "She could light up a room with her presence and had an ease about her. They shared many hopes and dreams for their future, including children and building a house."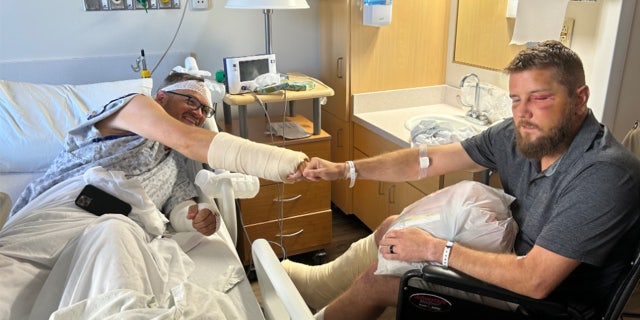 Benjamin Garrett is still recovering in the hospital's burn unit "where he underwent surgery to clean out and redress his severe road rash and open wounds," according to the update on the "Sam and Eric" GoFundMe account that has raised more than $700,000.
ALLEGED DRUNK DRIVER CHARGED WITH KILLING BRIDE HAD DRESSED AS 'BUD LIGHTYEAR' FOR HALLOWEEN
Brogan suffered minor injuries. The post included new photos of Aric Hutchinson in a wheelchair, with a swollen left eye and a cast on his right leg, next to Benjamin Garrett's hospital bed.
Komoroski, who is jailed without bond, is charged with three counts of felony DUI resulting in great bodily injury or death and one count of reckless homicide, court records show.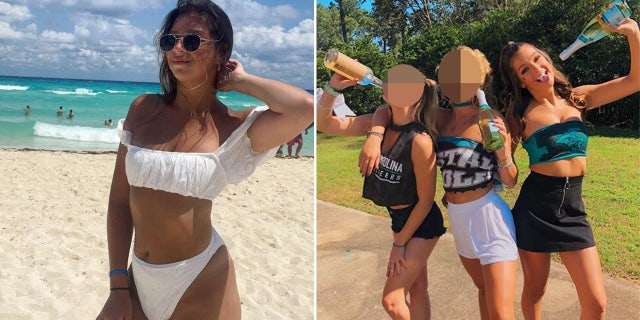 Her defense lawyers, Nathan S. Williams and Christopher S. Gramiccioni, urged the public not to "rush to judgment" in a statement to Fox News Digital.
Komoroski was allegedly driving 65 mph, more than double the posted speed limit, on the dimly lit road when she hit the golf cart, which rolled several times and was thrown more than 100 yards.
Officers noted that she was unsteady on her feet, and she allegedly refused to take a field sobriety test on the scene.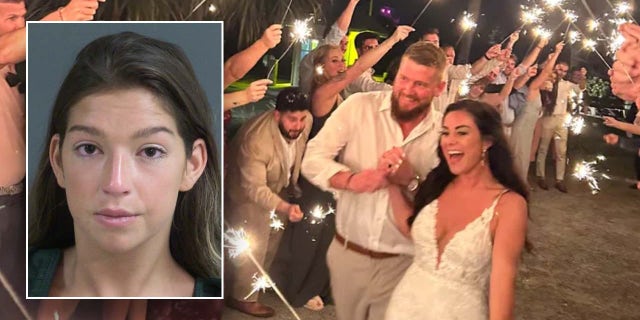 Her blood was later drawn at the hospital to test her blood-alcohol level. Police have not released the results.
"What started as the happiest day for Aric and Sam ended with a tragedy," the groom's mother wrote in the post. "While our hearts are broken along with the Millers, we never could have imagined how sharing our story would result in the tremendous outpouring of love, support, and overwhelming generosity."