Mayorkas pleads with migrants not to enter US illegally when Title 42: 'You are being deceived'
Title 42 is scheduled to end on May 11
Homeland Security Secretary Alejandro Mayorkas, facing a potentially historic migrant surge once the Title 42 public health order ends in less than a week, made a final plea for migrants not to attempt to cross into the U.S. illegally -- telling them they are being "deceived" by smugglers.
"The border is not open," Mayorkas said. "It has not been open, and it will not be open subsequent to May 11th. And the smugglers who exploit vulnerable migrants are spreading misinformation. They are spreading false information, lies in a way to lure vulnerable people to the southern border and those individuals will only be returned."
Mayorkas spoke in Brownsville, Texas alongside Border Patrol Chief Raul Ortiz just days before the Title 42 order will expire on Thursday. The public health order was implemented in March 2020 in response to the COVID-19 pandemic and millions of migrants have been rapidly expelled back to Mexico under the order for public health reasons. In March, 46% of all encounters resulted in a Title 42 expulsion.
FOX NEWS FOOTAGE CAPTURES HUNDREDS OF MIGRANTS CROSSING INTO TEXAS AS TITLE 42'S END APPROACHES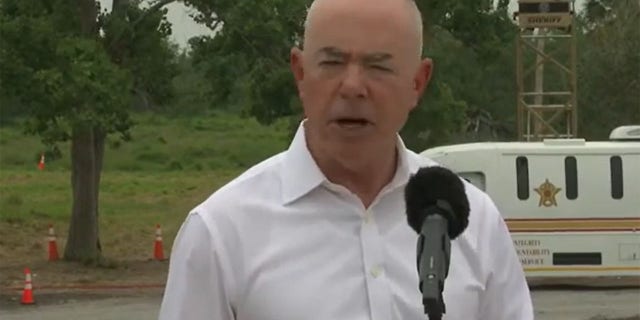 With the order ending, there are widespread fears of a new border surge as migrants, believing they are more likely to be released into the U.S., flood to the border -- with numbers already growing in areas like near Brownsville, where authorities are seeing a surge in Venezuelan single adults.
On Friday, Mayorkas said he "[does] not want to understate the severity of the challenge we expect to encounter."
But he continued his claim that migrants who enter the U.S. illegally will be removed from the country, and pleaded with them not to try.
"To the individuals themselves, who are thinking of migrating: Do not believe the smugglers. Please access the official government publications. Please access the official government Information on the Department of Homeland Security website for accurate information," he said.
"Because you are being deceived, and you are risking your lives and your life savings only to meet a consequence that you do not expect at our southern border," he said.
The administration has been ramping up its preparations, including deployment of 1,500 troops to the southern border this week -- as well as the establishment of migrant processing centers across Latin America and other agreements with Mexico to take back non-Mexican illegal immigrants.
The administration is also putting into place an asylum rule that, in theory, would make migrants ineligible for asylum if they cross the border illegally and fail to claim asylum at a country through which they have already traveled. However, Mayorkas has stressed that the "presumption of eligibility" is rebuttable -- suggesting that the exemptions could be used liberally.
TILLIS, SINEMA TO INTRODUCE BILL TO ALLOW MIGRANT EXPULSIONS TO CONTINUE AFTER TITLE 42 ENDS
The DHS chief announced the distribution of an additional $332 million in funding to NGOs and local governments to aid migrants released from custody.
Mayorkas also highlighted what DHS intends to be a greater use of penalties under the traditional Title 8 authorities to expel migrants who enter illegally -- which include a re-entry bar and criminal prosecution.
"So the consequence is going to be more severe. And what we will do, what we will do is remove individuals who do not qualify for relief under the standard that will be set by the rule that we will have finalized by May 11th," he said.
GOP SENATORS URGE BIDEN TO REVERSE TITLE 42 TERMINATION, CITING ESTIMATES OF MIGRANT DELUGE
"We have a plan, we are executing on that plan," he said, before repeating his calls for Congress to take action on fixing what he has called a "broken" immigration system.
So far, Mayorkas has not assured lawmakers on the Hill. Multiple Republican senators have called on President Biden to reverse course on Title 42, while a bipartisan coalition of senators introduced legislation to grant DHS a Title 42-esque authority for two years.
Meanwhile, agents are already seeing a surge at the border, with CBP sources telling Fox News that they have seen 8,000 encounters a day in the first days of May -- even before the order has lifted.\