How to protect your Android from cyberattacks with one great feature
Make sure this Android security feature is turned on
Cyberattacks are unfortunately becoming more and more common as time goes on, which is why big tech companies like Apple and Google are constantly updating their security measures to protect the privacy and security of their customers.
For those with an Android, there's a specific security feature that many people might not be aware of, yet its capabilities will keep you protected from those who want to hijack your private information.
Let's dive into how to enable this important and necessary feature.
CLICK TO GET KURT'S FREE CYBERGUY NEWSLETTER WITH QUICK TIPS, TECH REVIEWS, SECURITY ALERTS AND EASY HOW-TO'S TO MAKE YOU SMARTER
Safe Browsing on the Android: what is it for?
Android phones have a feature called Safe Browsing, and the purpose of it is to give you alerts about malware, risky extensions, phishing scams or sites on Google's list of potentially unsafe websites. This can make a huge difference by letting you know right away that your information has gotten into the wrong hands, allowing you to take action much quicker.
Here's how to enable the feature on your Android.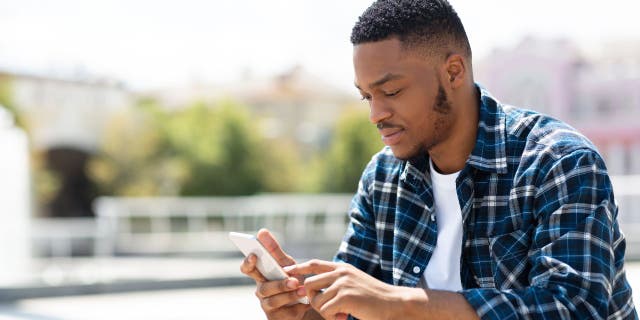 MORE: 5 THINGS YOU DIDN'T KNOW YOU COULD DO ON AN ANDROID
How to enable Safe Browsing on your Android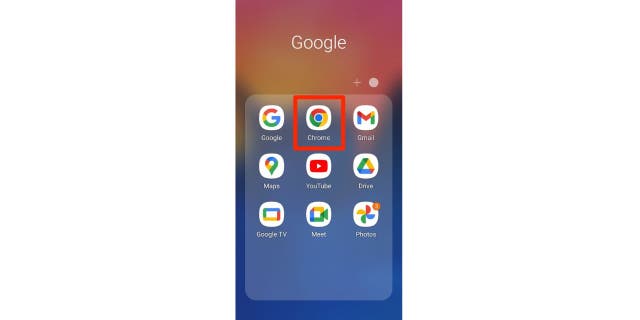 Click the

3 dots

in the upper right-hand corner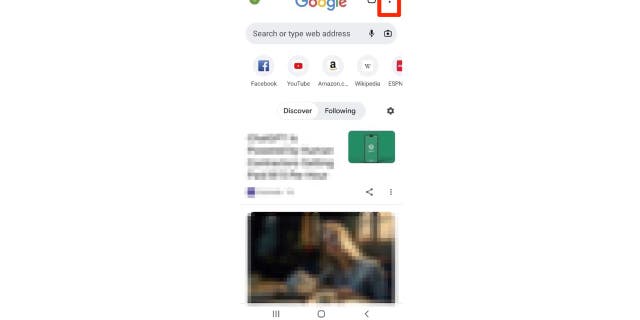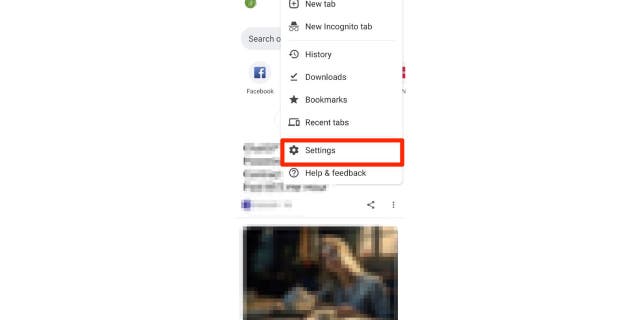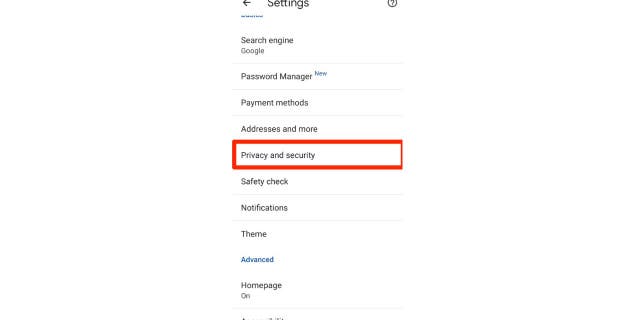 DELETE THESE DANGEROUS ANDROID APPS NOW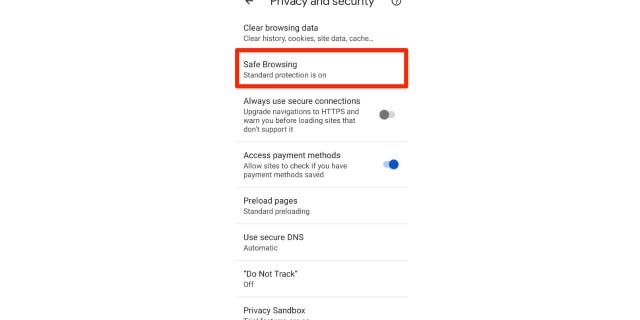 Once you turn on Safe Browsing, you will have a choice between three levels of protection.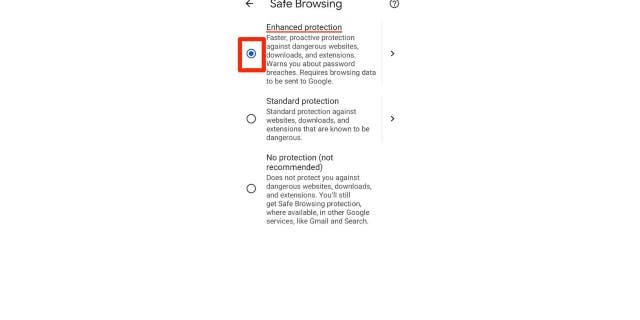 No Protection:

this means that Safe Browsing will be turned off, and the features used in the other protection levels are turned off.

Standard Protection:

this level of protection will automatically want you about potentially risky sites and downloads. You also have the option to choose to get warned about leaked passwords, as well as choose to send additional info to Google to improve security on the web for everyone.

Enhanced Protection:

this is the highest level of protection and has all the same features that Standard Protection has. However, it also inspects the safety of your downloads and warns you when a file may be dangerous. You can also choose to send a file to Google to be scanned for added security.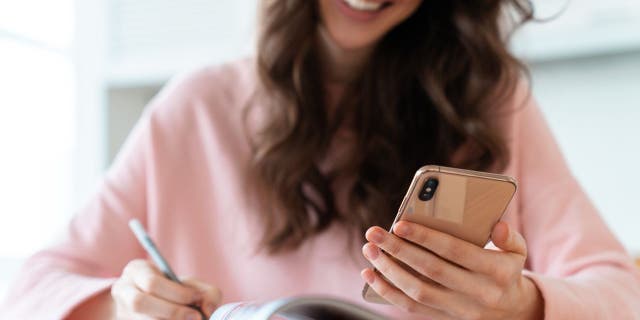 I would recommend using Enhanced Protection because it provides the most features and the highest level of security, and you'll be better off, in the long run, knowing that you're more protected. Google has also said that users who enabled Enhanced Protection are 35% less likely to fall victim to phishing scams than those who do not use it.
MORE: HOW TO CHANGE YOUR PRIVACY SETTINGS ON YOUR ANDROID DEVICES
Are there any downsides to using Enhanced Protection?
Although Enhanced Protection can protect you more, it does have a downside that you should be aware of. The downside is that turning on Enhanced Protection means that you have to share data with Google, and your Google account will be linked to your browsing data temporarily. Google says that this is only to make the protections more specific to your account, however, having to share more data with the tech giant might not sit right with many people.
While Safe Browsing is an essential security feature for any Android device, it is not a substitute for antivirus software. Safe Browsing is designed to prevent you from accidentally visiting malicious websites or downloading malware through your web browser, yet it cannot protect your device from all types of threats - especially ones that may result from clicking a malicious link in your text message or email from within your mail app.
Have good antivirus software on all your devices
Antivirus software, on the other hand, provides more comprehensive protection by scanning your device for viruses, spyware and other types of malware. It can also detect and remove malicious software that has already been installed on your device and alert you of any phishing emails or ransomware scams. Most importantly, antivirus software will prevent you from clicking a malicious link that could install malware on your device in the first place.
See my expert review of the best antivirus protection for your Windows, Mac, Android and iOS devices by heading to CyberGuy.com/LockUpYourTech.
Related: Free antivirus: should you use it?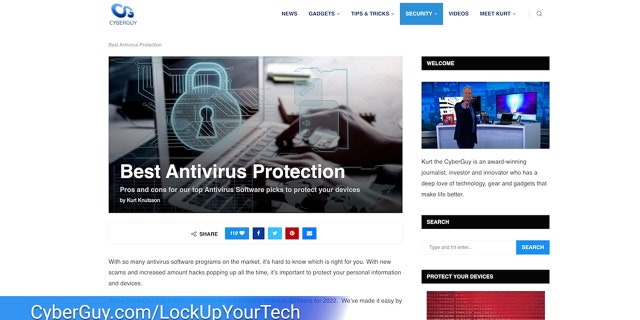 Final thoughts
With the increasing number of cyberattacks, it's crucial to have strong security measures in place, and Android's Safe Browsing feature offers you a much-needed layer of protection by alerting you to potential threats, and the Enhanced Protection option provides the highest level of security, despite requiring some data sharing with Google. However, it is also important to note that Android's Safe Browsing is not a substitute for good antivirus software.
Do you think it's worth it to use Enhanced Protection, even if it means sharing more data with Google? Let us know by writing us at CyberGuy.com/Contact.
FOR MORE OF MY TIPS, SUBSCRIBE TO MY FREE CYBERGUY REPORT NEWSLETTER BY HEADING TO CYBERGUY.COM/NEWSLETTER.