Blueberry brioche French toast to impress Mom on Mother's Day
Brioche French toast casserole for Mother's Day: Try the recipe
To celebrate mom or a special mother figure in your life on Mother's Day, French toast in bed sure does delight.
Consider upping the ante this Mother's Day with this delicious riff on traditional French toast.
"Most breakfast casserole recipes are created to be assembled the night before. We developed this recipe because most often on the night before you want a special breakfast you don't want to be in the kitchen," said Pam Brand of Georgia, co-founder of food blog Biscuits and Burlap.
MOTHER'S DAY DINNER IDEAS: 3 RECIPES SURE TO IMPRESS MOM ON HER SPECIAL DAY
Check out the recipe below.
Brioche French Toast Casserole by Biscuits and Burlap
Makes 8 servings
Prep time: 60 minutes
Cook time: 45 minutes
COZY MOTHER'S DAY GIFTS FOR 2023: FLUFFY ROBES TO SCENTED CANDLES AND MORE
Ingredients
15 ounces brioche bread about 1 loaf, cut into 1.5 inch pieces
2 cups blueberries fresh or frozen
5 eggs
½ cup half-and-half
1⅓ cup whole milk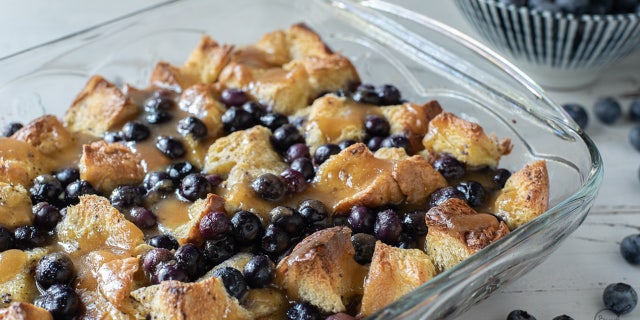 1 teaspoon vanilla extract
½ teaspoon cinnamon
2 tablespoons butter melted
¼ cup brown sugar
1 tablespoon powdered sugar optional, for garnish
MOTHER'S DAY: 10 THOUGHTFUL GIFT IDEAS FOR YOUR GRANDMOTHER TO SHOW HER LOVE AND APPRECIATION, TOO
Directions
1. Cut bread into approximately 1½ inch cubes and place half in a greased 9x13 inch baking dish.
2. Top with half blueberries and then layer remaining bread followed by remaining blueberries.
3. In a medium bowl whisk eggs, half-and-half, milk, vanilla extract and cinnamon until well blended.
4. Pour egg mixture over bread and blueberries and allow to sit in the refrigerator, covered for 45 minutes to 12 hours.
5. In a small bowl combine melted butter and brown sugar.
6. Remove the casserole from the fridge and sprinkle sugar/butter mixture over the top.
7. Bake at 350 °F degrees for 40–45 minutes or until the casserole is golden brown on top.
8. Dust with powdered sugar if desired.
9. Allow to sit 8–10 minutes before serving.
CLICK HERE TO SIGN UP FOR OUR LIFESTYLE NEWSLETTER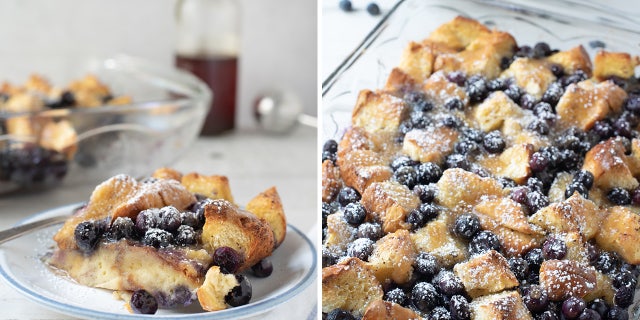 This original recipe is owned by nd was shared with