'Wicked' director shares first look at Ariana Grande and Cynthia Erivo's characters
The adaptation of the hit Broadway musical is due in theaters in 2024
Fans of the Broadway musical "Wicked" are getting their first little taste of the upcoming big screen adaptation.
Director John M. Chu, who also directed the hit film "Crazy Rich Asians," tweeted out an image of Elphaba and Glinda, played by Cynthia Erivo and Ariana Grande respectively, in a tease for the movie.
"You weren't told the whole story. What happens when you veer off the Yellow Brick Road? Here is your very FIRST LOOK of #WickedMovie … currently in production in Oz."
"Wicked" is being broken into two parts, with the first part set to release Christmas Day 2024, and the second Christmas Day 2025.
ARIANA GRANDE RESPONDS TO CLAIMS THAT SHE'S NOT A 'SINGER ANYMORE' BY PERFORMING 'SOMEWHERE OVER THE RAINBOW'
Some fans have noted the images are dark and it's hard to see much detail of Grande and Erivo.
"I know it's still being shot and it won't be ready until next year, but will the final versions of these two shots be brighter than this? Please confirm," requested one person.
"Girl please turn on the lights by the time I can watch this movie," a commenter joked.
"Looks like Wicked has been 'Tim Burton-ised' It's a bright, in your face show. These just look dark," said another.
Chu responded, "Don't worry, color is in my DNA… this is just the first tease. Plenty of time to show more… stay tuned."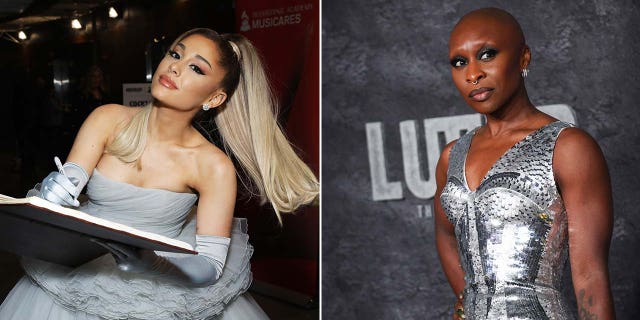 Grande, who has been out of the spotlight while filming the musical, also recently responded to people's comments on social media, specifically those about changes to her body and weight.
"I just wanted to address your concerns about my body and talk a little about what it means to be a person with a body, and to be seen and be paid such close attention to," the 29-year-old said in a TikTok.
CLICK HERE TO SIGN UP FOR THE ENTERTAINMENT NEWSLETTER
"I think we should be gentler and less comfortable commenting on peoples bodies, no matter what. If you think you're saying something good or well-intentioned, whatever it is — healthy, unhealthy, big, small, this, that, sexy, not sexy — we just shouldn't," she said. "We should really work towards not doing that as much.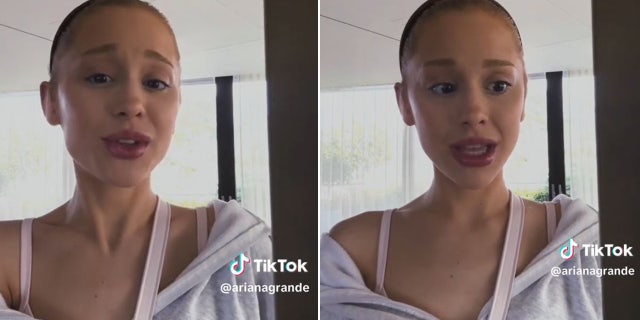 In the video, Grande noted she was on antidepressants and drinking and "eating poorly" when "I looked the way you consider my healthy. But that, in fact, wasn't my healthy."
She added, "You never know what someone is going through, so even if you are coming from a loving place and a caring place, that person probably is working on it or has a support system that they are working on it with. You never know, so be gentle with each other and with yourselves.
The Grammy Award winner married real estate broker Dalton Gomez in 2021, after previously being engaged to Pete Davidson in 2018..