'Phantom of the Opera' closes on Broadway after record-setting 35 year run
The show has been performed on Broadway since 1988, with a total of 13,981 performances
It's the end of an era on Broadway as the long-running musical "The Phantom of the Opera" delivers its final performance.
Sunday marked the show's 13,981 performance, cementing its record as the longest running show in Broadway history.
Since its debut in 1988, the show has been seen by 20 million people, earning $1.36 billion at the box office.
Among the stars in attendance to bid the show farewell were Tony Award winner and creator of "Hamilton" Lin-Manuel Miranda and members of the show's original cast, including the show's original star, Sarah Brightman.
SECRETS BEHIND 'PHANTOM OF THE OPERA'S' 30-YEAR BROADWAY RUN
It was originally set to close earlier this year on February 18th, but due to a spike in demand for tickers from fans after the announcement, the finale was pushed to April 16. The demand also made it the highest-grossing show on Broadway again, raking in over $3 million a week.
The decision to close the show came after sluggish ticket sales pre- and post-pandemic, and the overall expense of the production, which according to Variety, costs almost $1 million a week to produce.
"Phantom of the Opera" was composed by Andrew Lloyd Webber with lyrics by Charles Hart and directed by Hal Prince.
Based on the Gaston Leroux horror novel of the same name, the musical tells the tale of the titular disfigured genius who becomes obsessed with a beautiful young soprano named Christine.
After its original West End production in 1986, the show debuted on Broadway in 1988 and was a smash hit, earning seven Tony Awards in 1988, including best musical.
CLICK HERE TO SIGN UP FOR THE ENTERTAINMENT NEWSLETTER
Since it's debut, the show's soundtrack has gone four times platinum in the United States and has played in 45 countries and 17 languages.
And though the Broadway production is coming to an end, there are currently productions being done in the Czech Republic, Japan, South Korea, and Sweden. New renditions are also expected to open in China, Italy, and Spain later this year.
The show's producer, Cameron Mackintosh, also teased that the show isn't leaving Broadway forever.
In an interview with Variety ahead of the final performance, Mackintosh said, "Of course it will return. All the great musicals do."
On Friday, Webber, also famous for musicals like "Cats," "Evita," and "Jesus Christ Superstar," received the key to New York City from Mayor Eric Adams.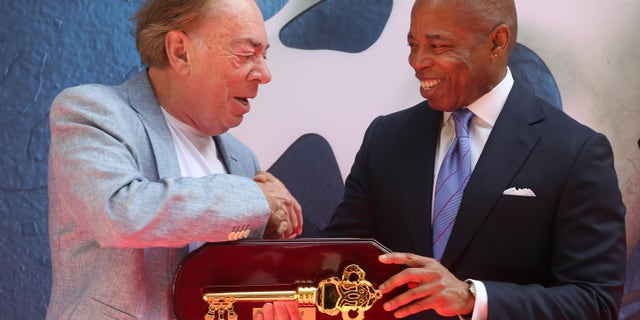 "For nearly five decades, Broadway has acted as my second home, dating all the way back to 1971 with Jesus Christ Superstar," Lloyd Webber said, per Playbill. "I am honored to receive a Key to the City of New York, a symbol of how pivotal New York City is to my personal life and professional career in theater."
Lloyd Webber isn't leaving Broadway either. His new musical, "Bad Cinderella," just opened on Broadway at the Imperial Theater.