Trump slams Bragg after pleading not guilty: 'I never thought anything like this could happen in America'
Trump pleaded not guilty to 34 counts of falsifying business records in the first degree related to alleged hush-money payments ahead of the 2016 election
Former President Trump slammed Manhattan District Attorney Alvin Bragg Tuesday from Mar-a-Lago, just hours after pleading not guilty to falsifying business records related to alleged hush-money payments made ahead of the 2016 presidential campaign, telling supporters he "never thought anything like this could happen in America."
TRUMP PLEADS NOT GUILTY TO 34 FELONY COUNTS OF FALSIFYING BUSINESS RECORDS LINKED TO 2016 HUSH-MONEY PAYMENTS
Trump was arraigned Tuesday in New York City, after being indicted on 34 counts of falsifying business records in the first degree. Trump pleaded not guilty to the charges.
The judge did not impose a gag order, so Trump was free to make remarks about the case Tuesday night when he returned to Mar-a-Lago.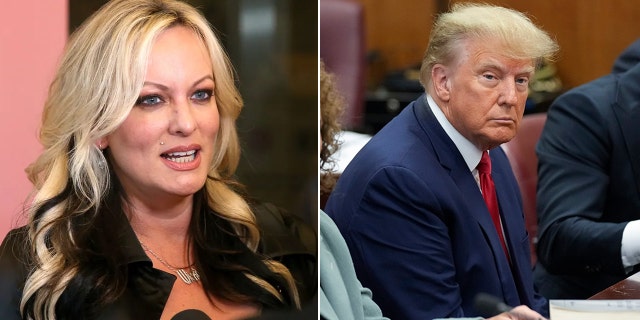 "I never thought anything like this could happen in America. I never thought it could happen," Trump said Tuesday night. "The only crime that I have committed is to fearlessly defending our nation from those who seek to destroy it."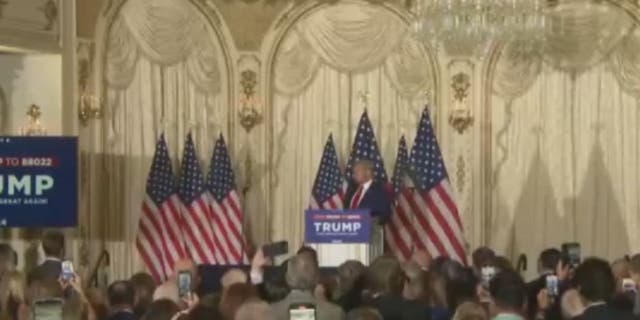 "From the beginning, the Democrats spied on my campaign--remember that they attacked me with an onslaught of fraudulent investigations Russia, Russia, Russia; Ukraine, Ukraine, Ukraine; impeachment hoax number one; impeachment hoax number two; the illegal and unconstitutional raid on Mar-a-Lago right here; the lying to the FISA court; the FBI and DOJ relentlessly pursuing Republicans; the uncontested judicial changes to election laws by not getting approvals from state legislatures," Trump said.
Trump was referring to the original investigation by the FBI, then Special Counsel Robert Mueller, into whether he and members of his 2016 campaign colluded with Russia to influence the presidential election. After nearly two years, Mueller's investigation yielded no evidence of criminal conspiracy or coordination by the Trump campaign.
TRUMP TARGETED: A LOOK AT THE INVESTIGATIONS INVOLVING THE FORMER PRESIDENT, FROM RUSSIA TO MAR-A-LAGO
Trump also referred to his impeachments. Trump was the first president in United States history to be impeached and acquitted twice. He also detailed a number of other investigations that clouded his administration.
But Trump, on Tuesday night, slammed Manhattan District Attorney Alvin Bragg as a "Soros-backed prosecutor" who "campaigned on the fact that he would get President Trump."
"A local failed district attorney charging a former President of the United States for the first time in history on a basis that every single pundit and legal analyst said there is no case—there's no case," Trump said. "But it's far worse than that, because he knew there was no case."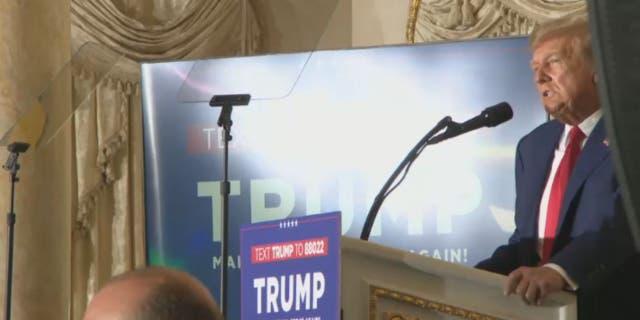 Trump called on Bragg to "resign" after "leaking" details of the indictment to the media before it was unsealed Tuesday.
Trump went on to slam the judge presiding over his case as a "Trump-hating judge," Bragg's wife as a "Trump-hating wife and family whose daughter worked for Kamala Harris."
The former president and 2024 GOP presidential front-runner's speech came after his unprecedented arraignment in New York City Tuesday.
The indictment alleged that Trump "repeatedly and fraudulently falsified New York business records to conceal criminal conduct that hid damaging information from the voting public during the 2016 presidential election."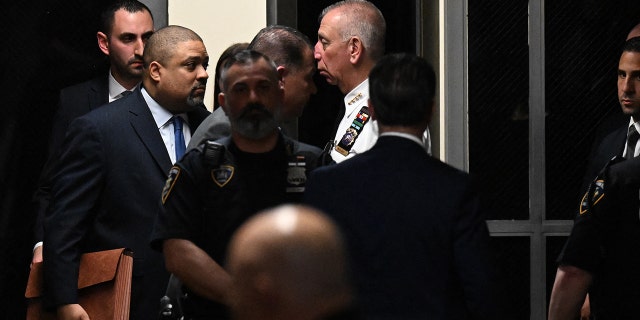 Federal prosecutors in the Southern District of New York opted out of charging Trump in 2019 related to the payments made to adult film actress Stormy Daniels and former Playboy model Karen McDougal. The Federal Election Commission also tossed its investigation into the matter in 2021.
Trump surrendered to the Manhattan District Attorney's Office and was arraigned in court Tuesday afternoon after being indicted by a Manhattan grand jury last week.
Bragg is alleging that Trump falsified New York business records in order to "conceal damaging information and unlawful activity from American voters before and after the 2016 election."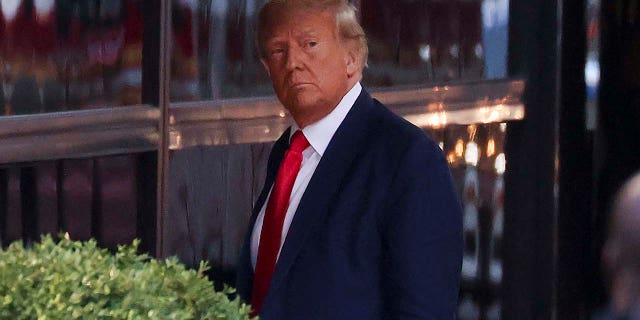 The former president went on to deliver a point-by-point description of each investigation of which he is currently the target.
Trump defended himself against allegations out of Special Counsel Jack Smith's investigation. Smith is investigating Trump's alleged mishandling of classified records at Mar-a-Lago.
"Our justice system has become lawless," Trump said. "They're using it now, in addition to everything else, to win elections."
Trump took a swipe at Hillary Clinton, who "got rid of 33,000 emails."
"That was okay," Trump said.
Trump slammed Smith as a "lunatic special prosecutor."

The former president also slammed President Biden, who is also under special counsel investigation for his alleged mishandling of classified records, and claimed that the documents he held at Mar-a-Lago were declassified.
"As president, I have the right to declassify documents. If I take them with me, it's automatic declassify," Trump said, adding that Biden was vice president, and said he "had absolutely no right to declassify."
"They like to say that I'm obstructing, which I'm not, because I was working with NARA very nicely until the raid on my home."
Smith was appointed as special counsel after the FBI, in August, in an unprecedented move, raided Trump's private residence at Mar-a-Lago in connection with an investigation into classified records the former president allegedly took with him from the White House on Aug. 8, 2022.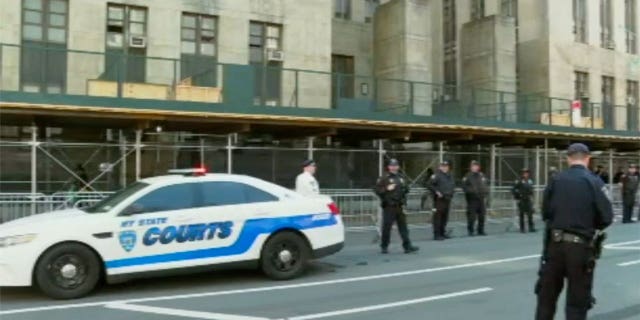 Smith is also investigating whether Trump or other officials and entities interfered with the peaceful transfer of power following the 2020 presidential election, including the certification of the Electoral College vote on Jan. 6, 2021.
Shifting to New York, Trump slammed New York State Attorney General Letitia James as a "racist in reverse who also campaigned on 'I will get Trump.'"
James, a Democrat, has been investigating Trump since she took office in January 2019. James brought a lawsuit against Trump in September alleging he and his company misled banks and others about the value of his assets.
Trump also slammed the Georgia grand jury investigating Trump's alleged efforts to overturn the 2020 presidential election in the state, including his phone call with Georgia Secretary of State Brad Raffensperger in which Trump suggested the Republicans "find" enough votes to change the results.
Trump slammed the "local racist Democrat district attorney in Atlanta who is doing everything in their power to indict me over an absolutely perfect phone call, even more perfect than the one I made with the president of Ukraine."
Trump was referring to his first impeachment—brought after a call with Ukrainian President Volodymyr Zelenskyy, in which he suggested Ukraine should investigate the Biden family's business deals in Kyiv.
DONALD TRUMP AND STORMY DANIELS: WHAT YOU NEED TO KNOW
"I kept saying that is a perfect call—this one was even more perfect," Trump said, referring to the Georgia call.
"This fake case was brought only to interfere with the upcoming 2024 election and it should be dropped and immediately," Trump said.
Trump also slammed Hunter Biden and the Biden family, saying had their business dealings and the infamous Hunter Biden laptop been revealed before the 2020 election, the election results "would have been in our favor."
The charges against Trump come after a years-long investigation opened in 2019 by then-Manhattan District Attorney Cyrus Vance. The probe was focused on possible bank, insurance and tax fraud. The case initially involved financial dealings of Trump's Manhattan properties, including his flagship Fifth Avenue building, Trump Tower, and the valuation of his 213-acre estate Seven Springs in Westchester.