Seattle journalist exposes 'raw realities' of open-air drug markets: It's a 'hot mess out here'
Jonathan Choe says he hopes his videos hold public officials accountable
A Seattle journalist is speaking out about the drug crisis plaguing Washington state after he filmed several viral videos of addicts shooting up in the middle of the street and in front of a local high school.
Jonathan Choe, a senior fellow at the Discovery Institute, said he hopes lawmakers in Seattle are watching his videos to understand the "raw realities" of life on the streets for citizens every single day.
"Look, the video[s] don't lie. And I'm doing it to hold our officials accountable. I'm doing it to hold the officials who put out bad public policy accountable," he said Tuesday on "Fox News Tonight."
SEATTLE BUS DRIVERS ARE GETTING SICK FROM FENTANYL SMOKE ON CITY BUSES AMID DRUG, HOMELESSNESS CRISIS: REPORT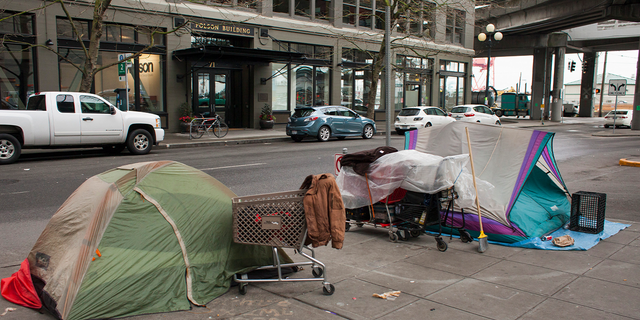 Choe filmed a video on Monday of a man chasing him with a knife after he attempted to film the open-air drug market abuse on 3rd Ave & Pike St. The man ran after Choe and yelled racial slurs at him and threatened to kill him for filming.
"That's part of the downtown core, a block away from Seattle City Hall. The mayor has a bird's eye view of this street," he told host Brian Kilmeade.
"Now, look, to his credit, he is constantly sweeping these tents that form on the street. And in many cases, these are the so-called trap tents. It's not a homeless problem out here. You have people using these tents to essentially sell drugs and to traffick people. So the mayor is on this. But what's forming out here are these types of individuals, these criminals. It's attracting these folks who are committing bad behavior and crimes, quite frankly. And I'm just spotlighting this. And that's why that guy chased me– because he didn't want to be called out and exposed," he continued.
Seattle Mayor Bruce Harrell announced a fentanyl executive order on April 17 to tackle the state's rampant drug abuse. The executive order has six key parts, including directing the Seattle Police Department to "disrupt" the sale and distribution of narcotics, launching a program to help overdose survivors and piloting a "drug abatement program."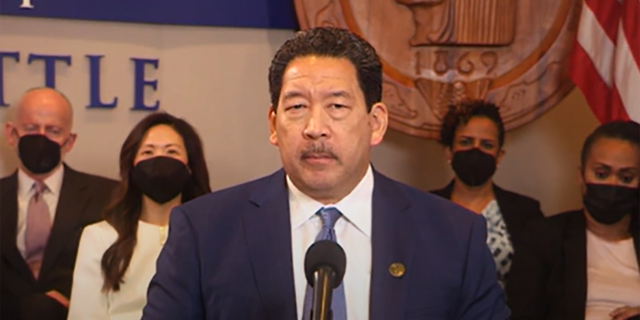 The drug abatement program is designed to "encourage individuals with substance use disorder to accept treatment services by providing incentives (usually gift cards). The 12-week program rewards drug users for abstinence and, in a unique manner, is administered where people live instead of a medical clinic," according to a press release from Harrell's office.
Choe praised the mayor for taking steps to curb the drug crisis but ultimately argued it would get worse before it got better.
"It's still a hot mess out here. Nothing has changed. I'm here almost every single day. You have people doing fentanyl just a block away from Pike Place Market," he said. "There's got to be enforcement."
ARIZONA BORDER PORT OF ENTRY NABS OVER 500,000 FENTANYL PILLS IN SINGLE WEEKEND
Choe added that there needs to be a higher police presence and "intervention" to get addicts into treatment.
"It's got to be required [and] enforced. Otherwise, there's going to be no end in sight," he warned.
"The old policies are failing. So if they're going to use the old playbook to address this ongoing crisis, that's not going to work. We need some new ideas, and we need actual enforcement and intervention to deal with this ongoing humanitarian crisis."