Pelosi event turns chaotic when anti-war protesters say she belongs in 'depths of hell': 'War criminal'
Pelosi has faced pushback on her trip last yeat to Taiwan
Former House Speaker Nancy Pelosi was heckled on Monday by anti-war protesters at a New York City college event – with the disrupters calling her a "war criminal" and a "sad old drunk."
Protesters popped up as the congresswoman was speaking with economist and New York Times columnist Paul Krugman at a City University of New York event.
"You know, Pelosi, that's a very good place for you – in the depths of hell," one heckler shouted, according to video of the event posted on Twitter. "Because for some reason, you have a very bad obsession of getting us into war and why is it that you did not admit that there were no [weapons of mass destruction] in Iraq?"
The remarks were drowned out by boos from audience members who were unimpressed by the disruption.
PELOSI PRAISES MCCARTHY'S 'LEADERSHIP' AFTER TAIWAN MEETING
In addition to the 2003 war in Iraq, hecklers hit her over the war in Afghanistan as well as U.S. policy toward the Russian invasion of Ukraine and tensions between China and Taiwan. They also suggested some sort of U.S. involvement in the blowing up of the Nord Stream pipeline.
"You lied us into a war in Iraq. You got us into an invasion of Afghanistan. Now over 90% of those people are impoverished and are dying. Why don't you tell the truth about Nord Stream? Why did we destroy Nord Stream?"
"Hey, congresswoman, I came to see a warmonger, but you're a sad old drunk," another protester yelled as he was escorted out.
He referenced the arraignment of former President Donald Trump and appeared to imply Pelosi was due to be indicted.
NANCY PELOSI STRUGGLES TO RECOVER AFTER ACCIDENTALLY REFERRING TO HILLARY CLINTON AS 'PRESIDENT'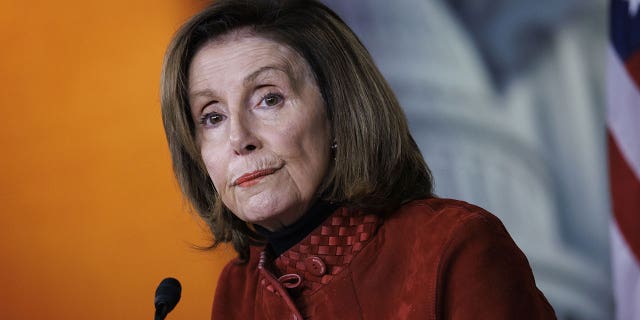 "Is that why you're here, because you're getting indicted tomorrow, you god---- war criminal! How many people have died in your f---ing name?" the protester screeched.
Another protester was booed and carried out for protesting over the economy, saying, "Dodd-Frank was never going to work if we don't deal with $600 trillion in derivatives, then there's no chance for this economy."
Pelosi has previously been confronted by the anti-war left, most recently in August when protesters objected to her trip to Taiwan – which they claimed would exacerbate tensions with the communist regime.