Idaho school board member attacks governor in profane tweet: 'I'm p---ing on your grave'
Rajbhandari said he remains 'unapologetic in' his 'commitment to our LGBTQ+ community'
A young Idaho school board member unleashed a profane attack on social media against the state's governor, saying he will be "p---ing" on his "grave" after he dies.
Boise school board member Shiva Rajbhandari, 18, published a profanity-laden tweet targeting Idaho Gov. Brad Little, a Republican, after he signed a bill making it illegal to give minors puberty blockers and hormones.
"F--- you [Little]. I pray you live a long life so you can bear witness to the pain you've unleashed on Idaho's children and families today," Rajbhandari wrote.
IDAHO'S REPUBLICAN GOVERNOR SIGNS BILL TO MAKE IT A FELONY TO PROVIDE HORMONES, PUBERTY BLOCKERS TO MINORS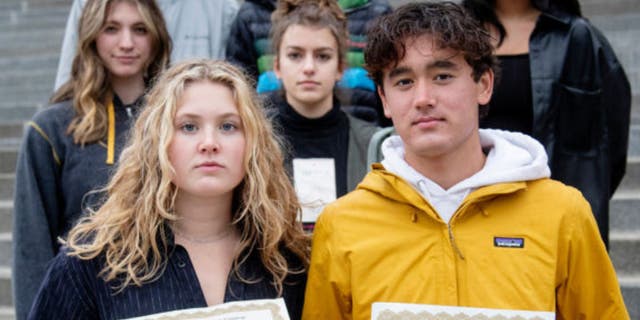 "When you do die though, I'm pissing on your grave," the Boise school board member wrote.
Rajbhandari, a teen activist who was elected to his position last year, sent a statement to Digital regarding his tweet.
"I have received some concerns that the language in my last tweet was inappropriate and inconsistent with my posi
Of course, my tweets are my own only and do not necessarily reflect the views of any organization with which I am affiliated, nor would I engage or condone such sentiment or language in a board meeting or a classroom," he continued.
"My strong language is reflective of my anger and frustration with the pointlessness of diplomatic dialogue with legislators and a governor who have shown such little regard for the lives of Idaho youth," Rajbhandari said.
The Boise school board member said the "hypocrisy of suggesting that a profane tweet is more harmful than what HB 71 could unleash on our trans and non-binary youth baffles" him, and that he remains "unapologetic in" his "commitment to our LGBTQ+ community."
Rajbhandari's tweet came after Little signed a bill into law criminalizing giving puberty blockers and hormones to minors.
Opponents of the bill argued the legislation would increase suicide rates among teenagers while supporters of the bill said the bill was needed to "protect children" from the permanently-altering medical procedures.
Idaho is the 12th state to enact legislation restricting or banning minors who believe they are transgender from receiving hormones or puberty blockers.