Netflix 'Love is Blind' live finale stalled by technical issues; Blockbuster, Hulu and others throw shade
The reality dating show, hosted by Nick and Vanessa Lachey, was set to have its fourth season finale stream live on Sunday.
Fans eager to find out the fates of their favorite couples from this season of Netflix's hit "Love is Blind" found themselves having their patience tested after the live finale was delayed.
The special was set to go live at 8pm Est on Sunday, but when people first tuned in, they were greeted with an onscreen message that read, "We're having trouble playing this title right now. Please try again later or select a different title."
Netflix took to Twitter to acknowledge the delay, writing, ""Promise #LoveIsBlindLIVE will be worth the wait…." but did not provide specifics on the cause or an ETA for when the special would begin.
The finale to "Love is Blind's" fourth season was Netflix's second-ever live broadcast, the first being Chris Rock's stand up special, "Chris Rock: Selective Outrage."
After over an almost hour and a half delay, Netflix provided another update.
"To everyone who stayed up late, woke up early, gave up their Sunday afternoon… we are incredibly sorry that the Love is Blind Live Reunion did not turn out as we had planned" they tweeted. "We're filming it now and we'll have it on Netflix as soon as humanly possible. Again, thank you and sorry."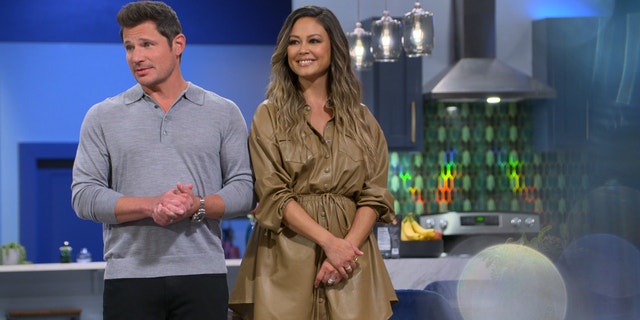 Fox News Digital reached out Netflix for comment.
ESPN'S STEPHEN A SMITH USES OLD GAFFE TO BURN NETFLIX AS FANS WAIT FOR 'LOVE IS BLIND' REUNION SPECIAL
The streaming network ended up with a lot of shade thrown its way, not just from fans, but other networks as well.
Hulu tweeted an image of Kerry Washington from their hit series "Little Fires Everywhere" simply going "Hmmm."
Bravo teased, "We would never keep you waiting for a Reunion," with a winking emoji.
Even Blockbuster, the one time video rental giant that essentially lost its business to streaming got a dig in.
"Remember renting vhs' from us. You could start it on time no problem… This is what we get," they tweeted in response to Netflix's first tweet acknowledging the delay.
Fellow video and DVD rental service Red Box replied, "solidarity, bro."
Fans also tweeted their frustration at the hour plus delay, often using the hashtag #loveislate.
CLICK HERE TO SIGN UP FOR THE ENTERTAINMENT NEWSLETTER
"Out of all the Love Is Blind reunion's this could've happened to, it just HAD to be the season with the most drama…" wrote one person.
"Netflix been harassing me all week to watch this live reunion and they can't even get it up and running?" asked another.
"I give up... Netflix you're taking too long," wrote a third.
Before the update from Netflix, "Love is Blind" hosts Nick and Vanessa Lachey posted from Vanessa's Instagram, and encouraged viewers to say patient.
APP USERS CLICK HERE
"We are ready to roll, we just gotta figure this out, we're getting everything to work," she told fans, also assuring them that the finale had not begun without them.
"Don't turn the channel, don't stream something else, don't go to the bathroom," she urged.