Mayorkas held calls with ACLU nearly two dozen times in five-month period in 2021, documents show
DHS Secretary Alejandro Mayorkas has taken heat from left-wing groups in recent months
EXCLUSIVE: Homeland Security Secretary Alejandro Mayorkas held nearly two dozen calls with the American Civil Liberties Union (ACLU) in the first months of the Biden administration, official documents show.
Mayorkas' official calendar from February to June 2021 was obtained by the government watchdog group Americans for Public Trust through a Freedom of Information Act request.
The calendar shows 23 calls with the left-wing civil rights group, which has called for immigration detention as a "last resort," and opposed multiple Trump-era border security and interior enforcement initiatives.
The meetings coincided with a dramatic lurch to the left by the Biden administration after it took over from the Trump administration, during which the new administration sought to slap a moratorium on Immigration and Customs Enforcement (ICE) deportations, scrapped the "Remain-in-Mexico" policy and halted border wall construction.
Republicans have tied
those moves and others, including an expansion of "catch-and-release," to the historic migrant surge that followed.
BIDEN ADMIN TO HOLD MIGRANTS' 'CREDIBLE FEAR' SCREENINGS IN CBP FACILITIES AS BORDER PREPARES FOR SURGE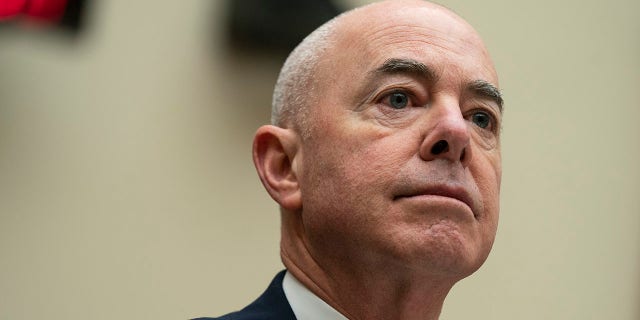 The DHS secretary's first call with the activist group is registered on Feb 16, involving executive director Anthony Romero.
Over the next months, multiple meetings were held on Title 42 -- the Trump-era public health order that allows for the rapid expulsion of migrants at the southern border due to the COVID-19 pandemic. That order is now due to end on May 11. Liberal groups had criticized the use of the order, saying it denied migrants their right to claim asylum in the U.S. The ACLU has called it a "horrific" policy and had sued in an attempt to shut down the use of the order.
Another meeting on May 11 was called "ACLU recommendations" and came after another call with the group. That came a day before Mayorkas headed to the Senate Appropriations Committee in which he and Attorney General Merrick Garland stressed the threat posed to national security by domestic terrorist groups, including white supremacists.
Separately, Mayorkas held multiple meetings with "immigration advocates" at least seven times between February and May, suggesting additional left-wing voices were at the table when it came to immigration. Americans for Public Trust tied the meetings to the liberal policies put into place at the beginning of the administration.
"At a time when our country was barreling toward an unprecedented border crisis, Secretary Mayorkas gave open-borders activists an unusually prominent seat at the table," Americans for Public Trust executive director, Caitlin Sutherland said in a statement to Fox News Digital.
"This administration's decision to allow the very people advocating to dismantle DHS to shape its agenda led us to the crisis we're seeing today. This raises serious questions about who is actually running the show at DHS," she said.
CBP OFFICIALS WARN POTENTIAL ILLEGAL IMMIGRANTS THAT 'BORDER IS NOT OPEN' AS TITLE 42'S END NEARS
The calendars also show three meetings on "enforcement priorities." between February and May. The administration, after being blocked from imposing a deportation moratorium, would attempt to restrict ICE agents to focusing only on three types of illegal immigrant -- recent border crossers, national security threats and public safety threats.
Those restrictions, which have now been blocked amid a lawsuit which is before the Supreme Court, coincided with a sharp drop in deportations of illegal immigrants under the administration. Mayorkas, meanwhile, has been facing increasing scrutiny from lawmakers in the Republican-led House, who have blamed his policies for the border crisis and have even floated a possible impeachment. The administration has argued it is trying to open humane pathways for asylum while dealing with what it sees as a hemisphere-wide challenge.
It is unclear if that pace of meetings with the ACLU has continued. DHS and the ACLU did not respond to a request for comment from Fox News Digital. However, the administration has upset immigration activists -- including the ACLU -- with a number of moves in recent months as it prepares for the end of Title 42 next month.
The administration proposed a rule earlier this year that would bar illegal immigrants from claiming asylum if they have not sought asylum in a prior country through which they passed. That rule drew comparisons from activist groups to the Trump-era transit ban, and the ACLU has threatened to sue over the rule.
Meanwhile, the administration has also looked at holding
credible fear hearings
in Customs and Border Protection custody, while pausing the implementation of a
separate asylum rule
ahead of what is expected to be a significant migrant surge next month.