Former Nickelodeon star Josh Peck shares Hollywood lesson after being in business so long
The 'How I Met Your Father' star opened up about working with Hilary Duff and reuniting with his 'Drake & Josh' co-star
Josh Peck has been working in Hollywood since he was 10 years old, so he knows what he's looking for in a co-star.
Most recently, the 36-year-old has appeared alongside fellow child star Hilary Duff on "How I Met Your Father" and has high praise for the actress, who got her start on the Disney Channel.
"I started out in sitcoms since I was 14 years old. … And when you've worked in the business this long, you know how important it is for the leader of your show to be that leader and to set the tone. And she really does do that," he told Fox News Digital.
Peck got his first big break on Nickelodeon's "Drake & Josh," alongside Drake Bell and Miranda Cosgrove.
'DRAKE & JOSH' STAR DRAKE BELL REPORTEDLY HINTS AT REVIVAL WITH FORMER TELEVISION BROTHER JOSH PECK
Cosgrove went on star in her own series, "iCarly" which Peck appeared on for a fun reunion.
"I just texted her, and I was like, 'Listen, if you want me to come hang out for a couple episodes, I'm down.' And I've been doing that on the show, and then I'm doing five episodes now. And I love it. … It's broad, it's ridiculous and it's wonderful. So, we have a good time," Peck said.
During the interview, Peck was beside his wife Paige and joked that his co-stars Duff and Cosgrove enjoy her company more than his.
"But the only annoying part is that Miranda, like most people, it's been like, 'I think I prefer your wife to you.' And so they're closer than we are," he said with a laugh. The couple joked Paige also refers to Duff as "her queen."
Peck and Paige married in 2017. They had their first child, son Max, in 2018, followed by another son, Shai, in 2022.
'ICARLY' STAR JENNETTE MCCURDY RIPS NICKELODEON: MY CHILDHOOD WAS 'EXPLOITED'
"Yeah, two boys. I'm excited to see how that goes further, you know. But I think it's a little — it's going to be a crazy few years, but it's so much fun," Paige said.
"We're getting through the dark period right now of getting out of the no sleeping and, I mean, … we're seeing a little bit of a light at the end of the tunnel, but it's great. They're good boys. We're lucky."
Peck playfully pointed out, "My mother-in-law did take Shai, our youngest, for the night last night and gave us our first eight-hour stretch of sleep which was, you know, breathtaking."
Despite the lack of sleep, both are loving parenthood.
"I would say the most rewarding part is this idea of having something that is so clearly something outside of yourself to focus on and that you see it in real time, that your efforts are rewarding because they're changing in such a rapid pace," Peck said. "And every time you hit a milestone, you can sort of see all the support and the work you're putting in sort of coming together."
Adding a second baby to the family came with its own set of challenges due to the nearly four-year age gap between their boys.
"He's been an only child for so long. He's had so much attention, only grandchild. So he's got a lot of attention. We were really worried about it, but, like, it exceeded our expectations," Paige said of their oldest, Max.
CLICK HERE TO SIGN UP FOR THE ENTERTAINMENT NEWSLETTER
"He is the best big brother. He loves the baby. He, like, checks on him all the time. He's been incredible, really."
Peck noted that he caught the beginning of some light sibling rivalry.
"Shai's really no threat to him at this point. But the other day, … I was sitting next to Max where he was on his tablet, and he sort of put his hand on the tablet, and Max sort of batted it away. And I was like, 'And so it begins that!" he said with a laugh.
The "Turner and Hooch" star and his wife have partnered with Enfamil Family Beginnings, a program designed to support new parents, which offers 24-hour access to a nurse, as well as discounts and digital rebates.
Part of the inspiration behind the partnership was the couple's own experience as first-time parents.
"I found, at least for us, that when we were pregnant the first time, everyone just wanted to scare us and tell us how we were never going to sleep again," Peck recalled. "And it wasn't until I got great advice from a friend of mine when I was, you know, doing what I usually do, which was sort of paranoid projecting of what it was going to be like when he stopped me and said, 'No, no, no, it's just going to be great. That's all. It's going to be great.' And so, you know, the partnership with Enfamil it … felt natural because, you know, with their program, Enfamil Family Beginnings, that's what they're doing."
CLICK HERE TO GET THE FOX NEWS APP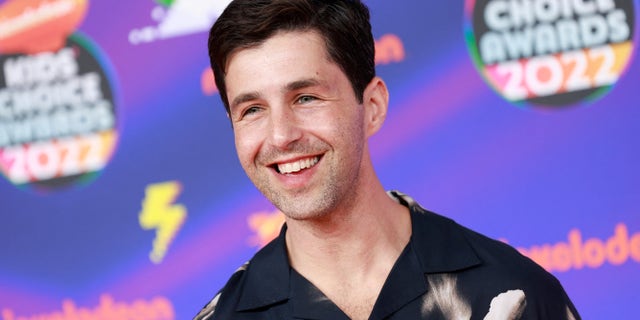 Paige also opened up on their decision to formula feed their babies, which other stars like Ashley Graham have spoken out about.
"I think that everybody's journey is so different, and every kid is so different," Paige said. "And we, you know, we had every intention of breastfeeding and tried our hardest the first time, and it didn't really work out how we had hoped. And so we turned to formula. We talked with our doctors and our pediatrician, and we have used Enfamil since day one with our son in the hospital.
"And I also think that there's nothing wrong with feeding your baby however, that is, whatever the right way means for each family and each person."