Biden calls devastated Mississippi town Rolling Fork 'Rolling Stone'
Rolling Fork was hit by an EF4 tornado on Saturday
President Biden accidentally referred to the town of Rolling Fork, Mississippi, as "Rolling Stone" on Friday, in the wake of tornadoes that have devastated parts of the Mississippi Delta.
Rolling Fork was hit by an EF4 tornado last Saturday. The devastating whirlwinds killed at least 25 people in the region at the time, according to the Mississippi Emergency Management Agency.
The tornado began near Rolling Fork and moved 30 miles northeast through Silver City. According to radar analysis, the tornado had the ability to lift debris over 20,000 feet in the air and was on the ground for 80 miles.
"We're not just here for today, I'm determined that we're going to leave nothing behind. We're going to get it done for you," Biden said during the speech. "I'm making sure you got a place to sleep, food to eat, helping you rebuild your lives in Rolling Stone."
MISSISSIPPI TORNADOES: VIOLENT TWISTERS KILL AT LEAST 25 AND LEAVE 100-MILE DESTRUCTION PATH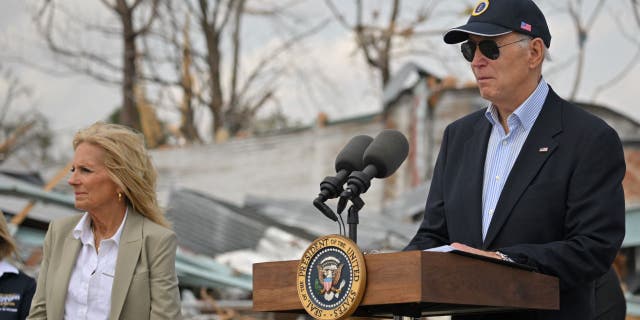 Biden repeated that gaffe again during the speech.
"The town of Rolling Stone will be back, and we'll be with you every step of the way," he said.
The president realized that he used two different names for the town toward the end of the speech.
RECOVERY EFFORTS CONTINUE IN TORNADO RAVAGED MISSISSIPPI WHERE AT LEAST 25 WERE KILLED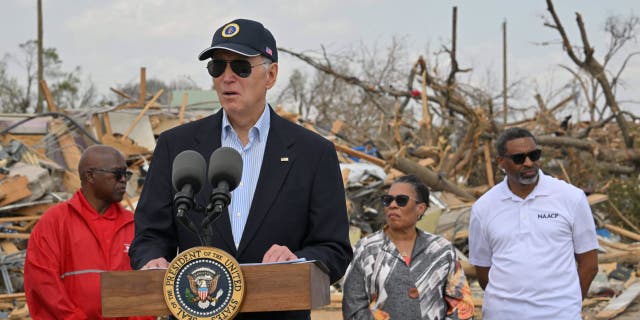 "What did I say, I said Rolling Fork," Biden stumbled. "Rolling Stone. I got my mind going here."
Former Rolling Fork Mayor Fred Miller said most of the town's businesses were destroyed by the tornadoes, in addition to residential areas.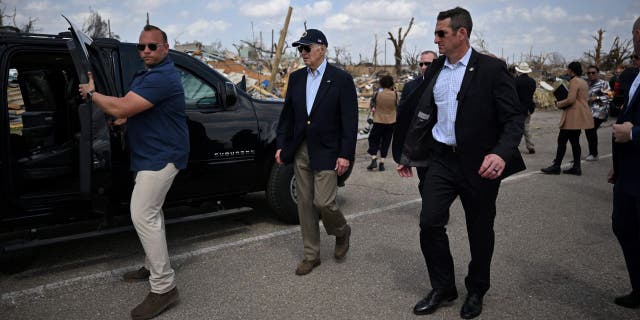 CLICK HERE TO GET THE FOX NEWS APP
"The west part of Rolling Fork is a residential area, and just a number of houses over there have been completely destroyed," Miller said to FOX Weather. "Highway 61, where most of our businesses are, all of the businesses on 61 have been completely destroyed. People are trapped in a couple of the eateries, and people are trying to get them out now."