5 ways left-wing Chicago mayor-elect Brandon Johnson has promised to transform city
Leftist-backed Brandon Johnson won the Chicago mayoral election on Tuesday after campaigning on raising taxes, funding social workers instead of cops, expanding sanctuary city policies and more
Cook County Commissioner Brandon Johnson was elected mayor of Chicago on Tuesday, defeating moderate Democrat Paul Vallas, the former head of Chicago Public Schools.
The election was an upset. Vallas was backed by the Democratic establishment, including Sen. Dick Durbin, D-Ill., Chicago's largest police union, and major business groups. Johnson was supported by a progressive coalition including the Chicago Teachers Union, democratic-socialist Sen. Bernie Sanders, I-Vt., and national and local left-wing activists.
Former Mayor Lori Lightfoot became the first Chicago mayor in 40 years to lose her bid for re-election when she finished third in the February general election. Johnson came in second behind Vallas, but neither had received 50% of the vote, triggering a runoff.
Johnson campaigned to Lightfoot's left and his victory has been hailed as a major win for progressives.
BRANDON JOHNSON WINS CHICAGO MAYORAL CONTEST, REPLACING FORMER MAYOR LORI LIGHTFOOT
Here are some major proposals he has made for Chicago:
Funding social workers instead of cops
Throughout the campaign, Johnson was dogged by questions about his past support for the "defund the police" movement.
In 2020 comments, Johnson described defending the police as an "actual, real political goal." He walked back those comments as a candidate for mayor, insisting "I said it was a political goal. I never said it was mine."
"As far as my vision for public safety, I'm not going to defund the police," Johnson told Block Club Chicago in an interview last month. "But what I am committed to doing is to make sure that we are actually investing in a smart way."
Crime is a major concern for Chicago voters, with the number of homicides in the Windy City hitting a 25-year-high in 2021, according to the Chicago Police Department. The number of homicides dropped to 695 last year, but was still higher than when Lightfoot took office in 2019. Nearly two-thirds of city residents planning to vote said they did not feel safe in a Chicago Sun-Times poll, and public safety was a leading reason why Lightfoot was given the boot.
Johnson has said he will not reduce the Chicago Police Department's budget, however, he also has said hiring more police officers or increasing funding will not solve the city's crime problems. He has committed to promoting 200 detectives from rank-and-file officers and has argued for increased city spending on mental health care, schools and affordable housing to address the root causes of crime. He has also supported having social workers and EMTs respond to some 911 calls instead of armed police officers.
LORI LIGHTFOOT TORPEDOED AFTER LOSING RE-ELECTION BID: 'GOOD RIDDANCE!'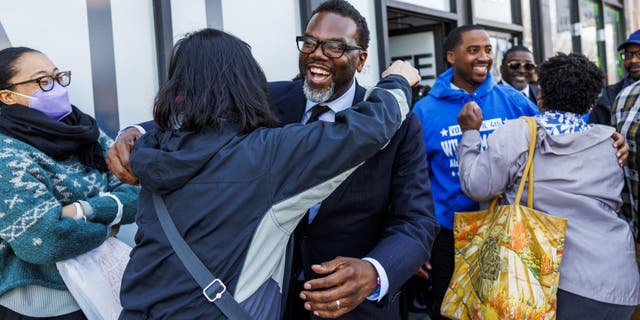 Raising taxes
During the campaign, Johnson openly acknowledged that his ambitious proposals for investments in Chicago's social programs would require tax increases.
The mayor-elect has pledged not to raise property taxes on families. However, he has proposed new taxes on financial transactions and real estate, and he floated a new "city surcharge" for Metra, the commuter rail system that transports suburbanites to work downtown, before reversing after fierce backlash.
"We're looking at a lot of different measures to generate revenue. The ones, of course, that I'm very much interested in are the ones I've already stated; whether it's a financial transaction tax, whether it's a real estate transfer tax," he told local station CBS 2 in February.
Among his most controversial tax proposals is head tax on large companies of $1 to $4 per employee, and a $98 million jet fuel tax.
"Are there opportunities for us to have things on the table to generate revenue from tourism? Absolutely," Johnson said.
Letting illegal immigrants vote in school board elections
Chicago is a sanctuary city for illegal immigrants. Johnson has promised to expand those policies, introducing a "Plan for Sanctuary and Immigrant Justice" in February.
Among his proposals is to work with Democratic Gov. J.B. Pritzker and the Democratic-controlled state legislature to pass legislation that would "allow all parents and taxpayers to vote in school board elections, regardless of citizenship status," the Chicago Sun-Times reported. He also wants to create a "Non-Citizen Advisory Board" for the Chicago Board of Education.
Johnson also proposes to appoint "non-citizen representation" to the Community Commission for Public Safety and Accountability; make homeless migrant children eligible for city benefits; build "permanent housing for all unhoused, including asylum seekers" (with funding from tax increases); increase "dedicated funding to immigrant protection and integration" to support migrants bused to Chicago from border states like Texas; and fully fund protective legal services for migrant victims of crime.
MODERATE PAUL VALLAS, LEFTIST-BACKED BRANDON JOHNSON FACE OFF IN CHICAGO MAYORAL RACE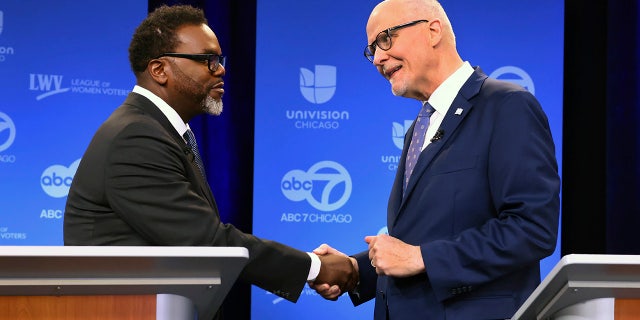 Protecting Abortion Rights
Johnson's campaign website is explicit: The mayor-elect believes "One: abortion is health care. Two: abortion should be a constitutional right. Three: We will not accept an America – or a Chicago – that goes back in time."
Abortion became an issue in the mayoral campaign as Vallas withered attacks from the left for his personal pro-life convictions. A Greek Orthodox Christian, Vallas had come under fire for telling the Sun-Times in an interview, "Personal religious conviction is unrelated to my public position supporting women's reproductive rights. It's like asking Joe Biden as a Catholic, 'Are you for abortion?' Or [asking] Rich Daley or John Kennedy."
Abortion rights groups found that answer insufficient and endorsed Johnson.
"In a post-Roe world, this race is too important. After meeting with both Mr. Vallas and Commissioner Johnson, it is clear to us that Brandon Johnson is the only candidate who will protect and champion reproductive rights in Chicago," Personal PAC CEO Sarah Garza Resnick said in a press release supporting Johnson.
Johnson has promised to maintain the $3 million for "reproductive services" proposed in Lightfoot's 2023 budget and possibly to increase it. He has also vowed to "use city resources to ensure the security of abortion clinics" in Chicago, the Sun-Times reported.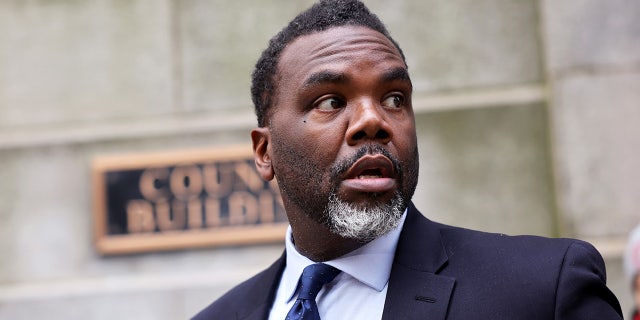 "There is no middle ground on abortion," Johnson's website states. "There is no middle ground on reproductive health care. Individuals should always have the right to control what happens to their own bodies – not the government."
'End misgendering in official records'
Johnson released a detailed LGBTQ rights plan promising to combat "anti-LGBTQ legislation and hate crimes sweeping the nation," and to make Chicago a "regional hub for LGBTQ community and culture."
While on the one hand insisting that the police do not need additional funding, Johnson promised to increase the solve rate for murders targeting transgender individuals and ferociously prosecute hate crimes against LGBTQ people.
Johnson's website promises to combat "misinformation" spread by news outlets by changing official records to refer to murdered trans people by their preferred pronouns. Jonson will "work with the Cook County Medical Examiner and the General Assembly to expand the flow of useful information, which will serve an important role in decreasing the number of trans people misgendered by official records," his website states.
He has also pledged to make Chicago a sanctuary for transgender people, including minors, that come from "other states that pass laws hostile to LGBTQ people" and seek transgender medical care.