LA DA George Gascon challenged by Jonathan Hatami, prosecutor of child killers
Deputy Los Angeles District Attorney Jonathan Hatami is running to be the county's top prosecutor and cited George Gascon's lack of experience
LOS ANGELES - Jonathan Hatami, the Los Angeles deputy district attorney known for convicting child killers in high-profile cases, including those of Gabriel Fernandez and Anthony Avalos, announced on Wednesday a campaign challenge against his boss, George Gascon.
Gascon, a controversial progressive Democrat who has been accused of soft-on-crime policies that protect criminals and not the public, has faced sharp criticism from his own office and is involved in several lawsuits against his own deputies, including more than a dozen for allegations of unlawful retaliation.
"Because of George, L.A. is the hate crime capital of America," Hatami said at a rally in the Los Angeles suburb of Whittier, where he initially pledged to stand up to Gascon two years ago. "Fentanyl deaths are skyrocketing and killing our children, crime on public transportation has dramatically increased, and gun violence in our streets has affected so many of the most vulnerable in our communities. These aren't just statistics – they are real people!"
LA DA ANNOUNCES 'RESTRUCTURING' OF SPECIAL VICTIMS UNIT DAY AFTER YEAR-OLD LEAKED MEMO ASKED FOR MORE STAFF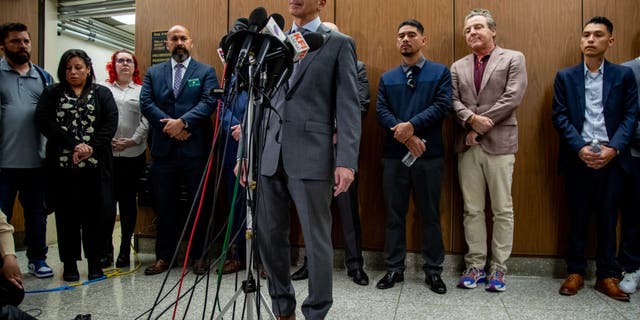 Hatami gained prominence in 2017 as the lead prosecutor in the Gabriel Fernandez case – an 8-year-old boy who was abused and murdered by his own parents. And earlier this month, he secured convictions against 10-year-old Anthony Avalos' mother and her boyfriend, who had tortured and killed him in 2018.
If elected, he promised to roll back dozens of directives initiated by Gascon that critics have cited as coddling criminals and putting crime victims last. Some include not charging underage offenders as adults and preventing prosecutors from attending parole hearings.
"The victims feel like they're abandoned," Hatami told Fox News Digital. "They feel like George Gascon cares more about the criminal… and his actions say that."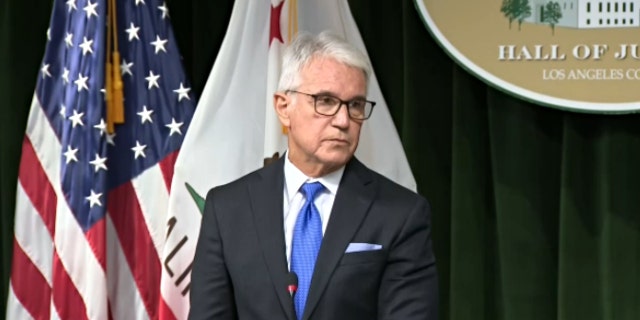 He made his campaign announcement flanked by the parents of crime victims and families who have lost loved ones to what he called "fentanyl poisoning and street takeovers," as well as the relatives of fallen police officers.
And he slammed Gascon for announcing his own campaign in 2019 outside the city jail. He also noted that Gascon has never tried a case in court, in Los Angeles or in San Francisco where he was also the top prosecutor there.
Fresno County District Attorney Lisa Smittcamp blasted Gascon during Hatami's announcement for not prosecuting fentanyl dealers for murder. She noted the Los Angeles County DAs office, the largest in the nation, impacts what happens in other parts of the state.
"For him to have the control that he has sends ripples of terror through the rest of the state," she said. "When I talk about him and I write him letters, I call him Mr. Gascon because he is not a district attorney."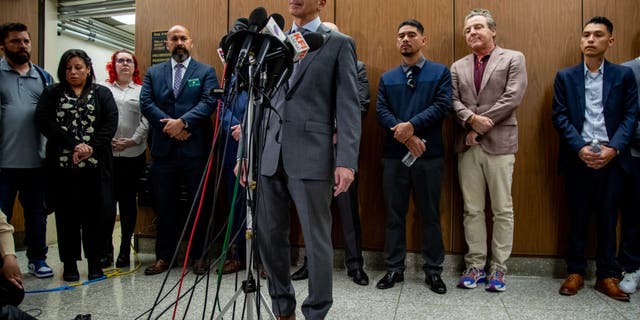 PROGRESSIVE LOS ANGELES DA OFFERING FREE SHUTTLE SERVICE SO STAFF CAN GET TO WORK SAFELY
Hatami is the latest challenger to Gascon from within the DA's own office.
John McKinney, a former major crimes prosecutor who recently secured a conviction against Eric Holder Jr., the man who killed rapper Nipsey Hussle, announced his campaign last month.
WATCH: Deputy District Attorney John McKinney discusses his own campaign against George Gascon
Critics note Gascon, who has worked in California law enforcement for decades, has never tried a case himself or been a beat cop while a member of the Los Angeles Police Department. He took the stand in a civil lawsuit last month, brought by another deputy district attorney who has accused him of retaliation.
"He just doesn't know what we go through as deputy district attorneys," Hatami said. "He's unwilling to bend. He's unwilling to collaborate. He's unwilling to meet with people who have experience to help him understand how things go. It's absolutely shocking that we voted for somebody that has no experience in the job whatsoever."
CLICK HERE TO GET THE FOX NEWS APP