PBS reporter Jane Ferguson 'violently assaulted' on New York City subway: 'Ear ringing and face on fire'
Award-winning journalist says a man punched her in the side of her face
Award-winning PBS News reporter Jane Ferguson said she was "violently assaulted" by a man on the New York City subway this week, leaving her "ear ringing and face on fire" with a good Samaritan helping get her to safety.
"At 6.30pm today I was violently assaulted on the NYC subway. A man walked up to me in a busy rush-hour car and punched me, hard, on the side of the face. I kneeled down on the floor in shock, and steadied myself, unsure what had just happened, my ear ringing and face on fire," Ferguson tweeted on Monday night.
"The reason I'm tweeting this is, as I knelt on the floor, I felt an arm around my shoulder and a woman pulled me away. The young woman took me off the car at the next stop and to the police there at grand central station before giving me a hug and making sure I got home ok," Ferguson continued before explaining she doesn't know the person who came to her aid.
"Her name is Samantha. I didn't catch any other information as I was in shock and am sorry about that," Ferguson wrote. "So Samantha who was on the number 4 express train between 59th st and grand central today at rush hour - thank you. New Yorkers are pretty great."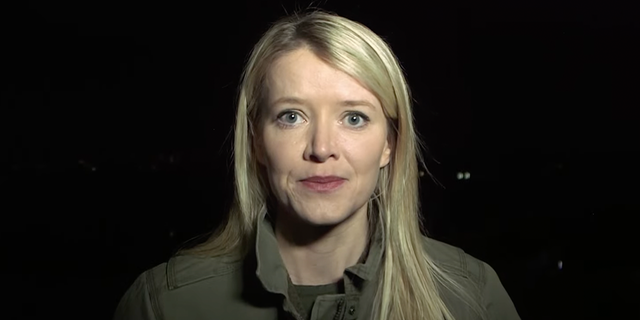 FOX NEWS METEOROLOGIST ADAM KLOTZ ATTACKED ON NYC SUBWAY AFTER STOPPING TEENS FROM ASSAULTING OLDER MAN
Ferguson, who has won Polk, Emmy and DuPont awards during her career, is now based in New York City after spending over 13 years living in the Middle East.
The New York City subway system has developed a reputation as a dangerous hellscape where headline-making incidents occur on a regular basis, but The New York Post recently reported that crime is actually down compared to last year.
"Major crime on the trains was down 21.5% year to date compared to the same period in 2022," the Post reported earlier this month. "All serious felonies — other than burglary — decreased."
VIDEO SHOWS 'GOOD SAMARITAN' HELPING NYPD TAKE DOWN ARMED SUSPECT
While crime is reportedly down from the wildly violent 2022, it hasn't put a stop to high-profile incidents.
Earlier this year, Fox News meteorologist Adam Klotz was brutally attacked on the subway by a group of teens. He said he saw a group of teens harassing an "older gentleman" and had set his hair on fire with a joint.
"I was like, whoa, you can't do that," Klotz said "Fox & Friends." "That's not cool, and that's all it took, and then I was the focus of all their attention."
He said the group was taunting him, and he tried to remove himself from the situation, but the attack did not stop there and the attackers followed him to another subway car.
"The whole group, the doors open again at another stop, the whole group just comes and bum rushes me, and suddenly I'm on the ground. I'm getting kicked in the side. I'm getting whaled on," Klotz said. "They were trying to knock me out, and then once you're unconscious, and you're getting punched, like there's no defense, so I was just doing my absolute best to cover my head."
Three of the teen suspects were stopped by police in connection with the attack, but they were released to their parents without facing charges.
CLICK HERE TO GET THE FOX NEWS APP