Migrants disrupt commercial operations at Texas border port
Border officials used concertina wire to repel and discourage illegal border crossings
An influx of migrants blocked a busy bridge in Brownsville, Texas early Tuesday, disrupting traffic.
CBS 4 reports that the migrants blocked the Gateway International Bridge in Brownsville, which is located in the southernmost tip of Texas – beginning around midnight.
Texas Department of Public Safety Lt. Chris Olivarez shared images from the International Bridge, showing a cluster of migrants prevented from entering by concertina wire.
"The ports of entry utilize concertina wire to repel unlawful entries," Olivarez said. "Same method Texas has been using to repel and discourage illegal border crossings between ports of entry."
VENEZUELAN MIGRANT ACCUSED OF RAPING WOMAN IN FRONT OF 3-YEAR-OLD IN UPSTATE NEW YORK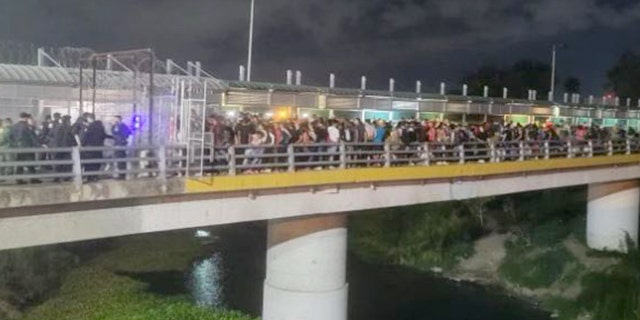 FreightWaves reported that border agents were temporarily reassigned to help deal with the influx of migrants.
SUSPECTED CARTEL GUMEN CROSS ILLEGALLY INTO UNITED STATES
Per the outlet, Armando Taboada, assistant director of field operations at the Laredo Field Office, told the trade community Tuesday morning that there was "a migrant situation occurring at the Port of Brownsville gateway 2301… and the bridge is temporarily closed/services suspended."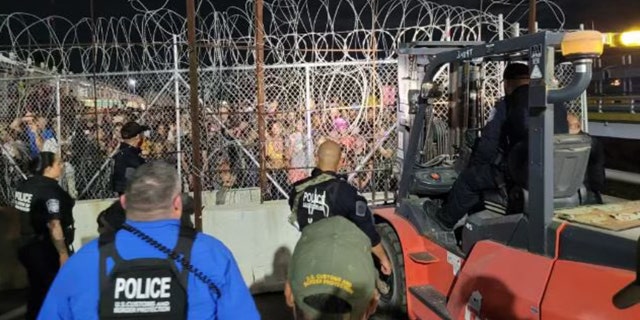 Passenger traffic, meanwhile, was being rerouted to Brownsville & Matamoros International Bridge and the Veterans International Bridge, Taboada said.
CBP said pedestrian processing resumed at Gateway International Bridge around 9:20 a.m. Traffic was fully resumed less than 20 minutes later