'Impeachable matter': White House denials are 'dangerous' for Biden's presidency, says Jonathan Turley
David Weiss' appointment to special counsel in Biden probe has faced overwhelming GOP criticism
Fox News contributor Jonathan Turley criticized White House press secretary Karine Jean-Pierre for changing the "narrative" during a White House press briefing Monday when questioned about new evidence about Joe Biden's alleged involvement in his son Hunter's business dealings and the special counsel appointed in the Hunter investigation. The constitutional law attorney described the recent evidence uncovered in the Hunter Biden investigation, like his business partner Devon Archer saying Joe Biden was on phone calls with Hunter's business associates. Turley told "America Reports" that the denials can be "dangerous" for Biden's presidency.
BIDEN CAMPAIGN CANCELED MSNBC APPEARANCE FOR FEAR OF HUNTER BIDEN QUESTIONS: REPORT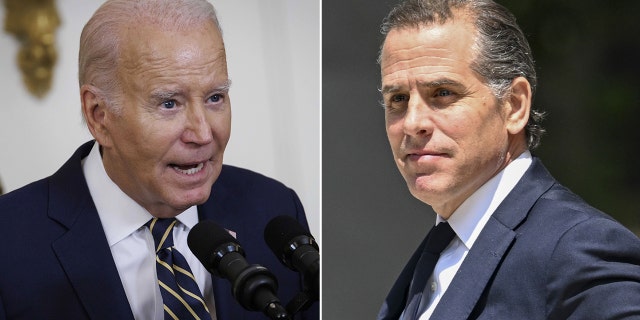 JONATHAN TURLEY: Well, it was an extraordinary moment because the level of denial has reached a pathological level. I mean, she's talking about an investigation that just produced evidence of $20 million passing through 20 different companies and accounts and getting money transferred to Biden family members, including grandchildren. You just had Devon Archer say that the president is saying something categorically false when he said that he had no knowledge of their business dealings. All of that is just the recent developments.
And yet, you have the press secretary saying, really, they found nothing at all. One of the aspects of this, which is dangerous for President Biden is that you can really sort of bootstrap earlier misdealings and misconduct into your presidency. It could become an impeachable matter when you have White House staff who are spreading what are false accounts. And some people are saying that these are clearly false, that the White House is trying to now pursue a new narrative, but that narrative is also falling apart. Every time we have new evidence come forward, we have a new narrative. Then that narrative collapses and we have yet another explanation.
TED CRUZ BLASTS 'DISGRACEFUL' DAVID WEISS SPECIAL COUNSEL APPOINTMENT IN BIDEN PROBE: IT'S 'CAMOUFLAGE'
Sen. Ted Cruz, R-Texas, is the latest to blast Attorney Gen. Merrick Garland's move to appointment David Weiss as special counsel in the Justice Department's Hunter Biden probe, calling it not only "disgraceful" but also alleging the move is an attempt to protect the Biden family.
"This appointment is camouflage, and it's a cover-up," he told Fox News' Maria Bartiromo on "Sunday Morning Futures."
"I think it's disgraceful. David Weiss was the U.S. attorney handpicked to lead this investigation who spent the last five years covering it up. David Weiss, who was personally selected by the two Democrat senators from Delaware, Tom Carper and Chris Coons. For five years, the investigation has gone nowhere other than to protect Hunter Biden and Joe Biden."
The appointment, which has garnered intense criticism from many in the days since, was announced by Garland at a press conference in Washington, D.C. on Friday. The White House was not informed of Garland's decision before the news broke, according to a senior DOJ official.