Hillary Clinton breaks out into laughter before Trump indictment: 'Oh, I can't believe this'
Trump told Fox News Digital that he was the target of the 'greatest and longest-running Witch Hunt in American history'
Just hours before former President Donald Trump was indicted for a fourth time in Georgia on Monday night, his former political opponent, Hillary Clinton, laughed merrily at him on MSNBC.
"All over the country, people are wondering what Hillary Rodham Clinton is thinking watching things unfold in Georgia," MSNBC host Rachel Maddow said Monday to laughs from Clinton.
"Oh, I can't believe this," Clinton said, again breaking out into laughter. "Honestly, I didn't think that it would be under these circumstances. Yet another set of indictments."
TRUMP SAYS GEORGIA INDICTMENT COMES DURING 'DARK PERIOD' FOR US, VOWS TO FIX IT BY WINNING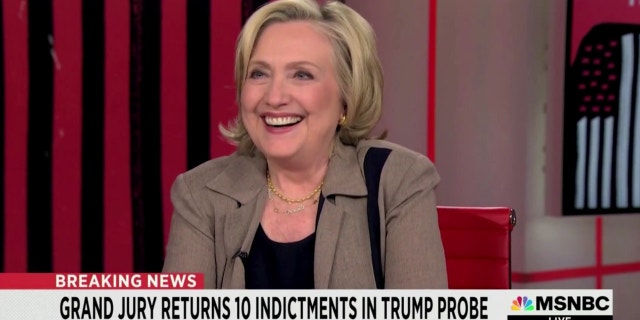 When asked if she felt satisfaction after warning the country about Trump's threats to American democracy, Clinton claimed that she felt "great profound sadness" about the possibility of another Trump indictment.
Trump was officially indicted later on Monday night and is facing a series of charges from Fulton County District Attorney Fani Willis.
The charges against Trump include violating the Georgia Racketeer Influenced And Corrupt Organizations (RICO) Act; Solicitation of Violation of Oath by a Public Officer; Conspiracy to Commit Impersonating a Public Officer; Conspiracy to Commit Forgery in the First Degree; Conspiracy to Commit False Statements and Writings; Conspiracy to Commit Filing False Documents; Conspiracy to Commit Forgery in the First Degree; Filing False Documents; and Solicitation of Violation of Oath by a Public Officer. Not all indictment targets face the same charges.
WAPO EDITOR DOWNPLAYS HILLARY CLINTON'S EMAIL SCANDAL: MOSTLY 'COOKING RECIPES AND APPOINTMENTS'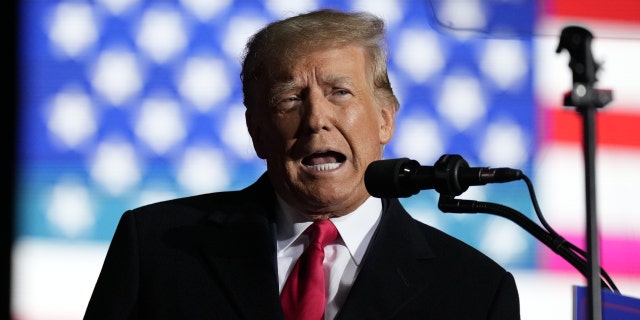 Trump told Fox News Digital that he was the target of the "greatest and longest-running Witch Hunt in American history."
"This politically-inspired indictment, which could have been brought close to three years ago," he said, "was tailored for placement right smack in the middle of my political campaign, where I am leading all Republicans—by a lot—and beating Joe Biden soundly in almost all polls."
Clinton continued to emphasize the gravity of Trump's then-potential indictment after visibly shaking with laughter during her appearance on MSNBC.
"I don't know that anyone should be satisfied," she said. "This is a terrible moment for our country to have a former president accused of these terribly important crimes. The only satisfaction may be that the system is working, that all of the efforts by Donald Trump, his allies and his enablers to try to silence the truth and to try to undermine democracy have been brought into the light."
"Justice is being pursued," she added.