Group sues Washington governor over bill that allows sex change surgery for minors without parental consent
The bill's proponents said the legislation does not address custody issues or removing youths from their parents
America First Legal, a nonprofit group headed by former Trump policy adviser Stephen Miller, has filed a lawsuit against Washington Gov. Jay Inslee to stop the enforcement of a state law that allows minors to get sex-reassignment surgeries without their parent's permission.
The conservative group says the Senate Bill 5599, signed by Gov. Inslee in May, "creates a dangerous incentive for minors who disagree with their parents on 'gender-affirming care' to run away to a shelter or host home."
SB 5599 allows host homes "to house youth without parental permission." Furthermore, the host homes do not need to notify parents about where their kids are or if they are getting medical interventions "if there is a compelling reason not to, which includes a youth seeking protected health services."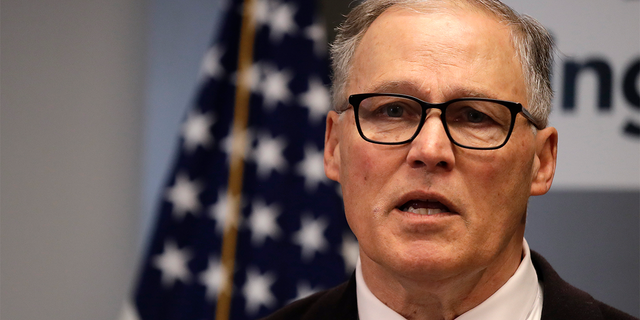 The "protected health care services" included "gender-affirming care," which for minors arbitrarily included anything prescribed by doctors to treat dysphoria, the bill said.
"Gender-affirming treatment can be prescribed to two-spirits, transgender, nonbinary, and other gender diverse individuals," the bill states.
Democratic lawmakers at the time described gender-reassignment surgery as "life-saving."
A TRANS MAN ASKED THIS SIMPLE QUESTION ABOUT KIDS AT A TRANS CONFERENCE. HE WAS KICKED OUT.
"Every child – including our trans youth – deserves to be safe at home. In a perfect world, that is the case, but unfortunately, that is not the reality," said Democratic Sen. Marko Liias of Everett, who sponsored the bill. "This legislation affirms our commitment to ensuring children have a safe and stable place to go when they are not welcome at home."
The bill's proponents said the legislation does not address custody issues or removing youths from their parents if they did not consent to their child's "gender transition."
America First Legal alleges that SB599 authorizes the State of Washington to refer a minor for "behavioral health services" without defining what that entails.
"In practice, this means that young children who run away from home could be receiving chemical sterilization drugs or even genital mutilation without the consent or knowledge of the parents," the group said in a pres