Former New York City GOP mayoral candidate Curtis Sliwa arrested during Queens protest: report
New York City leaders have struggle to provide resources and house thousands of migrants bussed from Texas
Guardian Angels founder and former Republican nominee for New York City mayor Curtis Sliwa was reportedly arrested Wednesday while protesting against a new migrant tent city in Queens, New York as the city continues to struggle to address the surge in migrants.
Video footage showed Sliwa and his supporters protesting in front of Creedmoor Hospital Grounds where a tent shelter for migrants has recently been built.
NYC MAYOR ADAMS ANNOUNCES NEW TAXPAYER-FUNDED MIGRANT TENT CITY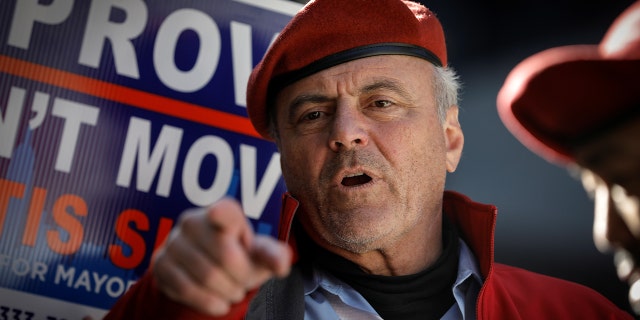 "Have pity. No tent city!" Sliwa chanted, while criticizing Mayor Eric Adams. "We're going to keep driving this point home until you decide to be the mayor and represent American people who are citizens of New York City who pay their taxes and afford to put you in a $5000 customized suit each and every day."
Sliwa and other protestors were placed in handcuffs and taken away, according to the video.
The New York Police Department did not confirm Sliwa's arrest Wednesday night. Fox News Digital has reached out to Sliwa.
Since spring, over 93,000 migrants have entered New York City, according to the mayor's office. Mayor Eric Adams said during a press conference earlier this month that there's no longer room for migrants to stay in the city.
"Our next phase of this strategy, now that we have run out of room, we have to figure out how we're going to localize the inevitable that there's no more room indoors," Adams said at the time. "Here's where we are right now. Yes, there were people sleeping in cooling vans. There were people along the sidewalk. We have to localize this madness. We have to figure out a way of how we don't have what's in other municipalities where you have tent cities all over the city.
Fox 5 reported that The Roosevelt Hotel, where some migrants have been staying, has reached full capacity. Pictures and video last week showed migrants sleeping outside the hotel, wrapping around the building.