Family of Marine killed in Afghanistan says Biden rushed US withdrawal for 'photo op': 'He wanted his moment'
Gold Star families expressed anger and frustration at the Biden administration over the lack of information surrounding the tragic deaths
The parents of a Marine who lost his life in the U.S. withdrawal from Afghanistan demanded answers from the Biden administration on Monday, following heart-wrenching testimony about their son's final moments and the lack of information they've been given as they try to process his death.
Marine Corps Staff Sgt. Taylor Hoover was 31 when he was among the 13 U.S. servicemembers killed in a suicide bomb attack outside the Abbey Gate at Kabul's airport during the military's evacuation from Afghanistan in August 2021.
As the two-year mark since the controversial withdrawal approaches, Taylor's parents, Darin Hoover and Kelly Barnett, are speaking out with the hopes of obtaining more information about the events that led to their only son's death. In an interview on "The Story" Monday, Barnett and Hoover described their son as someone who "loved others more than himself" and accused the Biden administration of lying to them to evade public accountability for mistakes that they say cost Taylor his life.
BIDEN ADMINISTRATION LIED TO GOLD STAR FAMILY ABOUT MARINE'S DEATH IN AFGHANISTAN, MOM SAYS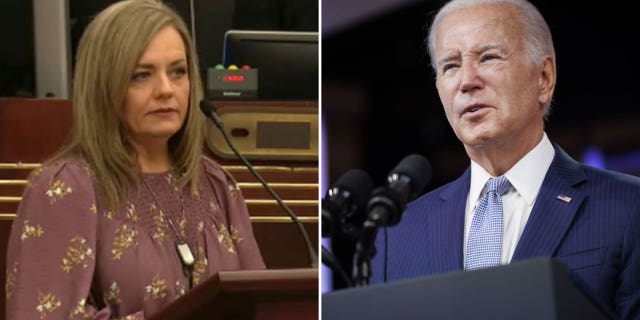 "[He was] Just an incredible person," Barnett said. "I just want people to know it's okay to ask any questions about him. Ask me. That's what I live for, to talk about him. I just want people to know that he was an incredible human being."
During a Congressional forum held by Rep. Darrell Issa, R-Calif., earlier Monday, Barnett sobbed as she described her grief and frustration and anger at President Biden and his administration for their handling of the evacuation and their treatment of the Gold Star families who say they have been shut out of the investigation relating to the circumstances of that day.
"We are told lies, given incomplete reports, incorrect reports, total disrespect. Biden, the Biden administation, Blinken, Miley, Austin…," Barnett said, describing Biden, Secretary of State Antony Blinken, Defense Secretary Lloyd Austin, and Joint Chiefs of Staff Chair Mark Milley as "incompetent cowards" and "evil."
DEM CONGRESSWOMAN: BIDEN ADMINISTRATION DOESN'T DESERVE 'ANY BLAME' FOR CHAOTIC AFGHANISTAN WITHDRAWAL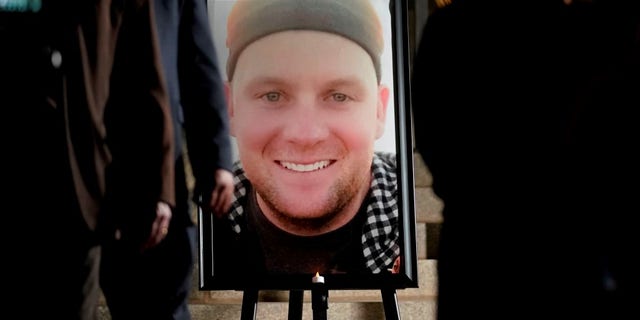 "To say that they're satisfied with the withdrawal of our troops is nothing short of disgusting and ignorant," Taylor's father, Darin Hoover, agreed.
Hoover told Fox News anchor Martha MacCallum that the door was "slammed shut" on the investigation into the Afghanistan withdrawal "right from the get-go."
"Anything coming from the administration was all shut down. We have had nothing for the last two years. So, my anger is directed at them, at the State Department, the DOD, the administration," he said. "I want answers. I want accountability. I've said up before, and I will say it again."
Hoover added that he believes his 4-year-old granddaughter could have concocted a better exit strategy with "a crayon and a piece of paper" than "was executed by these generals, and ultimately by our commander in chief."
Barnett blamed a lack of planning combined with Biden's desire to meet his September 11 deadline for the hasty withdrawal that took her son's life.
"I think the Biden administration wanted their moment. They wanted their photo ops for September 11th. 100% that's what it was. There were other options, other plans presented. I just believe that he wanted his moment," she said.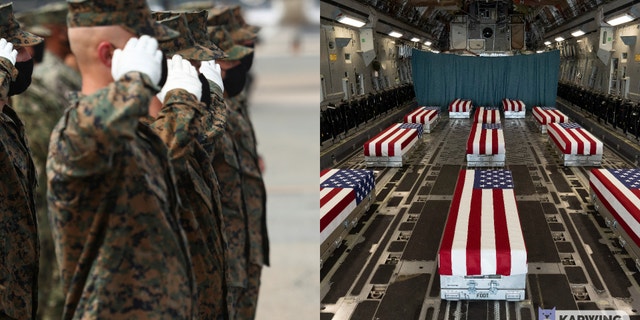 During her emotional address before Congress, Barnett recalled her son's concern about the botched exit which "began the moment that he landed" there for his third and final deployment. He saw "chaos, no communication, lack of leadership," she said.
"I was told to my face, he died on impact. That's not true. The only reason that I know this is because witnesses told me the truth," Barnett claimed. "I was lied to and basically told to shut up."
"He lived for a little while…he was giving out his ammo. He tied a tourniquet at around his leg. I don't understand the reasoning of that lie. It makes no sense other than the fact that, did they really even do an investigation? Did they talk to witnesses? I don't know," she continued, through tears.
Barnett said she declined to speak with President Biden in the days following Taylor's death. Any outreach from the military left the family with "more questions than answers," she recalled.
FIRST HOUSE HEARING ON BIDEN ADMIN'S AFGHANISTAN WITHDRAWAL TO DISSECT 'STUNNING FAILURE' OF LEADERSHIP
"I would like to have words with him now, but I did not speak with him then," she said. "As far as outreach, I really haven't had any military outreach besides the general and the officer that came to visit us to talk to us about the investigation…they offered more questions than any answers, more anger than any answers, more anger than any peace that it should have given us after the so-called investigation they did."
The congressional forum was the first time the relatives of all 13 fallen troops gathered together to speak at a public event.
Rep. Issa, who joined Taylor's parents in the Fox News interview, said the Gold Star families' testimony raised new questions about the circumstances of the withdrawal and called on the White House to return the personal belongings of the fallen service members to their families.
Hoover said that while Taylor's cell phone was eventually returned to him, the sim card had been removed.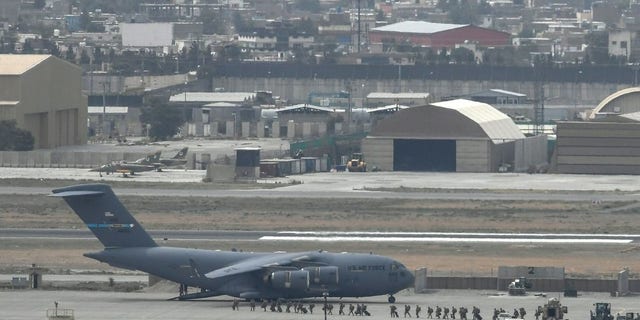 "I don't know how they can sit there and wipe all of this clean, or take that card out," he told MacCallum. "Those are the last remaining emotions he may have had, his last remaining moments that he may have had. Those memories are gone unless we can get those back."
A Defense Department spokesperson's statement on the Gold Star families' testimony said, "The Department of Defense expresses our deepest condolences to the Gold Star Families who lost loved ones during the tragic bombing at Abbey Gate. We are forever grateful for their service, sacrifice, and committed efforts during the evacuation operations. We also commend the historic and monumental efforts of all our service men and women who served honorably during the withdrawal period from Afghanistan."