Employee at Colorado driving school plows through front of business' building
The car crashed into the driving school's building right under a 'Learn to Drive' sign
An employee at a driving school in Colorado made an unforgettable entrance into the building on Tuesday.
While attempting to park a Hyundai Tucson in a spot in front of the Community Driving School on Wadsworth Boulevard in Lakewood, the driver accidentally drove straight into the building.
Lakewood police shared a photo of the crash, which showed most of the car stuck inside the driving school's front windows under a sign that said "Learn to Drive." Shattered glass and broken bricks could be seen surrounding the car.
PENNSYLVANIA DRIVER HOSPITALIZED AFTER BIZARRELY CRASHING CAR INTO SECOND FLOOR OF HOME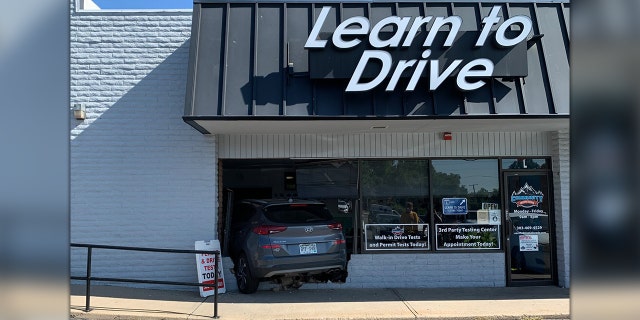 "Thankfully there was only one minor injury," Lakewood police wrote on X, formerly known as Twitter.
The department did not specify who was injured, but said others were able to move out of the car's path in time.
In a response to Fox News Digital, Community Driving School said reports classifying the employee as a driving instructor are not true.
"The person who drove his vehicle into the building was a new employee on his second day. He was observing classroom instruction. He had not started any training to be an in the car instructor," Community Driving School Owner Steve Rohman said.
Rohman also said the employee was driving his own vehicle, and not one used by the school.
WILD VIDEO SHOWS GEORGIA CAR FLYING THROUGH AIR DURING HIGHWAY CRASH
Many users on X were poking fun at the bizarre situation in response to the picture the Lakewood Police Department shared.
Comments like, "Look up 'irony' in the dictionary, and this is what you should see," and "just popping into the office," were among the hundreds of responses.
"He got an F," another user wrote.
Even 9News Denver added to the jokes by writing, "To the employee's credit, the school's sign above the front door says 'Learn to Drive,' and not 'Learn to Park,'" in its report on the incident.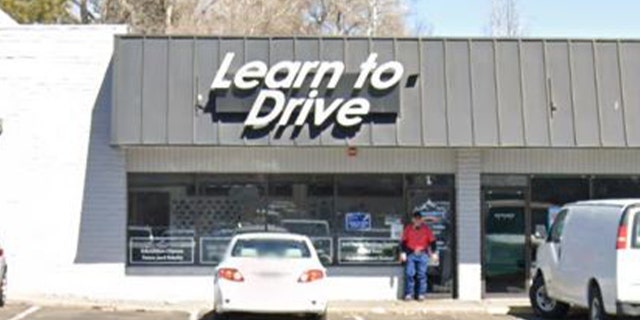 Lakewood police said the employee was cited for a traffic violation.