Argentina faces accelerated monthly inflation at 7.1% in July, posing challenges ahead of key elections
To tackle economic challenges, the government implemented measures to boost exports, curb imports
Argentina's anticipated monthly inflation rate for July is likely to accelerate to 7.1%, according to a Reuters poll of analysts. This projected rise in the CPI would break a streak of decreasing monthly inflation readings.

The nation currently grapples with one of the world's highest inflation rates, with an annual reading hovering around 116%.

To tackle the economic challenges, the government implemented measures to boost exports and curb imports, with a focus on safeguarding central bank foreign currency reserves.
Argentina's monthly inflation rate likely sped back up to 7.1% in July, a Reuters poll of analysts showed, a blow for the ruling Peronist coalition, which is battling to avoid defeat by the conservative opposition in primary elections on Sunday.
The sharper expected rise in the Consumer Price Index (CPI) would halt a run of slowing monthly inflation readings since a peak of 8.4% in April and underline how hard to budge inflation has become in the embattled South American nation.
Argentina has one of the highest inflation rates in the world, with the annual reading near 116%, which hammers earning power, has forced the government to hike the interest rate to 97%, and seen it burn through dollars to protect the peso.
"The monthly increase exceeded that of June, in part due to a spike in tourism linked to the winter holidays, which saw big moves in recreation (prices) in the month," said consultancy C&T Asesores Económicos.
The projections from 19 local and foreign analysts ranged from a minimum 5.9% rise to a maximum 7.9% jump in the month.
SOUTH AMERICAN COUNTRY NAMES 6TH PRISON CHIEF IN 2 YEARS AS GANG VIOLENCE CRISIS SPIRALS
The peso currency, controlled in official markets by tight capital controls, has in recent days hit record lows of over 600 to the dollar in parallel markets, more than twice the formal price. That's stoked further price rises, analysts said.
"We saw a significant acceleration in the vast majority of prices surveyed during the month, especially from the third week (of July), coinciding with the sky-rocketing of the black-market peso and new government measures," added consultancy C&T.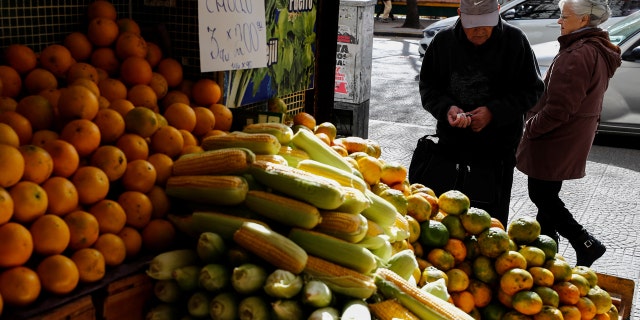 Argentina's government in late July ordered measures to encourage exports of some products and discourage imports with the goal of protecting central bank foreign currency reserves, estimated to be deep in negative territory on a net basis.
Alejandro Giacoia, economist at consultancy Econviews, said the spike in prices was partially linked to the slide in the peso in parallel markets, as well as rising food prices, which would play into August inflation too.
Many analysts saw a tough outlook for prices in the months ahead due to economic uncertainty, fiscal imbalances, and volatility ahead of the general election in October.
"There are several factors that we believe mean CPI will continue to accelerate in August," said Eugenio Marí, chief economist of the Libertad y Progreso consultancy, citing market imbalances, government money printing and new taxes.
Argentina's INDEC statistics agency is expected to publish inflation data next week after the primaries. The central bank has postponed the regular publication of its monthly market analyst survey until after the election.