A trans man asked this simple question about kids at a trans conference. He was kicked out
Medical professionals have adopted gender activists' beliefs, Aaron Terrell says
A transgender man was "alarmed" by what he believed was an activist takeover of gender medicine after he was booted from a trans health conference for asking critical questions about updated guidelines on medical interventions for minors.
Aaron Terrell was removed from the World Professional Association for Transgender Health's (WPATH) Annual Scientific Symposium last September after raising concerns about the "rapid medicalization" of gender-diverse children. The final straw was when he asked about the precautions medical providers are taking to ensure adolescents aren't transitioning unnecessarily.
"Every single person there, at least by their outward behavior, was in complete agreement with that non-critical, affirmative-only approach," Terrell told Fox News. "It's like at no point in the development of standards of care for gender dysphoria is any actual clinical evidence-based oversight happening."
"That's what was really so alarming, that it's activist driven from start to finish," he added. "It's not health care."
Terrell transitioned from female to male in 2012 but about six years ago became increasingly concerned about an emerging "social trend facilitating transition." He co-founded the Gender Dysphoria Alliance (GDA) in 2020, an organization that advocates for protecting biological sex-based rights and spaces, evidence-based research into gender dysphoria and more holistic care for people who suffer from it, rather than defaulting to medical transition for anyone questioning their identity.
TRANS MAN ON BEING BOOTED FROM TRANS HEALTH CONFERENCE:
WATCH MORE FOX NEWS DIGITAL ORIGINALS HERE
"I just sort of went back online and started getting myself invested in online trans communities to try and get an understanding of what was happening culturally," Terrell, GDA's director of operations, said. "The more that I researched, the more concerned I actually became."
Terrell virtually attended WPATH's annual conference last year where the group introduced its latest Standards of Care (SOC-8) for the Health of Transsexual, Transgender, and Gender Nonconforming People. The document is intended to guide clinicians in treating children and adults presenting with gender dysphoria.
"I had a lot of reservations about just the lack of detailed assessments and the reduction in the age of consent for these treatments," he said. "Primarily, I was going with the intention of hopefully connecting with people within WPATH who may be also concerned with the SOC and the direction WPATH has gone in recent years."
In September 2022, WPATH released updated standards of care for the first time in 10 years. The group spent five years working on the new guidelines with Johns Hopkins University assisting with systematic reviews of supporting evidence.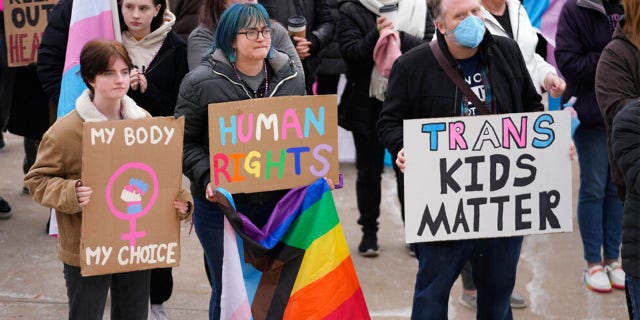 The updated standards recommend providing puberty blockers at the first sign of sexual maturity and no longer suggests limiting hormonal therapy to those older than 16. SOC-8 also recommends insurers deem surgeries like facial feminization, which are currently considered cosmetic and aren't covered, as medically necessary.
MEDICAL SCHOOL PROFESSOR SAYS PARENTS MUST IMPLEMENT GENDER IDEOLOGY FOR BABIES: 'IT... STARTS AT BIRTH'
After attending several sessions WPATH members and medical professionals hosted, Terrell said he realized that many of SOC-8's authors were transgender and that "their investment in this health care is personally motivated."
"A lot of those clinicians slash activists — well, I just got the impression that the activism seemed to very much be at the forefront, more so than the medicine or the research about trans care," Terrell said.
While Terrell is concerned the guidelines will exacerbate the "rapid medicalization" of gender non-conforming youth, WPATH argues the new standards of care "provide clinical guidance to health care professionals to assist transgender and gender diverse people in accessing safe and effective pathways to achieving lasting personal comfort with their gendered selves with the aim of optimizing their overall physical health, psychological well-being, and self-fulfillment."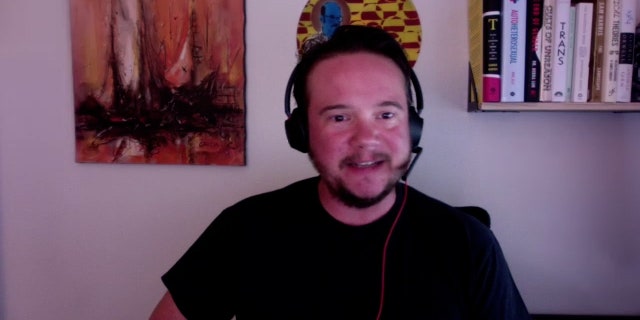 Though limited, WPATH cites studies indicating that youth who receive "medically necessary gender-affirming medical treatment" experience a general improvement in quality of life. One study found that adolescents with access to cross-sex hormones had lower rates of suicidal ideation over the course of a year compared to those with no access or transgender people accessing gender-affirming hormones in adulthood.
Still, during the WPATH session, both the presenters and the audience's language "alarmed" Terrell.
BOSTON CHILDREN'S HOSPITAL DIRECTOR CALLS FOR DRASTIC INCREASE IN CAPACITY FOR GENDER SURGERIES FOR MINORS
He said the only questions asked of the presenters were about how to get "transphobic parents" to agree to the treatments.
"There were just all these opportunities where you'd think people would be like, 'wait, hold on a minute, why would we be doing this?' or 'what does the actual evidence say?' There was none of that," Terrell said. "There was no, 'wait, why would a teenager who has this kind of trendy, quirky identity need medical interventions?' Nobody asked that question."
"It was just — how do we get their transphobic parents to agree to these irreversible, completely unnecessary, in my view, medical interventions."
"It was just how do we get their transphobic parents to agree to these irreversible, completely unnecessary, in my view, medical interventions," he added.
While the 260-page report cites hundreds of scientific studies, it notes that there is a lack of substantial evidence showing the effectiveness of medical treatments for transgender adolescents and urges caution before moving forward with medical intervention.
"Despite the slowly growing body of evidence supporting the effectiveness of early medical intervention, the number of studies is still low, and there are few outcome studies that follow youth into adulthood. Therefore, a systematic review regarding outcomes of treatment in adolescents is not possible," the report states.
On the third day of the conference, Terrell posted in a group of transgender attendees within the conference's chat forum introducing himself as a representative from GDA. Other users replied calling GDA an "anti-trans hate group" and accused Terrell of espousing "TERF" (trans-exclusionary radical feminist) talking points — a label the trans community uses against people they consider hateful.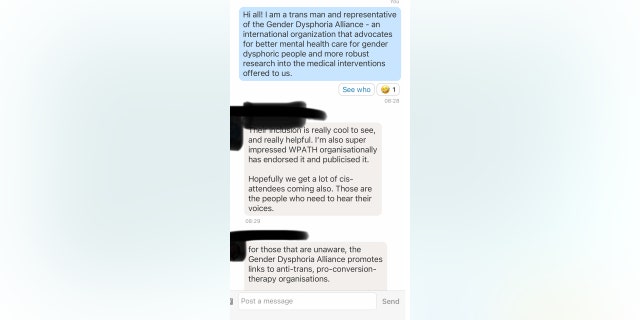 The trans community often accuses GDA of transphobia, according to Terrell, since it favors keeping transgender individuals out of biological women's spaces and opposes wide scale medical intervention for gender-nonconforming minors.
"I knew I wasn't necessarily going to be a popular person, but I was not at all expecting the response that I did get," he told Fox News.
PENTAGON DOCTOR CLAIMS PRESCRIBING TRANSGENDER DRUGS TO MINORS CAN CAUSE PSYCHOTIC ILLNESS TO 'MELT AWAY'
"All of those comments were getting all these likes and love and whatnot, and then everything I would say would get down votes and laughing emojis," he added. "It was just fascinating to me that this was the behavior of medical professionals, which was just really quite alarming."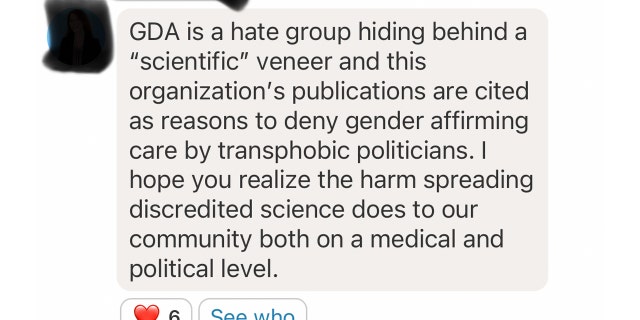 The next day, Terrell made a last-ditch attempt to connect with medical providers similarly concerned about the new standards of care. He addressed a post to the entire conference titled "Trans individuals concerned with affirmation only approach."
In it, he asked: "What are clinicians doing to ensure gender-nonconforming cis children and adolescents aren't transitioning unnecessarily?"
"I hoped that people would send me private messages saying, 'Hey, yeah, I'm concerned as well, let's connect after the conference,'" Terrell told
Shortly after posting his question, Terrell found he couldn't access the conference's events and had been removed as an attendee. A glitch in the program's software let him keep receiving notifications of replies to his thread, allowing him to see what was being discussed.
He said health professionals from the Mayo Clinic, Brown University School of Public Health and Yale School of Medicine continuously flagged organizers to remove his post after he was booted.
Terrell reached out to WPATH for months asking about his removal with no response. But hours after requested comment from the organization, Terrell received an explanation.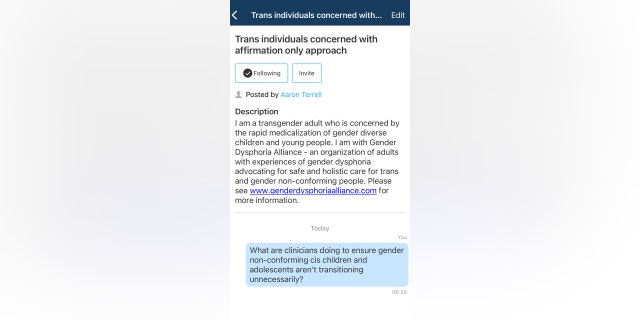 "WPATH received numerous complaints from both live and virtual attendees regarding your comments on our platform chat that were disruptive, pathologizing and in violation of our code of conduct," WPATH Executive Director Blaine Vella wrote. "Members of the executive committee of the Board representing WPATH reviewed the complaint and made the decision that the actions and comments required expulsion from the conference for the benefit of all other attendees."
The organization, however, did not respond to Fox News' request for comment.
Terrell said his takeaway from the experience was realizing that the extreme views on treating minors who purport to have gender dysphoria are not limited to gender activists.
"It is also the behavior of the professionals in these institutions, in these organizations writing the guidelines that are influencing all the downstream medical organizations who are then writing the guidelines for their individual clinics that are treating these patients," he said.
Terrell said he doesn't see a happy ending to the issue and believes activists' influence on gender-affirming health care will only end "when too many devastated young people have come forward."
"I see a lot of destroyed families and young people," he said.