Mega Millions jackpot reaches staggering $720M, fifth largest
The estimated cash value is $370 million for the $720 million jackpot
The Mega Millions' jackpot
is now at $720 million after there were no winners in the Tuesday night drawing.
The prize is the fifth-largest in game history, according to Mega Millions, with an estimated cash value of $370 million.
The numbers drawn Tuesday night were 57, 47, 50, 29 and 40 with
a Mega ball
of 25. The multiplier was 2X.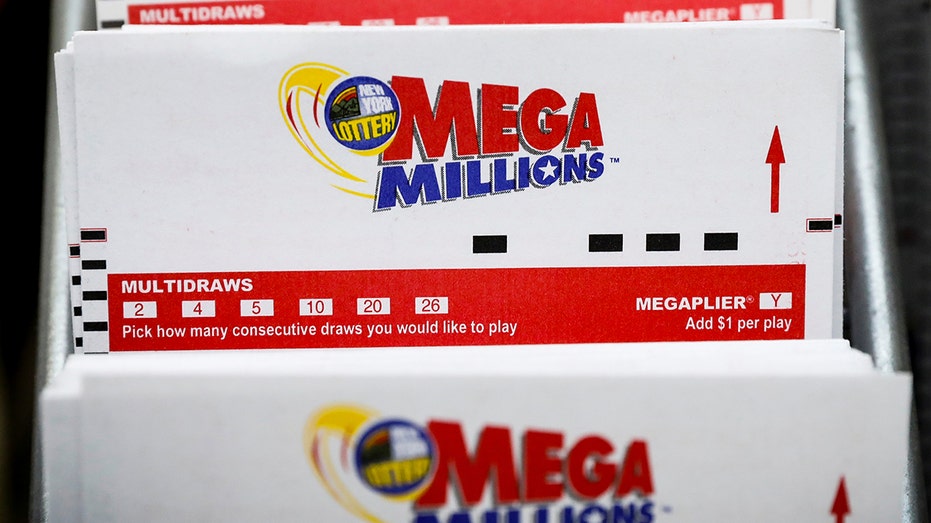 Mega Millions Lottery ticket are displayed in a store in New York City.
(REUTERS/Brendan McDermid / Reuters Photos)
If a player wins Friday's jackpot, it would be the second-largest Mega Millions jackpot
won this year
. A Maine player won the $1.338 billion jackpot in January.
CALIFORNIA CONVENIENCE STORE OWNER REACTS TO SELLING WINNING $1 BILLION POWERBALL JACKPOT: 'SURPRISED'
The last Mega Millions jackpot-winning ticket was sold on April 14, matching all six numbers to win the grand prize of $483 million or a lump-sum prize of $256.9 million. Since April, the jackpot has continued to rise.
The odds of hitting the
grand prize jackpot
are 1 in 292.2 million.
Mega Million cards are displayed at the Fuel On Convenience store in Pittsburgh, Pennsylvania.
((AP Photo/Gene J. Puskar) / AP Newsroom)
POWERBALL PLAYER IN CALIFORNIA HITS $1.08 BILLION JACKPOT, LARGEST EVER
List of the 2023 Mega Millions jackpot wins:
$1.35 billion — Jan. 13; Maine.
$20 million — Jan. 17; New York.
$31 million — Jan. 24; Massachusetts.
$31 million — Jan. 31; Massachusetts.
$483 million — April 14; New York.
$20 million — April 18; New York.
Powerball
tickets cost $2 per play. Tickets are
sold in 45 states
, the District of Columbia, Puerto Rico and the U.S. Virgin Islands. The deadline for purchasing a ticket is 9:45 p.m. on draw nights.