In the age-old good vs evil story, is Artificial Intelligence cinema's new villain?
There's a new foe in town --- but some Hollywood insiders believe AI can be a friend in need
Since the publication of the Bible, good vs. evil has long been a universal theme in literature - and in Hollywood storytelling.

But could the same perceived evil force, also be good?

As of May 2 of this year, 11,500 Hollywood screenwriters, represented by the Writers Guild of America (WGA) have been on strike over a three-pronged fight that boils down to money, autonomy, and Artificial Intelligence (AI). The writers are asking for increased and commensurate pay, for a guaranteed number of writers per room, and for regulated use of artificial intelligence in the writing process.

Last week, Hollywood actors joined the screenwriters in their months-long strike against studios, streaming services and production companies represented by the Alliance of Motion Picture and Television Producers (AMPTP), marking the first time in over six decades that the two unions have been on strike at the same time.

SAG-AFTRA VOTES TO STRIKE AFTER DISNEY CEO SLAMMED MOVE AS 'DISTURBING'

The actors, represented by Screen Actors Guild-American Federation of Television and Radio Artists (SAG-AFTRA), want increased minimum pay rates, increased streaming residuals, and guarantees from studio and production companies about how, exactly, AI will be used.

While the writers have vocalized concerns that their creativity will be compromised with AI's involvement in storytelling, and the actors fear their image and likeness will be replicated by AI to no end, many would rightfully assume Artificial Intelligence is Hollywood's new villain.

After all, AI has been characterized as such in portrayals featured in I, Robot, Avengers: Age of Ultron, and even the upcoming Mission: Impossible installment.

But could AI, in some cases, also be the hero?
"I think that artificial intelligence, with proper regulation, is a tool that absolutely ignites and enhances human creativity," said Hollywood producer and editor Zack Arnold. "As long as we maintain that we are in the driver's seat and we are the author as humans, I think that, to me, at least from a creative perspective, that's the direction that we have to go."

Arnold, who's known in Tinseltown for his work on "Cobra Kai," "Empire," and "Glee," told Fox News Digital that AI can be both a friend and a foe.

"If you're not at the top 5% of [your] craft, I don't think you're going to make a living with one singular career path. And I think we're at the point where the only strategy that makes sense is you have to diversify your career portfolio and find multiple avenues for how to both provide value to people and earn an income on it in return. And I think that that's where AI comes in, both as the foe and a friend."

AUTHORS SUE OPENAI FOR COPYRIGHT INFRINGEMENT, CLAIM CHATGPT UNLAWFULLY 'INGESTED' THEIR BOOKS

"I just don't believe that original ideas exist; I don't believe creativity is creating something from nothing," Arnold added. "I believe it's creating something else from other things in a unique combination. And I think that whether it's the human brain doing that or it's AI using similar neural networks to help us facilitate and speed up that process, I have no problem with that. As long as… the part is what I own."
Ryan Steelberg, co-founder and CEO of Veritone, a leading AI software tech company, agreed with Arnold, challenging the notion that our ideas are "original" to begin with.

"The argument that often I think about is every idea I come up with for a new product, is it really my proprietary idea? Or am I a compilation of what I've learned in my experiences, and they're already, in effect, plagiarizing or copying it to a certain degree… Somebody else I've learned from, on a complete offline analog basis…"

Steelberg, whose cousin is cinematographer Eric Steelberg - a frequent collaborator of director Jason Reitman and known for "Juno," "Up in the Air," and "Tully" - told Fox News Digital that, while AI can be considered a disruptive tool, it can be hugely beneficial because the larger language model was "fundamentally designed after the human brain."

"Ultimately, those systems, people and processes that can harness AI are going to have a strategic competitive advantage against those who do not," Steelberg said. "I think it's a powerful tool, and I think people who know how to and learn how to wield it the best are going to have a significant part of advancing. I think it's going to be every area of the creative ecosystem, you know, including cinematographers, directors… For good or bad, you know, we need to be experts in this."

AI WILL MAKE HUMANS MORE CREATIVE, NOT REPLACE THEM, PREDICT ENTERTAINMENT EXECUTIVES

While Steelberg did issue a warning that it will be a "rude awakening" to those in either union who are trying to live in legacy models of Hollywood, the Veritone CEO explained that, because we don't truly understand how the human brain works, regulation is necessary.
"I don't believe we truly understand how the human brain works, but we've made the leap already and tried to create a simulated or artificial version of such," Steelberg said. "There's obviously going to be gaps."

And those gaps, both gentlemen told Fox News Digital, need to be accounted for.

"[This is] a once-in-a-generation reckoning of how the entertainment industry treats its creatives," Arnold said, warning that he's expecting the strike to last "months and months."

"I think we're looking at this [strike] probably through late fall, all the way potentially into the end of the year because the two sides are so diametrically opposed on how the business should operate," Arnold explained. "It's just not about 'you want more, we don't want to give you more. Let's meet in the middle.' It's the mistake that everybody has made with the various negotiations in the past… and they realized that by giving them an inch, the studios have taken 100 miles, and they built this entirely new business model where they have shut out all the creators."

"And now, not only are they trying to rectify that, but they need to make sure they don't make the same mistake again with AI," he added.
"This is a once-in-a-generation reckoning of how the entertainment industry treats its creatives."
Former Paramount CEO and IAC chairperson Barry Diller delivered a grim prediction for Hollywood on Sunday, warning that the industry is facing an "absolute collapse" if the Writers' and Screen Actors Guild joint strike extends into the fall.

"What will happen is, if in fact, it doesn't get settled until Christmas or so, then next year, there's not going to be many programs for anybody to watch. So, you're gonna see subscriptions get pulled, which is going to reduce the revenue of all these movie companies, television companies, the result of which is that there will be no programs," Diller said on CBS' "Face the Nation" Sunday. "And at just the time, [the] strike is settled that you want to get back up, there won't be enough money."

The IAC chairman said he believes a settlement deadline of September 1 should be agreed upon by studios, streaming services and union leaders representing film and television actors to prevent "devastating" effects on the entertainment industry.

But "the endgame is to allow things to drag on until union members start losing their apartments and losing their houses," a studio executive told Deadline.

MOVIEGOERS WEIGH IN ON DEMANDS MADE BY STRIKING ACTORS, WRITERS: 'I'M ALL FOR IT'

The strike, now in its 12th week with no end in sight, has impacted the production of film and television series and is expected to cost the industry more than $3 billion in losses. By contrast, the previous WGA strike of '07-08 lasted 100 days at an estimated loss of $1.5 billion.

With AI and its various implications at the epicenter of this momentous time in Hollywood, fears - and, frankly, outrage - that the landscape of Hollywood shifting beyond recognition, are resounding. And those concerns are worn on some big faces.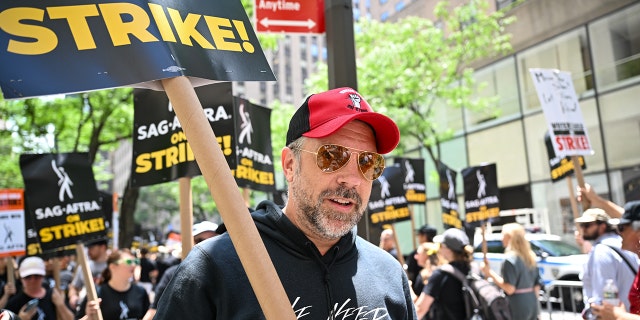 "Ted Lasso" star Jason Sudeikis and other top movie and TV actors joined picket lines alongside screenwriters Friday on the first full day of a walkout that has become Hollywood's biggest labor fight in decades.

TOM HANKS SAYS WITH AI HE COULD APPEAR IN MOVIES AFTER DEATH; STAR'S PROJECTS THAT HAVE ALREADY USED THE TECH

Other notable actors who joined picketing outside of other production companies include "Titanic" actor Frances Fisher, "Lord of the Rings" star Sean Astin and Fran Drescher, who is most known for her role in "The Nanny" and as SAG's president.

Drescher delivered a fiery address at the SAG-AFTRA strike authorization press conference Thursday first announcing the actors' strike. In her speech, she called the studios "disgusting" and asserted that they're standing "on the wrong side of history."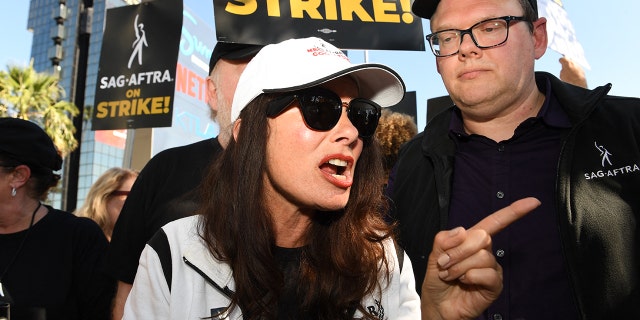 Actress Justine Bateman - brother of actor Jason Bateman and WGA writer, DGA director, former SAG negotiating committee member, and UCLA graduate in computer science and digital media management, recently penned a Newsweek op-ed where she argued that AI's inclusion in the arts will be the destruction of the film industry.

"I believe this is the last time any labor action will be effective in our business. If we don't make strong rules now, they simply won't notice if we strike in three years, because at that point, they won't need us. AI has to be addressed now or never," Bateman wrote in the article.

Bateman's now-viral tweets on the matter point to Europe's AI initiatives as a beacon of hope, wherein the use of Artificial Intelligence within the EU will be regulated by their proposed AI Act. The act is regarded as the world's most comprehensive AI law and was first proposed in April 2021. As of June of this year, MEPs adopted Parliament's negotiating position and, according to the European Parliament's government site, the aim is to reach an agreement by the end of this year.

There is, conversely, no comprehensive federal legislation dedicated solely to AI regulation in America.
While Arnold believes that Artificial Intelligence can be used for good, he finds Bateman's warning to be all-too-true.

"If you think your job is safe because you do manual labor far too complex to be replaced by a robot, it's not the need for your hands on set that will become obsolete. With the advent of AI, it's the sets and actors themselves that become obsolete (along with all the other cast & crew on those sets…including you)," he warned, piggybacking off Bateman's comments.

"We now know that we're at worst case scenario and that both SAG and the writers have decided to strike. But I think there's a lot of value in at least knowing 'here's the game that we're playing now,'" Arnold told News Digital.

"Now we can take action because they know what our reality is," Arnold continued. "So even though this is a scenario I wouldn't wish upon anybody, at least now we know the game that we're playing, and we know what to do next. And I firmly believe those who survive and those that rise above AI are those that work to diversify their strategies, their skills and the value that they provide to others. So that's the biggest conversation that we're having right now, is, 'how do we do that?'"
To help answer that very question, Arnold has launched Optimize Yourself, an online site and community of creatives that helps people find new careers that are more balanced, sustainable and fulfilling amid the ongoing strike.

"We're looking at the rise, or the re-emergence, of the generalists, because for most of recorded history, it was the generalists that were successful," Arnold said, encouraging creatives to ask themselves if they're making the impact they set out to make, beyond the superficiality of their chosen career titles.

"I think it's partially [a matter of] re-framing this idea that my identity is not my identity… It's more 'I have this essence and this ability to provide this specific service or value to people. And I have a variety of different ways that I can do it,'" Arnold explained.