White House mandating face masks, social distancing for unvaccinated 'College Athlete Day' guests
Biden signed bill earlier this year ending COVID-19 national emergency
The White House is still requiring guests who are not fully vaccinated against COVID-19 to wear face masks and practice social distancing, despite the federal government already terminating the national emergency declaration for the pandemic.
President Joe Biden and First Lady Jill Biden are inviting dozens of NCAA men's and women's national championship teams from Divisions I, II, and III to "College Athlete Day" to celebrate their victories at the White House on Monday.
Earlier this week, the White House Office of Legislative Affairs sent out an email invitation to members of Congress obtained by Fox News Digital requesting their attendance at the event. The email included additional logistical details as well as COVID protocols
According to the White House, while lawmakers are not required to receive a COVID test in advance of this event, they will need to wear a mask and socially distance if they're unvaccinated.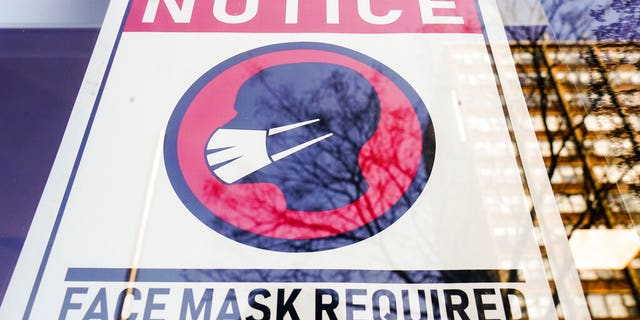 4 MAJOR MISTAKES THE EXPERTS MADE ABOUT COVID DESPITE SAYING THEY WOULD 'FOLLOW THE SCIENCE'
"Masking Guidance: Fully vaccinated guests are not required to wear a mask on the White House grounds," the email states [bold font in original email]. "Guests who are not fully vaccinated must wear a mask at all times and maintain at least 6 feet distance from others while on the White House grounds."
The White House email comes as hospitals and other health care facilities increasingly discard their masking rules with COVID becoming a smaller presence for most Americans in daily life.
Meanwhile, experts have been calling into question the efficacy of face masks. A recent study published by the prestigious Cochrane Library, which is funded by the National Institutes of Health, dug into the findings of 78 randomized controlled trials to determine whether "physical interventions" — including face masks and hand-washing — lessened the spread of respiratory viruses.
The conclusion about masks undercuts the scientific basis for masking, according to the study's lead author.
"There is just no evidence that they make any difference. Full stop," Tom Jefferson, the study's lead author, said in an interview. When asked specifically about fitted N95 masks in health care settings, Jefferson said: "It makes no difference – none of it."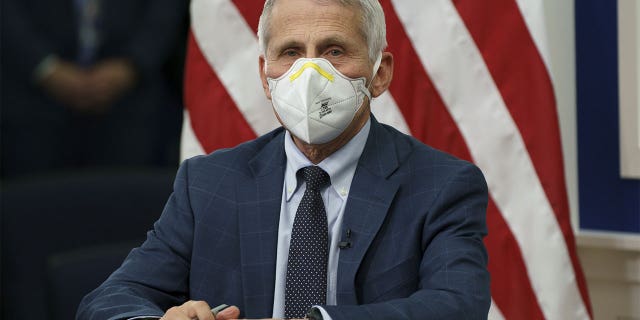 NEARLY 1 TRILLION MASKS BOUGHT DURING PANDEMIC DESPITE NEW RESEARCH SUGGESTING NO HEALTH BENEFITS
The White House email calling for the unvaccinated to socially distance also comes as more researchers are skeptical of the idea that the COVID vaccine mandates limited transmission of the virus.
A recent study from the Mercatus Center at George Mason University concluded that COVID vaccine mandates in nine major cities didn't appear to make a difference in terms of curbing cases deaths from the pandemic.
The study came after last year, a director of the pharmaceutical giant Pfizer admitted at a hearing before the European Parliament that, at the time of its introduction, the COVID vaccine had never been tested for stopping transmission of the virus, according to a video of the exchange posted by parliamentarian Rob Roos.
A Centers for Disease Control and Prevention advisory group said in February that it wasn't recommending more than one annual coronavirus vaccine booster.
Biden previously attacked those unvaccinated against COVID for not doing the "right thing" and "costing all of us." He accused them of causing "a lot of damage" by "making people sick and causing... people to die" and standing in the way of "getting back to normal."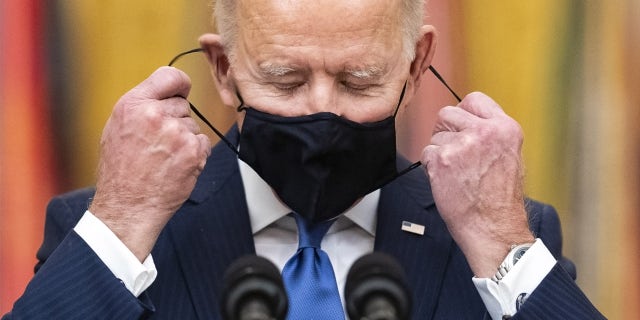 BIDEN SIGNS BILL ENDING COVID-19 PANDEMIC NATIONAL EMERGENCY
When announcing his vaccine mandates last year, Biden warned those hesitant to receive the vaccination: "We've been patient, but our patience is wearing thin."
Despite the White House's mask mandate for the unvaccinated, the federal government officially ended the COVID-19 Public Health Emergency (PHE) on May 11. The secretary of the Department of Health and Human Services can declare a public health emergency under the Public Health Service Act. The COVID-19 PHE had been in effect since January 2020.
Days before the PHE termination, the World Health Organization announced that COVID no longer qualifies as a global emergency, marking a symbolic end to the pandemic
A few weeks earlier, President Biden signed a bill in April terminating the national emergency declaration that allowed the government to respond to COVID with certain authorities that it otherwise wouldn't have. That decisions came several months after Biden publicly declared "the pandemic is over" last September in an interview.
The White House didn't respond to a request for comment for this story.