Tennessee residents beg city for help dealing with homeless squatters: 'Something needs to be done'
One squatting encampment was equipped with a generator and air conditioning, according to one resident
Residents of a Middle Tennessee town are publicly demanding city officials take action as squatters and homeless encampments continue to wreak havoc with no end in sight.
"The trash they're leaving for property owners, the waste that they're leaving around everywhere," Brittany McCann, a resident of Hermitage, Tennessee, just outside Nashville, told Fox 17 Nashville about squatters in makeshift homes and RVs in parking lots and streets. "Something needs to be done."
McCann said one squatter set up an encampment with his dog in a parking lot in her neighborhood, prompting her to make calls to city leaders that finally resulted in him being removed from the property. But he soon set up a new camp nearby.
cCann says the man has been removed from properties several times only to show up at another location nearby.
SQUATTERS TORMENT HOMEOWNERS ACROSS US WITH NO RESOLUTION IN SIGHT: 'IT'S A PROBLEM'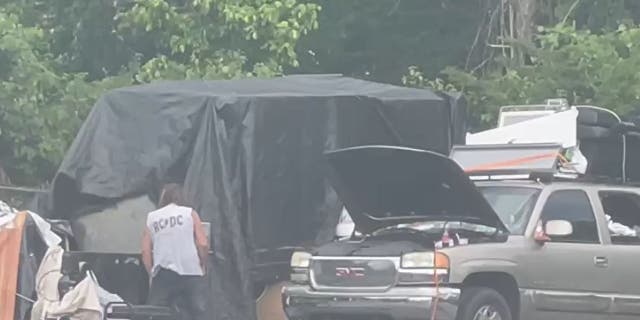 "To track someone down every single time to tell them repeatedly the same thing is ridiculous," McCann said. "If you're homeless you deserve better. We are going to offer you the support that you need and if you don't take it – you need to find some place that will support your lifestyle."
"He's got a ton of furniture and building materials," McCann said. "He's built a house and it looks like he has a trailer with electricity and air conditioning and a generator. That could be a meth lab. That could be a puppy mill. That could be used for a bombing just like downtown. We don't know what's going on in there."
"Somebody has got to get down here and check this out. I can't believe this is happening right now in Hermitage. Well, now I can, five years ago I couldn't."
Fox 17 Nashville reported that the man wrote messages on his trailer alleging that residents were harassing him.
HOUSTON WOMAN SAYS SQUATTERS CHANGED LOCKS, TOOK OVER HER HOME WITH A PHONY LEASE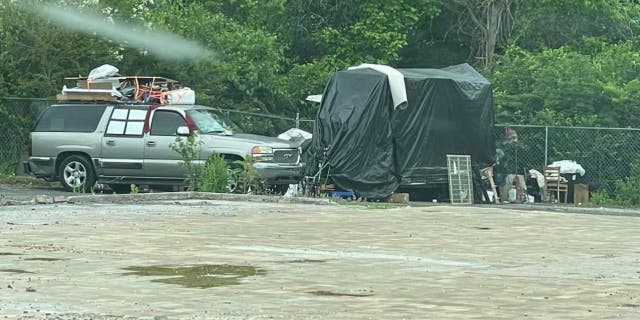 "They are backing me into a corner," one message said along with another that said, "People constantly take my photo."
The Nashville Police Department and mayor's office did not immediately respond to a request for comment from Fox News Digital.
"In general, I can tell you that if someone experiencing homelessness needs help – whether we first encounter them or they are referred to us – we always offer our support and make every effort to connect them to wraparound services and enroll them in Coordinated Entry, our housing pipeline," the Nashville Metro Homeless Impact Division told Fox 17 Nashville in a statement.
"We always partner with a couple of agencies who help care for and provide services for pets of our unhoused neighbors. Like many of us, our pets are our family and need love, attention and care also."