Senate passes bipartisan debt ceiling bill, sends to Biden's desk
The bill needed 60 to pass and won 63 votesThe Senate passed a bill to raise the government's borrowing limit late Thursday night, sending it to President Biden's desk with just days to spare before the government was set to run out of money to pay its obligations on June 5.
The bill, which implements the deal struck by House Speaker Kevin McCarthy and President Biden to raise the debt ceiling and cut spending, passed in a 63-36 vote. Four Democrats, 31 Republicans and one Independent, Sen. Bernie Sanders of Vermont, voted "no."
House lawmakers sent the bill to the Senate on Wednesday in a bipartisan 314-117 vote after weeks of intense negotiations between McCarthy and Biden. The Senate's inability to pass its own bill made it a bystander in those talks and gave senators no realistic option other than approving the deal.
The
bipartisan deal
suspends the debt limit with no cap through Jan. 1, 2025, cuts non-defense spending to near fiscal 2022 levels, caps spending increases at 1% the following year and sets non-mandatory caps for the four years after. It also claws back some money aimed at the Internal Revenue Service and some unspent COVID-19 pandemic funds.
HOUSE PASSES MCCARTHY-BIDEN DEBT CEILING DEAL, SENDS TO SENATE FIVE DAYS BEFORE FUNDING CRUNCH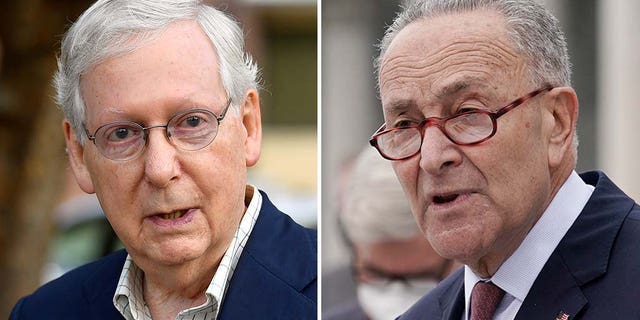 Defense spending would rise by about 3% in the first year of the deal, below the rate of inflation. That drew complaints from several Republicans senators who warned on the floor that the deal would harm U.S. national security.
"To my House colleagues, I can't believe you did this," Sen. Lindsey Graham, R-S.C., said on the Senate floor. "To the Speaker, I know you've got a tough job. I like you. But the party of Ronald Reagan is dying. Don't tell me that a defense budget that's $42 billion below inflation fully funds to military."
Graham and others threatened to hold up the bill until assurances were given that defense spending would not be limited by the deal, and Senate Majority Leader Chuck Schumer, D-N.Y., and Minority Leader Mitch McConnell, R-Ky., offered those assurances.
"The agreement includes a commitment that the Senate will not be limited in its ability to respond to emerging or ongoing national security threats, including Russia's unjust and unprovoked war in Ukraine, challenges posed by China with respect to our economy and the growing threat to Taiwan, and protecting vital interests and partners in the Middle East," Graham's office said in a statement released as the Senate was considering the bill.
LEADER OF CONSERVATIVE HOUSE CAUCUS REFUSES TO COMMENT ON WHETHER MEMBERS WILL TRY TO REMOVE MCCARTHY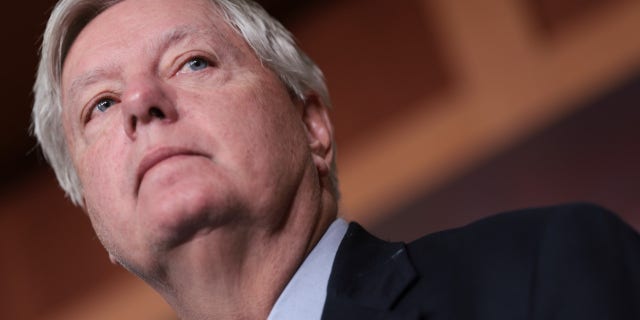 The Senate spent several hours working out an agreement to quickly consider the bill, the leaders agreed to allow 11 votes on amendments. But as expected, none of the 11 proposed Senate amendments passed on Thursday night – approving any of them would have altered the agreement and could have eroded the deal struck by McCarthy and Biden.
Language to add GOP-backed border provisions to the bill was rejected, as was language to strip approval of the Mountain Valley Pipeline in West Virginia, a provision that was included under pressure from Sen. Joe Manchin, D-W.Va. Senators also rejected an amendment to eliminate language that allows the executive branch to waive a requirement to trim spending elsewhere when they impose a costly new regulation.
Just like the House vote, defectors from both parties were expected in the Senate. Progressive lawmakers have argued that the spending cuts in the bill go too far, while conservatives complained they did not go far enough.
Treasury Secretary Janet Yellen had warned Congress that the country could face economic catastrophe if lawmakers did not lift or suspend the debt limit by June 5.
DEMOCRATS HELP MCCARTHY ADVANCE DEBT CEILING DEAL IN NAILBITER HOUSE VOTE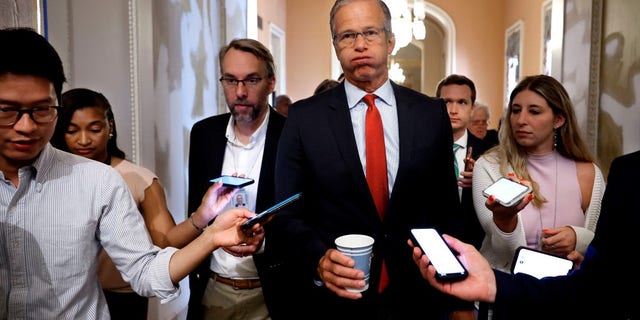 One provision in the final deal requires a 1% across-the-board spending cut if Congress can't pass the 12 annual appropriations bills, something it has not done regularly for years.
As lawmakers were debating the various amendments, Senate leaders sent out a statement calling on Appropriations Chair Patty Murray, D-Wash., and ranking Republican Sen. Susan Collins, R-Maine, to begin the process of cobbling together the 12 bills to avoid this cut.
"We share the concern of many of our colleagues about the potential impact of sequestration and we will work in a bipartisan, collaborative way to avoid this outcome," the Senate leaders said. "To accomplish our shared goal of preventing sequestration, expeditious floor consideration will require cooperation from Senators from both parties."
"The Leaders look forward to bills being reported out of committee with strong bipartisan support," they added. "The Leaders will seek and facilitate floor consideration of these bills with the cooperation of Senators of both parties."