Portland considers banning public homeless camping during daytime hours
Homelessness in Portland, OR, increased by 30% from 2019 to 2022, according to US data
City Council members in Portland were considering on Wednesday whether to ban homeless camping during daytime hours in most public places, a move that aims to bring the city into compliance with a new state law and appease the growing number of residents frustrated by a deepening yearslong homelessness crisis.
Portland is among progressive West Coast cities moving to adopt stricter rules on camping while grappling with intertwined homelessness, housing, mental health and addiction crises. In Portland, homelessness jumped more than 30% between 2019 and 2022, according to federal data.
Homeless people would have to dismantle their camp every morning and remove their belongings and any litter during the day. People who break the rules would receive a warning for the first two violations. After three violations, people could be fined up to $100 or be sent to jail for up to 30 days. The measure would prohibit camping between 8 a.m. and 8 p.m. in city parks and near schools, day cares and construction sites and on some sidewalk areas.
PORTLAND'S POPULATION DROPS AMID CRIME, HOMELESSNESS, OTHER WOES
But while there appears to be an increasing appetite for camping regulations in Oregon's largest city, advocates said the new rules would further burden homeless people and strain nonprofits already working at capacity.
Mayor Ted Wheeler said at Wednesday's City Council meeting that his goal is to get enough shelter and housing to eliminate unsanctioned camping in Portland. The City Council voted in November to create at least six large, designated campsites where homeless people will be allowed to camp and gradually ban street camping altogether once the sites are operational.
"There are currently hundreds of unsanctioned, sometimes dangerous and often squalid homeless camps across all 146 square miles of the city of Portland. These homeless camps ... represent nothing short of a humanitarian catastrophe," Wheeler said.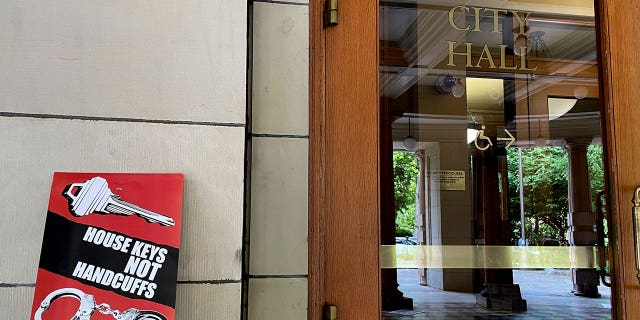 Before testimony got under way, dozens of protesters rallied with megaphones outside City Hall to voice their opposition. At times, advocates inside the City Council chambers cheered those speaking against the measure and jeered people supporting it, including Wheeler, prompting him to threaten to move the meeting online if decorum was not respected.
The meeting was expected to stretch for hours into the night with more than 170 people signed up to testify.
"Asking homeless Portlanders ... to carry their homes on their backs for 12 hours a day, seven days a week, will heighten mental and physical distress, hitting houseless and front-line workers like a punch to the gut," testified Sandra Comstock, executive director of the Portland-based homeless nonprofit Hygiene4All.
Business and property owners were among those who testified in support of the ordinance, saying some customers and employees don't feel safe shopping or going to work because of encampments.
MANHATTAN DA ANNOUNCES INDICTMENT AGAINST NYPD OFFICER SEEN PUNCHING 'ERRATIC' HOMELESS MAN ON VIRAL VIDEO
Councilmembers are expected to vote next week, according to Wheeler's office.
Portland already prohibits camping on city property at all hours. But the measure is rarely enforced and could be found to violate a state law that takes effect July 1. The new law codifies a key 2018 federal court ruling that bars local governments from arresting people for sleeping outside when there isn't enough shelter available, but does allow them to have "objectively reasonable" limits on where, when and how campsites can be set up.
Andy Mendenhall, CEO and president of Central City Concern, a homeless services nonprofit in downtown Portland, acknowledged before the City Council meeting that "unsheltered homelessness has reached a point of untenability" in the city. But he added that implementing a measure that essentially displaces people on a daily basis will be hard to implement.
"Both the process of enforcement and the referral of homeless folks to limited regional resources will be a challenge," Mendenhall said.
In a separate but related development, Portland's City Council also voted Wednesday to approve a settlement in a federal lawsuit brought by people with disabilities who said sprawling homeless encampments prevented them from navigating the city's streets.
The federal class action lawsuit, filed in September, alleged that the city violated the American with Disabilities Act by letting tents to obstruct sidewalks, impacting people who use wheelchairs, scooters, canes and walkers.
Under the settlement, the city must prioritize removing tents that block sidewalks and clear at least 500 sidewalk-blocking encampments every year for the next five years. Portland, which didn't admit wrongdoing, must also operate a 24-hour hotline for reporting tents blocking sidewalks and create an online reporting portal where people can upload photos.
Additionally, the city must devote at least $8 million in the 2023-2024 fiscal year to make sure the settlement conditions are met, and at least $3 million annually for the following four fiscal years. Portland also agreed to pay $5,000 to each of the 10 plaintiffs and reasonable attorney fees.