Florida veteran and MMA fighter wrangles 10-foot alligator near elementary school: video
Video of the alligator encounter shows hundreds of people screaming and cheering as Mike Dragich brings the beast into submission
A Florida veteran and MMA fighter put on a show for nearly 200 people outside a Jacksonville elementary school when he jostled a 10-foot-gator before wrangling it into submission, video shows.
FOX 35 in Orlando reported that video shot of the incident shows Mike Dragich grabbing the 10-foot beast's tail and holding his own in an impromptu match between man and beast.
"We get there, I walked through the gate, and boom," Dragich told the news outlet. "There it was, just ready to go right there in the parking lot, and we just had to get the job done."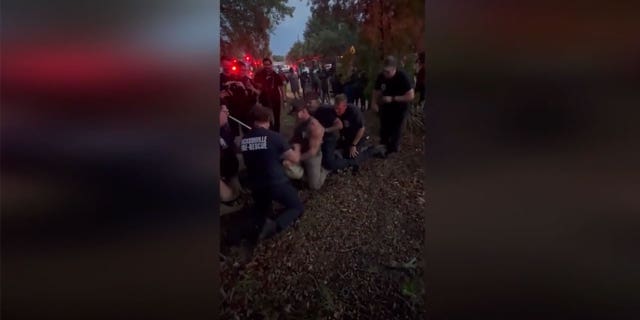 The MMA fighter tried once again to pull the alligator by the tail, but he lost control of it after dragging the reptile just a couple of inches.
FLORIDA MAN WHO LOST ARM IN ALLIGATOR ATTACK BEHIND A BAR NOW IN 'FAIR' CONDITION, HOSPITAL CONFIRMS
The entire time Dragich was wrangling the gator, the crowd of spectators could be heard screaming with excitement and fear.
Dragich was able to get behind the gator and grab it by its neck, and that is when the scuffle really took off.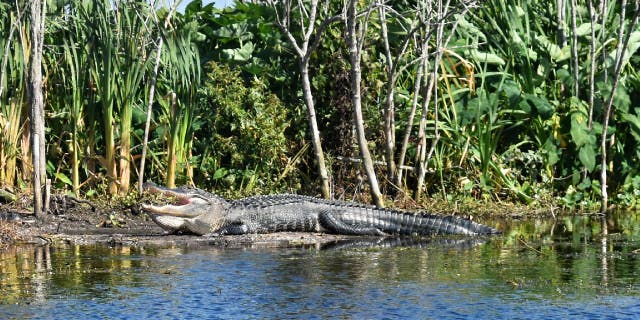 "I said it before, I felt like Batman, for real, you know, I show up. I walk out," he told FOX 35. "There are a lot of comments saying I look like Stone Cold walking up to this alligator."
FLORIDA MAN'S ARM AMPUTATED AFTER 10-FOOT ALLIGATOR ATTACKS OUTSIDE BAR NEAR POND
Stone Cold Steve Austin is a former WWE wrestler who in his day, would walk from the backstage area of arenas through a crowd of screaming fans to get to the ring, without a worry in the world that he was going to serve up a can of "whoop ass."
After a little while wrangling with the alligator, video shows Dragich and several firefighters straddling the alligator as three others help keep it down.
"A lot of fighters will understand that… when you go to the cage, you're nervous, but once that cage door closes, you gotta be focused," he told the news organization. "...honestly, that's what I remembered that night."