Witness to Jordan Neely chokehold death calls Daniel Penny a 'hero'
NYC passenger says Marine vet 'cared for people' and 'that is his crime'
A retiree who witnessed Marine veteran Daniel Penny fatally choke an erratic homeless man on a train earlier this month called him a hero and slammed Manhattan District Attorney Alvin Bragg for prosecuting him.
"He's a hero," said the passenger, who has lived in New York City more than 50 years.
The witness, who described herself as a woman of color, said it was wrong for Bragg to charge Penny with second-degree manslaughter.
"It was self-defense, and I believe in my heart that he saved a lot of people that day that could have gotten hurt," she told Fox News Digital.
KID ROCK TOP DONOR TO DANIEL PENNY'S DEFENSE IN NYC SUBWAY CHOKEHOLD DEATH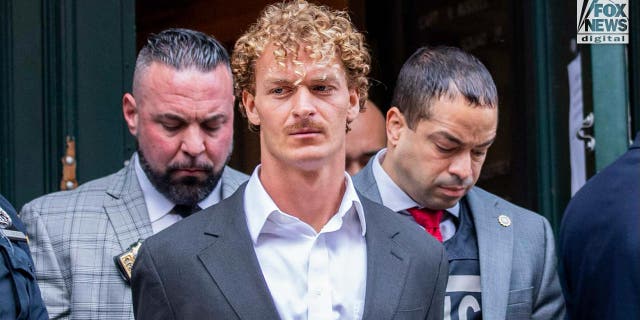 Jordan Neely, 30, who suffered from mental illness, stormed onto the northbound F train at about 2:30 p.m. May 1 screaming and threatening passengers, she said.
"I'm sitting on a train reading my book, and, all of a sudden, I hear someone spewing this rhetoric. He said, 'I don't care if I have to kill an F, I will. I'll go to jail, I'll take a bullet,'" recalled the woman, who is in her 60s.
The terrified passengers crowded toward the exit doors.
"I'm looking at where we are in the tube, in the sardine can, and I'm like, 'OK, we're in between stations. There's nowhere we can go,'" she said. "The people on that train, we were scared. We were scared for lives."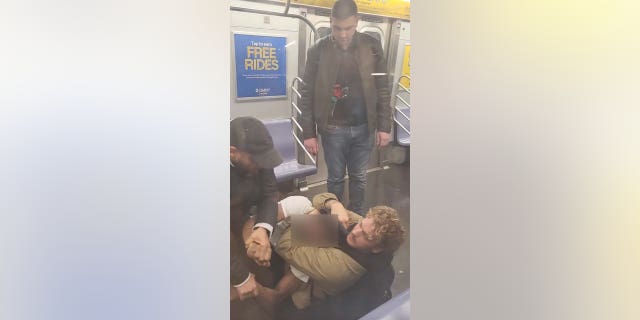 Penny stepped in when Neely started using the word "kill" and "bullet."
"Why in the world would you take a bullet? Why? You don't take a bullet because you've snatched something from somebody's hand. You take a bullet for violence," she added.
NYC MARINE VETERAN CHARGED IN DEATH OF MAN 'MAKING THREATS AND SCARING PASSENGERS': PROSECUTORS
The witness said it was clear to her that Penny waited until the last minute to intervene for the sake of his fellow passengers.
She heard a thump when he dragged Neely to the ground but couldn't see clearly until the doors opened at the Broadway-Lafayette station and most of the passengers exited.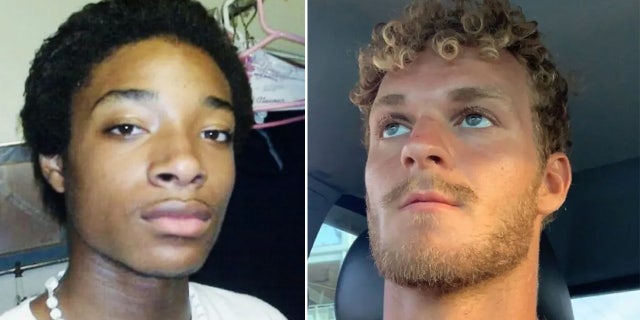 The witness waited for police to arrive and provided a statement.
"Mr. Penny cared for people. That's what he did. That is his crime," she told Fox News Digital. After the altercation, she and at least three other passengers thanked him.
But he seemed shaken, the woman said.
"Nobody wants to kill anybody. Mr. Penny didn't want to kill that man," she said. "You should have seen the way Mr. Penny looked. He was distraught. He was very, very, very visibly distressed. And he didn't go. He didn't run. He stayed."
Prosecutor Joshua Steinglass said at Penny's arraignment Friday that the Marine veteran, who has lived his entire life in the New York area, continued to hold Neely for a "period of time" after the man had stopped moving.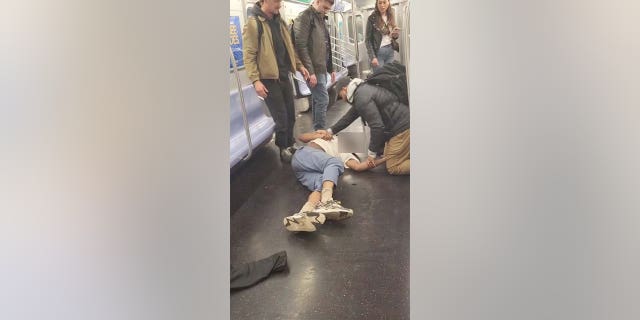 But Penny, he noted, had remained on the train and accompanied police to the precinct to voluntarily answer questions.
Two men, who have not been publicly identified, helped hold down Neely's arms during the altercation.
"It took three men to hold Mr. Neely down. He was struggling," the witness said.
JORDAN NEELY HAD HISTORY OF ATTACKS ON SUBWAY RIDERS BEFORE NYC CHOKEHOLD DEATH
After widespread protests erupted across the city, with many demonstrators and even politicians calling Penny a "murderer," Bragg charged Penny.
Freelance journalist Alberto Vazquez began recording the confrontation after Neely was already in a chokehold and offered a second account of the homeless man's conduct.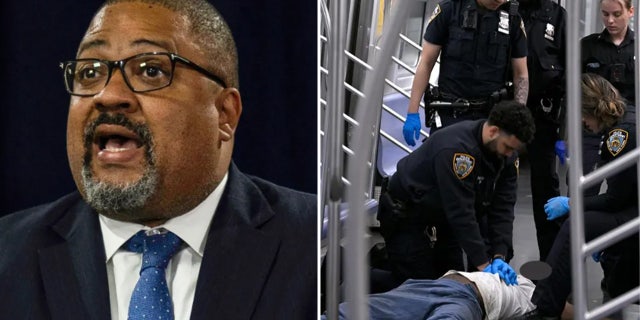 "He started screaming in an aggressive manner," Vazquez told the New York Post. "He said he had no food, he had no drink, that he was tired and doesn't care if he goes to jail. He started screaming all these things, took off his jacket, a black jacket that he had, and threw it on the ground."
The narrative that has emerged has become about race — a White man who fatally choked a Black man, the witness said.
"This isn't about race. This is about people of all colors who were very, very afraid and a man who stepped in to help them," she said. "Race is being used to divide us."
The retiree lived in the city through the '80s and '90s when violent crime peaked during the crack epidemic.
Mayor Rudolph Giuliani took office in 1994 and has been widely credited with cleaning up the Big Apple with a zero-tolerance approach to crime.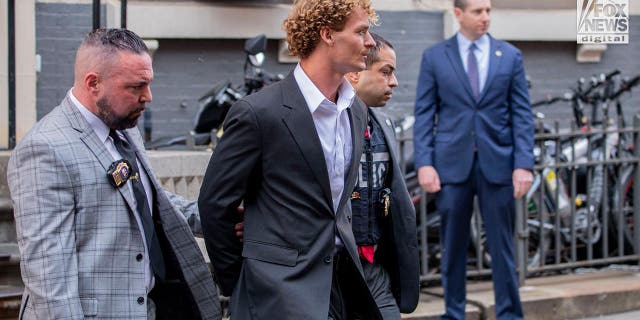 The witness said she feels like the city is sliding backward with failed policies that don't help the mentally ill and criminal justice reforms that don't hold people who commit crimes accountable.
"I miss the city under the law and order of Giuliani," she told Fox News Digital. "When it comes to exposing people or subjecting them to violent behavior, the people who are in power and supposed to protect us are not."
MARINE VETERAN IN NYC SUBWAY CHOKEHOLD DEATH FACES TOUGH LEGAL ROAD, EXPERTS SAY
She added that she prays for Penny every day and is thrilled his legal defense fund has raised more than $2.5 million.
"I hope that they raise more because it's going to cost a pretty penny, no pun intended, to get this young man justice," she said.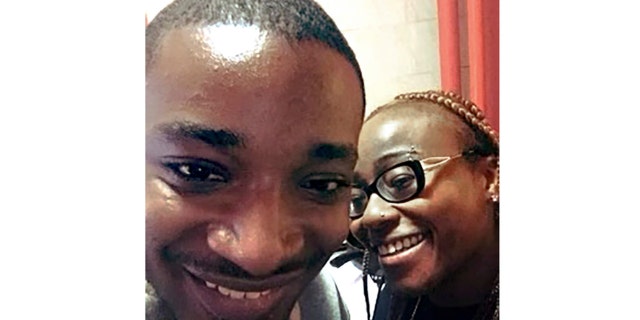 She lambasted politicians and people "jumping up and down and feeling all this venom" toward Penny.
"There was AOC saying that this gentleman was lynched. Why would she do that? She's supposed to be for all people," the woman wondered, referring to Rep. Alexandria Ocasio-Cortez.
She also expressed sympathy for Neely, who clearly had a tragic life and suffered from mental illness.
His mother was strangled and her body dumped in a suitcase in the Bronx when he was a teen. Neely had been arrested more than 40 times, including for numerous violent assaults on strangers in the subway
In 2021, he punched a 67-year-old woman in the face, breaking her nose and eye socket.
He has cycled in and out of hospitals and jails his entire adult life and was on the city's "Top 50" list of homeless people most in need of outreach.
The problems facing New York City are now plaguing the U.S., the witness noted.
"It's not looking that good for us," she said. "You know, we were supposed to be an example to other nations but are turning into a Third World country."
Penny, who is free on $100,000 bond, is due back in court July 17.