Wisconsin potbellied pig 'Albert' lured home with fruit snacks: 'Sweet and sticky treats'
Green Bay police helped Albert, the potbellied pig, return home to the city's west side
Police in Wisconsin lured a 300-pound potbellied pig, named Albert, with fruit snacks who was found wandering loose through a neighborhood.
The Green Bay Police Department shared the tale on their Facebook page that Albert's "big city adventure took place on a warm and sunny Monday" and officers responded to 911 calls calling for assistance for a pig on the loose on the west side of Green Bay, Wisconsin.
"When Albert was questioned as to where he lived, his snout wasn't pointing him in the right direction," authorities said.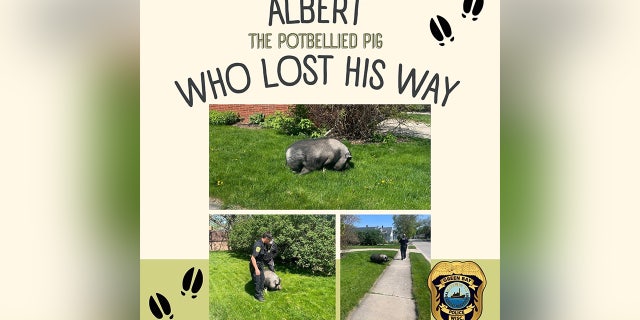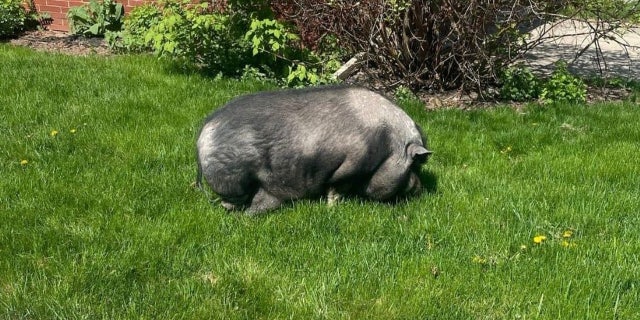 Officers went door-to-door until a neighbor was able to identify Albert's owner-who shared with police that Albert had slipped through a gate that had accidentally been left open.
However, Albert was not going to go back to his home without a fight. Police said that the pig had worked up an appetite and had a peculiar taste for fruit snacks.
MISSOURI ANIMAL RESCUE TAKES IN PUPPY FOUND WITH SWASTIKAS, EXPLETIVE WORDS DRAWN ON SKIN
"But once we found mom, she knew Albert was only going to cut his big city adventure short under one condition - fruit snacks," police said. "Mom, who was now with officers, pulled out a bag of these sweet and sticky treats and there went Albert, "wee, wee, wee, all the way home."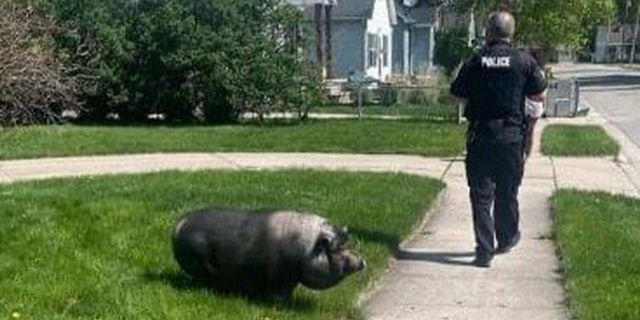 After he was restored to his home, Albert fell fast asleep following his exciting day.
"This evening, all can rest at ease, as Albert, who lost his way, is now fast asleep, snoring in the hay," police wrote.