Wind energy developer funneled cash to Dem senator pushing offshore wind
Kaine spokesperson tells Fox News Digital campaign contributions 'have no effect' on the senator's decisions
A multibillion-dollar energy developer has wired tens of thousands of dollars to Democratic Virginia Sen. Tim Kaine's campaign in recent years while aggressively pushing a massive offshore wind project.
The Richmond, Virginia-based Dominion Energy's political action committee (PAC) has funneled $23,000 to Kaine for Virginia since 2011, with the latest, a $1,500 contribution, coming in February. In that same time span, Dominion Energy has given another $44,500 to Common Ground PAC, the leadership PAC affiliated with and chaired by Kaine.
Since 2021, Dominion Energy executives led by CEO Robert Blue and Senior Vice President William Murray have donated $19,600 to Kaine's campaign. At the same time, lobbyists who Dominion has contracted made payments totaling $3,000 to the campaign.
"Dominion Energy believes in full transparency of its political donations," Dominion Energy spokesperson Ryan Frazier told Fox News Digital in an email. "We give to a bipartisan mix of leaders at the state and federal levels and have supported Sen. Kaine since his bid for lieutenant governor in 2001, after he was mayor of the city Dominion Energy calls home."
BIDEN ADMIN IS RUSHING TO INDUSTRIALIZE US OCEANS TO STOP CLIMATE CHANGE: 'ENVIRONMENTAL WRECKING BALL'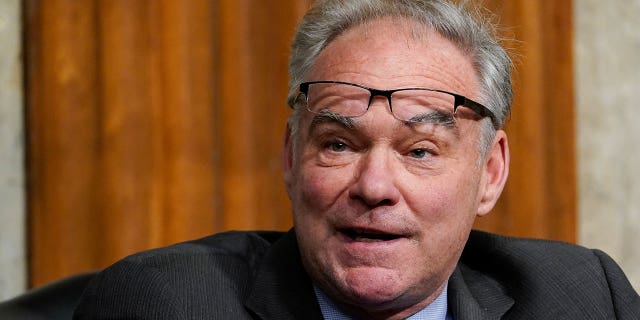 Meanwhile, Dominion Energy continues to trudge forward with plans to develop Virginia's first offshore wind farm. The project, known as Coastal Virginia Offshore Wind (CVOW) and located off the state's southeastern coast near Virginia Beach, consists of two operational pilot wind turbines and is on track to be fully constructed by 2026 with 176-205 turbines across 112,800 acres.
Kaine has been a vocal supporter of the project, which would be the largest offshore wind development nationwide, urging federal regulators to fast-track its permitting process and successfully winning millions of dollars in funding for supporting projects.
TOP OFFICIALS WARNED BIDEN ADMIN ABOUT DANGERS WIND ENERGY PROJECTS POSE TO FISHING INDUSTRY, LETTER SHOWS
"We are proud that the first two wind turbines permitted and constructed in federal waters are off our Commonwealth's coast, producing clean energy for Virginians," Kaine and other Virginia lawmakers wrote in a March 2021 letter to the Bureau of Ocean Energy Management (BOEM), demanding quicker approval of CVOW.
"Unfortunately, we have heard from local stakeholders and constituents that the adjacent CVOW project is at risk of delays due to the backlog at BOEM," the letter continued. "Please provide any additional information that will help us fully understand the challenges BOEM faces and how you plan to expedite the Coastal Virginia Offshore Wind project."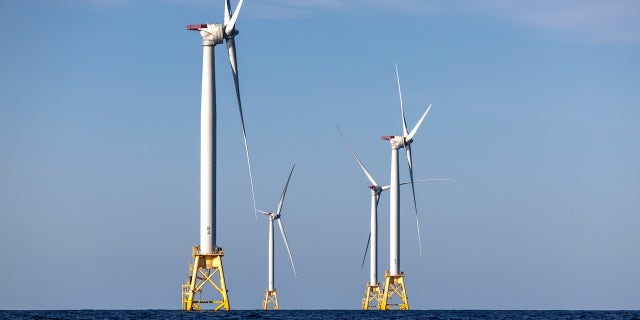 Less than four months after the letter was sent, BOEM published its notice of intent, initiating the agency's environmental review of the process.
"I'm thrilled to see this project underway as it's an exciting step toward a clean energy economy that creates good jobs in the commonwealth," Kaine said in a statement included in a July 2021 Dominion Energy press release. "I will keep pushing for clean energy investments in Virginia to boost our economy and build a more sustainable future."
BIDEN'S GREEN ENERGY PLANS POSE NATIONAL SECURITY RISK, PENTAGON WARNS
Then, in December 2021, Kaine announced he and fellow Democratic Virginia Sen. Mark Warner had secured $20 million in federal funding for improvements to the Portsmouth Marine Terminal, allowing it to serve as a staging area supporting CVOW construction and development. He said the grant would "go a long way towards establishing Virginia as a hub for offshore wind development."
In the latest development for the project, BOEM published a draft environmental impact statement for the project that backed the company's proposal, paving the way for a final approval.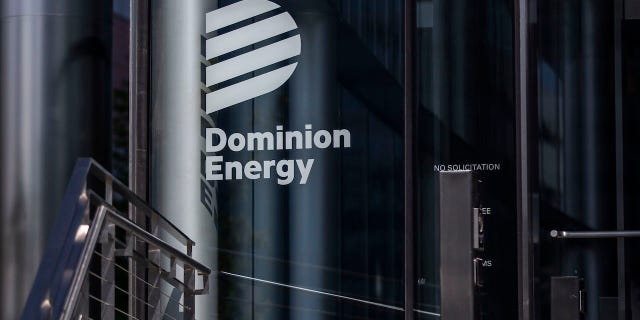 A spokesperson for Kaine, though, said campaign contributions had no bearing on his decision making or the projects he supports.
"Senator Kaine makes decisions based on his own research and conscience, as informed by his intense listening to Virginians," a spokesperson told Fox News Digital. "Since 2011, Senator Kaine has raised well over $40 million from well over 100,000 donors. Donations have no effect on his decisions."
Additionally, in recent months, offshore wind development has faced increased pushback over its potential negative impacts on
marine wildlife like endangered whales
, commercial fisheries, shipping vessels and maritime communications. The Pentagon also warned that offshore wind projects could impede naval operations.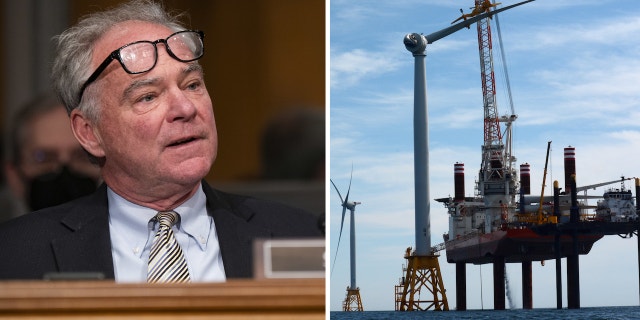 "Offshore wind enjoys bipartisan support in Virginia and federally," said Frazier, Dominion Energy's spokesperson. "Offshore wind legislation in Virginia passed overwhelmingly. The project has been designed to address potential impacts to shipping lanes, commercial fishing activity, marine life and more.
"The company has engaged the U.S. military and commercial fishermen since development of the project began," he added. "And the federal permitting process considers all environmental impacts. The Coastal Virginia Offshore Wind project will create jobs in and economic opportunities and clean energy for the Commonwealth of Virginia. It is a win for everyone."