University of California Board of Regents moves toward allowing hiring of illegal immigrant students
The hiring of illegal immigrants is banned under federal law
The University of California's Board of Regents agreed to move forward with a plan Thursday to potentially allow illegal immigrants to be employed across the campus system after activists pushed for the move over concerns it is banned under federal law
The board agreed, after a closed-door meeting, on a measure on "equitable student employment opportunities." The regents agreed to convene a working group to "determine next steps" to be completed by the end of November.
"The university is committed to ensuring that all students, regardless of their immigration status, can pursue and attain a world-class UC education. This should include providing enriching student employment opportunities to all students," University of California President Michael V. Drake and Board of Regents Chair Richard Leib said in a statement.
UNIVERSITY OF CALIFORNIA BOARD TO VOTE ON ALLOWING ILLEGAL IMMIGRANT STUDENTS TO WORK ON CAMPUS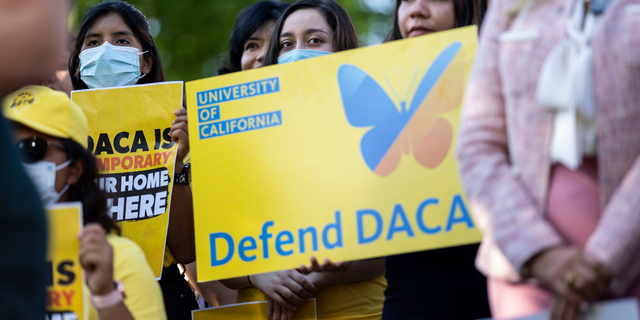 "After an in-depth discussion, consistent with the adopted policy statement, the Board of Regents appointed a Regents working group that, by the end of November of this year, will consider relevant issues and develop an implementation plan and a legal strategy. The working group will determine whether, how and when to implement next steps."
The move came in response to an intense advocacy campaign from activists and illegal immigrant students. The New York Times reported in October about how a coalition of "undocumented student leaders" and other legal scholars were proposing that the state begin employing students at the 10 campuses across the system.
CALIFORNIANS SLAM 'UNBELIEVABLE' PROPOSAL TO PAY UNEMPLOYED MIGRANTS: 'DOESN'T MAKE ANY SENSE'
The proposal would appear to be in violation of the 1986 Immigration Reform and Control Act.
But the Times reported that a "new legal analysis" drafted at UCLA argues that the law does not apply to states.
Activists told the LA Times it marked a major win for the "immigrant rights movement.The move marks another step in California to regularize illegal immigrants and open up opportunities and benefits that are typically reserved for U.S. citizens and legal immigrants. Drivers licenses, college tuition and state-funded health care have all been green-lit for illegal immigrants in recent years.
The latest step has already seen Republican opposition in the blue state. Rep. Darrell Issa, R-Calif., this week wrote to Gov. Gavin Newsom expressing his opposition to the plan, raising his objections to the legal claims being made by the activists.
CALIFORNIA GOV. NEWSOM SIGNS BILL ALLOWING ILLEGAL IMMIGRANTS TO OBTAIN A STATE ID
"In keeping with the Supremacy Clause of the U.S. Constitution, the Supreme Court has repeatedly recognized federal law preempts state or local immigration actions," Issa wrote. "The court has repeatedly made clear that IRCA leaves no room for states to adopt their own immigration employment measures, nor can they conflict with the federal law's objectives and purposes."
He also argued that the move could mean that the university loses federal funding, which could have a significant impact on students, before accusing the university and the state of trying to "pick and choose which federal laws to follow and which to declare null and void."
"Rather than devote scarce time and resources to this — particularly during an historic and worsening state budget crisis — university leadership should focus on better ways to reduce administrative overhead, rebuild core studies, reinstate a healthy atmosphere of free speech on campus and regain the public trust in what was once the hallmark of our nation's finest systems of higher education," Issa said.