Sylvester Stallone's daughters reveal why he makes it difficult for them to date
The 'Rocky' actor is starring alongside wife Jennifer Flavin and daughters Sophia, Sistine and Scarlet in the upcoming reality show 'The Family Stallone'
Sylvester Stallone's daughters claim their famous father makes their dating lives difficult.
The 76-year-old actor is starring alongside wife Jennifer Flavin, 54, and daughters Sophia, 26, Sistine, 24, and Scarlet, 20, in the upcoming Paramount+ reality show "The Family Stallone."
The family of five sat down for an interview with Fox News Digital, and Stallone's daughters weighed in on how hard it is to bring dates home to meet the "Rocky" star.
"Nearly impossible!" Sistine said.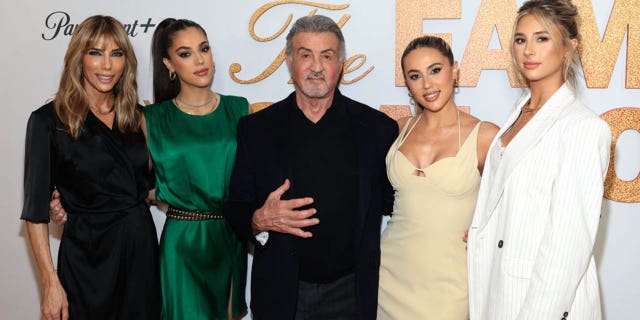 Jennifer added, "They have to prep Sly before, like, 'You have to say hello…'"
SYLVESTER STALLONE SAYS HE WAS WORRIED THAT FILMING HIS NEW REALITY SHOW WOULD BE EMBARASSING EVERY DAY
"We also have to prep the date before," Sistine interjected.
"We have to prep the guy," Scarlet agreed before pointing at her father and adding,"He's not going to budge!"
"I've said, 'He might not say hello, don't take offense. That's just how he works. He might grip your hand too hard…'" Sistine explained.
"That's a total myth!" Stallone exclaimed.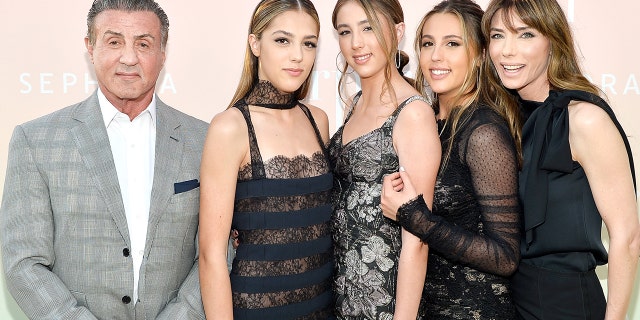 "'He's just trying to show you up,'" Sistine continued, describing the advice she gives her dates.
"And you kind of – you've just gotta soften the blow," she said.
"Or 'If the guy standing in the corner is glaring at you, just keep walking,'"Jennifer added.
"These guys are weird. I saved you," Stallone said as his wife and daughters laughed.
"Oh my gosh," Sistine said as Scarlet shook her head.
"I did," the "Creed" actor insisted. "I came to the rescue."
While Stallone's first interactions with his daughters' dates are often awkward, Scarlet said fans might be surprised to learn their father is helpful when it comes to another aspect of their love lives.
He gives very, very good advice on the daily and especially dating advice," she said.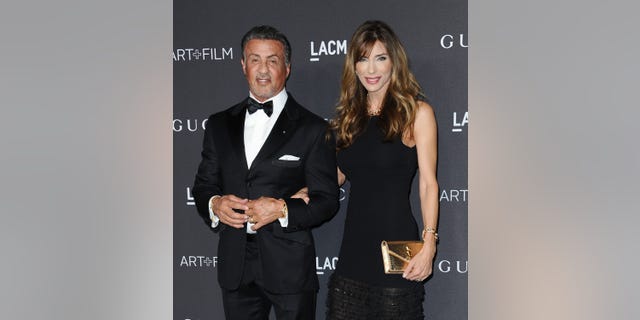 "I'm Dear Abby, thank you very much," Stallone joked.
In their interview with Fox News Digital, Stallone and Flavin, who will celebrate their 25th wedding anniversary on May 17, shared their thoughts on the secret to a long marriage.
"Laughter," Jennifer said. "Laughter is great. But being best friends, I think, as well. We are just very comfortable with each other."
She continued, "We have so much fun. We can be doing nothing and just enjoy every minute of it. We don't get bored of each other."
"Yeah and I'm constantly in awe of her ability to just keep everything going," Stallone added. "I don't think, men, that's their forte."
"I mean, so the house – if you want to have a nice house, this and that – and you have this incredible woman who raises three beautiful children and keep everything under control, that's one thing," the Golden Globe winner continued.
SYLVESTER STALLONE FILMS 'TULSA KING' PARAMOUNT SERIES IN NEW YORK
"And then be able to like, enjoy each other and laugh and I mean, be able to really trash talk each other," Stallone said with a laugh. "Like goof around like, really, deep, funny kind of insults, whatever."
"But it's all done in jest so everybody's not walking on eggshells."
"And it's all done in love," Jennifer added. "So we can make fun of like, 'What are you wearing that for? I love your hair if I was a rooster.'"
"'Like nice teeth, both of them,'" Stallone joked as Jennifer and their daughters dissolved into laughter.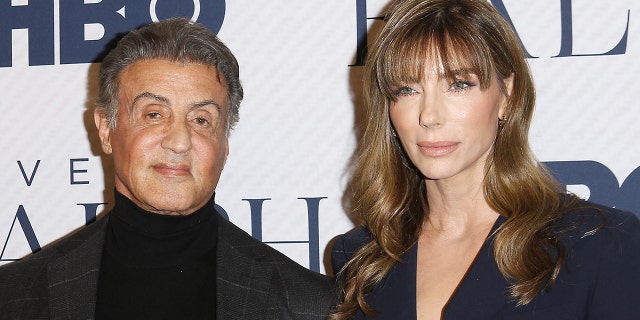 While Stallone and Flavin have enjoyed one of Hollywood's most enduring marriages, their union has not been without its rough patches. Over the years, the pair weathered ups and downs, including a shocking split last summer.
On Aug. 19, 2022, the former model filed for divorce in Florida, accusing Stallone of "intentional dissipation, depletion and/or waste of marital assets which has had an adverse economic impact on the marital estate." In a response that he filed 10 days later, Stallone denied the allegations.
When news of the divorce broke, Stallone confirmed the split to Fox News Digital by saying, "I love my family. We are amicably and privately addressing these personal issues."
However, the pair reconciled a month later and called off the divorce. "They decided to meet back up at home, where they talked and were able to work out their differences," Stallone's spokesperson told Page Six at the time. "They are both extremely happy."
Two weeks later, the couple filed a voluntary notice for dismissal of their divorce proceedings in a Palm Beach County courthouse.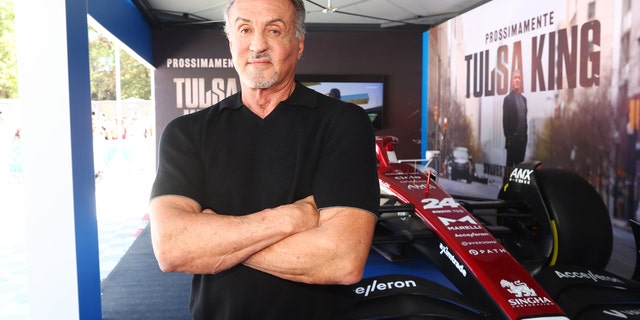 In a November interview with The Hollywood Reporter, Stallone confirmed that their split would be included in "The Family Stallone."
"Of course it's part of the show," he said. "It's the John Lennon thing: 'Life is what happens when you're making other plans.' Hopefully, you're involved with people who understand the foibles of life and the fragility of it and how rare a real good relationship is."
"Sometimes I put the work ahead of [my family], and that is a tragic mistake which won't happen again."
The three-time Academy Award nominee told the outlet that his biggest regret was not spending more time with his family due to his busy career.
CLICK HERE TO SIGN UP FOR THE ENTERTAINMENT NEWSLETTER
"Everyone goes, 'I wish I'd shown love more' or 'I wish I'd spent more time with the kids.' I'm riding that boat. That's one of the reasons I wanted to do the reality show that I've been taking a lot of s--- for," he explained.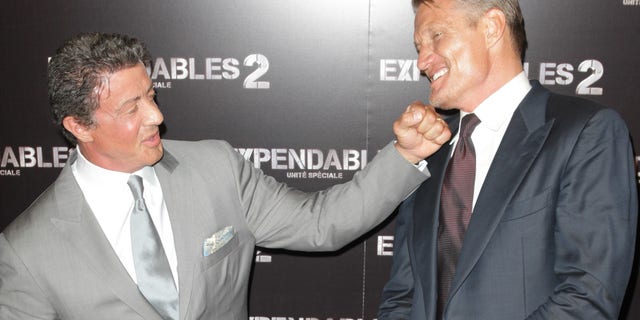 "The Family Stallone" will follow the personal and professional lives of the A-List actor and his family members. According to Variety, the series will feature Jennifer's entrepreneurial career as the co-owner of the Serious Skin Care wellness brand as well as the individual paths of Sophia, Sistine and Scarlet.
Sophia and Sistine co-host the "Unwaxed" podcast together, and Sistine, an actress who appeared in "47 Meters Down: Uncaged" and "Midnight in the Switchgrass," is also in development on her first feature film.
Meanwhile, Scarlet, who appeared alongside her father in the first season of "Tulsa King," is trying to balance her acting career with her studies at college.
SYLVESTER STALLONE'S CO-STAR DOLPH LUNDGREN REVEALS WHAT HE LEARNED FROM 'ROCKY' ACTOR
The trailer for "The Family Stallone" also features cameos from Al Pacino and Stallone's longtime co-star Dolph Lundgren. The series was produced by MTV Entertainment Studios and Bunim-Murray Productions, the production company behind "Keeping Up With the Kardashians."
Stallone shared that he wanted to create the "ultimate home movie" with his new series and defended himself against critics who were skeptical of his foray into reality TV.
"This is a chance where I'm going to be with my kids under a work condition where they get to see me in action and I get to see them in action," he said. "What you will see is the real truth. This is a great opportunity."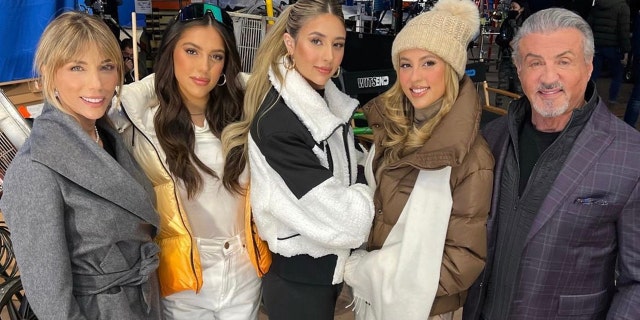 "I don't look at it as stooping to conquer. But each time you go in a different direction, people go, 'Oh God, you must be in trouble.' Just the opposite."
The New York native elaborated further during his family's interview with Fox News Digital.
"I want to do a movie about our family ourselves," he said. "I go, 'Ok, rather than write a pseudo one, why not jump into the world of reality?'"
"God knows, I know enough about it because being around these young ladies, I've seen every show there is," he said gesturing to Sistine, Scarlet and Sophia.
"And I thought, this is an interesting time because it's not like the career is on the wane and I need a job," he added. "This is a peak time for me because they're not married, thank God."
"So we're all still together. And I said, 'Why not take advantage of that?'"
"The Family Stallone" premieres May 17 on Paramount+.