Supporter of OETA insists Oklahoma Gov. Stitt's bid to defund PBS affiliate doesn't serve the people
'It's the parent's really responsibility to decide whether they think the programing is appropriate,' Robert Spinks said
Oklahoma Gov. Kevin Stitt, R., last week vetoed a bill that would have bankrolled Oklahoma Educational Television Authority (OETA) because he feels the local PBS station is "indoctrinating young children" with over-the-top LGBTQ content. However, a group tasked with fundraising for OETA insists nothing it airs is out of the ordinary.
"If one looks at programing on nearly any television station today, you're going to see programing, commercials, things like that, that reflect the changing beliefs and attitudes of society. So, I don't think we're an island out there doing something that's not happening anywhere else," Friends of OETA spokesperson Robert Spinks told Fox News Digital.
"Some people probably don't like what we air," Spinks said. "A lot of people do."
Friends of OETA is a nonprofit organization that fundraises for, and supports, OETA. In addition to serving as the group's spokesperson, Spinks is a founding member and former board president.
OKLAHOMA GOVERNOR STITT DEFENDS DECISION TO AX PBS FUNDING OVER 'REALLY PROBLEMATIC' LGBTQ CONTENT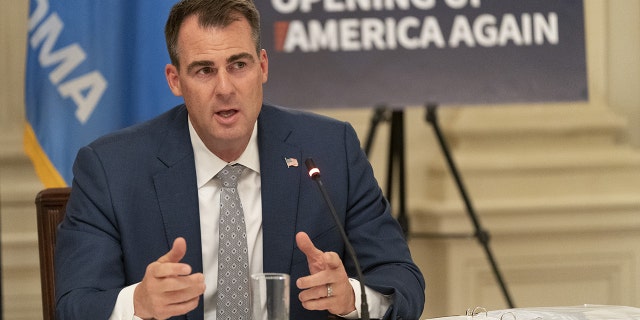 Spinks understands the governor has "his reasons" for vetoing the bill that would have funded operations of the state's PBS station through 2026. Gov. Stitt has called the system "outdated," accused OETA of indoctrinating young children with LGBTQ content and suggested taxpayer dollars shouldn't support a TV station of any kind.
"We don't think that the reasons are in the best interests of the people of Oklahoma," Spinks said.
"We serve all 77 counties in Oklahoma. We're the only broadcast entity that does that, and we serve everybody -- that's what we're supposed to do, and that's what we work at all the time," he continued. "So, the veto of our reauthorization is of grave concern because the state holds the license under which we operate. And if we don't renew that reauthorization, then we will go away."
The governor's office has pointed to a "PBS Newshour" feature on parents' support for various gender care treatments including puberty blockers, a gay character in "Work It Out Wombats" which airs on OETA, PBS Kids' "Clifford the Big Red Dog" introducing LGBTQ characters, a plethora of Pride Month programming on OETA, a special about a town of Christians and drag queens who "step into the spotlight to dismantle stereotypes," and a same-sex wedding featured on PBS Kids' "Odd Squad" when asked about content it finds objectionable.
"People always have their own perspectives on things. And because we do try to serve everyone that lives in our state in equal manner, it makes it challenging to always provide programing that any one individual would find appropriate," Spinks said.
OKLAHOMA GOVERNOR VETOES STATE PBS FUNDING, ACCUSES NETWORK OF USING 'TAX DOLLARS TO INDOCTRINATE KIDS'
"Our programing for children's programs comes through the Corporation for Public Broadcasting and our partnership with them. You know, I suppose anyone can have an opinion about programing for children," he added. "Certainly, I did it when my children were young. But, you know, it's the parent's responsibility to decide whether they think the programing is appropriate."
Spinks insists the station strives to be nonpartisan, and he hopes to help educate children in the Sooner State.
"The funding that comes from the state of Oklahoma provides about a third of our budget. The other two thirds come from our fund fundraising that we do. And then through grants that we secure from the Corporation for Public Broadcasting and other entities who are interested in what we do educationally. But, you know, we strive to provide educational programing," he said.
Stitt has pushed back at the notion that OETA is helping educate children.
"When you think about educating kids, let's teach them to read and their numbers and counting and letters and those kind of things," Stitt previously told Fox News Digital. "I mean, some of the programing that we're seeing… it just doesn't need to be on public television."
2024 HOPEFUL RAISES CONCERNS ON TRANS IDEOLOGY NEGATIVELY IMPACTING KID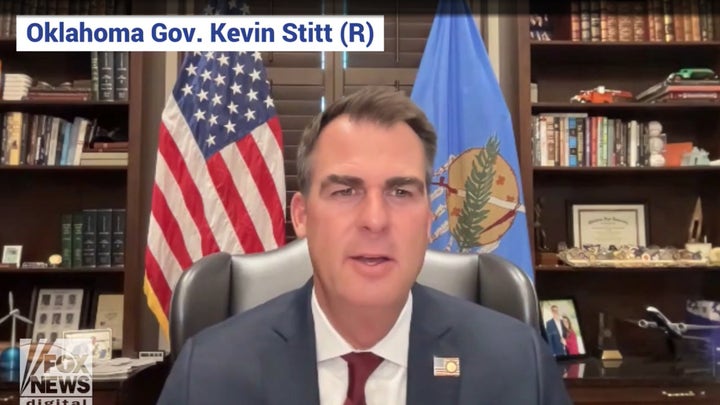 Stitt has also said that if OETA content is so popular then it could easily be picked up by CBS, NBC, ABC or any other option that doesn't require taxpayer dollars to stay afloat. But Spinks countered by saying if the content is so offensive then he would have heard complaints long before Stitt took action.
"We know a lot of our viewers obviously come from the rural areas, and rural folks in Oklahoma are very conservative in many, many ways. So, you know, I am inclined to think that if this had really been an issue among our viewers, that we would have heard a lot more about it at the station and to the authority board, which actually governs OETA and certainly to us as the fundraising group," Spinks said.
Spinks said OETA feels "an obligation to try to preserve programing that covers all parts of the spectrum," and contends most people want the station to stick around.
"The reaction we've heard from the people who are the supporters of public broadcasting in Oklahoma has been very, very strong to say, 'We don't agree with this veto,'" Spinks said. "They would like to see the legislature override the veto, so we can move on."
Gov. Stitt's office did not immediately respond to a request for comment.
NONPROFIT GROUP CALLS ON FEDERAL GOVERNMENT TO STRIP PBS FUNDING IN RESPONSE TO NETWORK'S 'LGBTQ+ PROPAGANDA'
"OETA, to us, is an outdated system. You know, the big, big question is why are we spending taxpayer dollars to prop up or compete with the private sector and run television stations? And then when you go through all of the programing that's happening and the indoctrination and over-sexualization of our children, it's just really problematic, and it doesn't line up with Oklahoma values," Stitt told Fox News Digital last week.
Last week, a nonprofit organization that advocates for transparency in government called on the federal government to strip funding from PBS in response to the organization's promotion of an LGBT "toolkit" for teachers and critical race theory principles.
"PBS is clearly engaged in promoting inappropriate LGBTQ+ and critical race theory propaganda to our children," Citizens Defending Freedom Chief Communications Officer Kristen Huber said in a
press release
Thursday.
Stitt easily won re-election in November to a second, four-year term. On the campaign trail, he boasted of record-level state savings and funding for public schools under his watch, and the state's rapid emergence from pandemic-related closures that helped the economy rebound quickly. He defeated Democrat Joy Hofmeister by more than 13 percentage points, tallying huge margins of victory across rural Oklahoma.